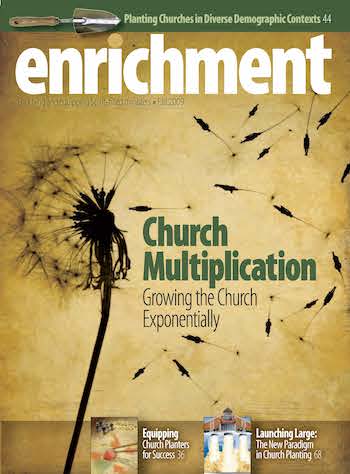 Downloads:
Mentoring Others
---
My greatest thrill is mentoring and developing passionate disciples of Jesus Christ. I believe this is the greatest challenge of the Pentecostal movement; when we consider that, since 1960, 538 million worldwide have come into glossalalia. We have the opportunity to disciple them into an army of disciples and disciplers.
The Assemblies of God teaches that the defining spiritual experience, beyond salvation, is the baptism in the Holy Spirit. The Early Church with 11 disciples turned the world upside-down. They had been discipled for 2 1/2 years by Jesus before they were filled with the Spirit. Our Pentecostal experience has been placed on top of the Holiness movement that had grounded its followers in basic discipleship.
Today's Pentecostals, who are baptized in the Holy Spirit but not discipled, will produce a brand of Pentecost unakin to the New Testament church. Therefore, we must call ourselves at this juncture in our history to discipleship that affirms salvation is a personal, passionate relationship with Jesus Christ and that personal and corporate destinies are only discovered and actualized in growing passionate discipleship relationships.
When Jesus was asked the bottom line of the Kingdom, He said, first, focus your heart, mind, will, emotions, and strength on God. Then, second, pull others into the process.
On these two relationships, Jesus said everything else hangs. This is the essence, He says, of Christianity. So the story of salvation begins with personal separation of humanity from God. Isaiah says, "All we like sheep have gone astray" (Isaiah 53:6). Paul, speaking to those in a pre-Christian state, declares, "You are without Christ" (Ephesians 2:12) — spiritual, relational, everlasting separation. So the work of Christ is to bring humanity spiritually, personally, and relationally to God.
The discipleship challenge is this: How does one develop, and how does one develop others in a personal, passionate relationship with Jesus Christ? For Pentecostals, whether first century or 20th century or in postmodern America, the destination and the journey are the same. You cannot reproduce what you are not. You must become a disciple and you must welcome others into your passionate relationship with Jesus Christ.
Joe's Journey
Fresh out of seminary I had one on those experiences. An iron worker got saved. Joe wore bibbed overalls and had long hair. He told me it was the first time he had been in church and the first time he had ever prayed. That night he brought his wife and two children. They too got saved. He told me after the Sunday night service, "Well, I've been called to ministry."
I said, "Joe, I don't know about that."
He said, "Well, what do I do? I'd like to pray those pretty prayers like you do."
I said, "Have you ever prayed?"
He said, "No, not until today, but it was nice. I liked it."
No one had ever asked me, "What's the first step in this deal?" The church office was behind the altar area, and I grabbed several books out of the prayer section. I said, "Joe, read these and when you come back I'll show you what your first steps are."
He came next Sunday and said, "Okay, I'm ready for the first step."
I asked, "What time do you go to work?"
He said, "Seven o'clock."
I said, "Meet me in the sanctuary at five o'clock."
I am a third-generation classic Pentecostal and you just pray. You've seen it modeled. So at 5 the next morning in the sanctuary, I said, "Joe, I don't know how to do this. I guess what I need to do is have you sit here and for the next hour I'm going to pray. I want you to feel and I want you to get what a relationship with God looks like and feels like."
For the next hour I walked around the sanctuary praying. I prayed using the Lord's Prayer model so he could see some increments in the prayer. Afterward we had coffee and I asked, "Well, did you see what I did?"
He said, "I liked that."
I asked, "Can you do it?"
When he said no, I said, "All right, come back tomorrow morning."
That morning I said, "Joe, you don't have any words to pray so I'm going to launch out. Same pattern, different words, different time, but the same relationship and when you have words, jump in. If you don't have any words, I don't know anything to do, Joe, but have you say my words."
And so we started walking around the sanctuary and I said, "I love You, Lord."
And Joe said, "Me too."
I said, "No, Joe, this is a relationship. You've got to tell Him. Tell Him, 'I love You!' "
And he said, "Oh, I love You, Jesus!" And we prayed for the next hour.
By Thursday he was picking up the model. By Friday of his first week I said, "Joe, all of this praying is really hard work. I'm going to sit here and you're going to pray this hour by yourself."
Eventually we paid his way to Southeastern University and now he is a pastor. That's what discipleship is: Bringing other people into our relationship with Jesus and allowing them to experience Him with us.
Personal and Corporate Destinies
The destiny of every individual is discovered and actualized in growing spiritually passionate discipleship relationships in Jesus Christ. When Jesus touches someone with salvation, He breathes spiritual DNA into him. What does this look like? Well, it is a process, not a destination.
Pentecostals are people of the altar. We are people of the presence of God. We tend to be spiritual evolutionists — believing that participating in preaching and worship events, while floating around in the cosmos of our churches, suddenly produces mature disciples. Process-planned discipleship is not our strength, but it must become our strength.
I have a passionate relational pattern of spiritual formation that has worked for my life and for those that I've tried to coach toward Jesus. The way to grow other people up is the way of growing yourself up in Christ. The discipline and commitment we long for is not there because we have not built relationships. We often use programs and curriculum and organization and music and building and business models and leadership and ministries rather than relationships. Relationships are the vehicle — the bridge upon which spiritual life and ministry are built.
The Plan
The foundation is being in God's presence through private devotions where you read the Word, pray, read a classic, and second, be in a Pentecostal prayer meeting with core disciples to keep the embers hot, and also public worship services.
Another component is knowledge. Study the Word. Work through curriculum. Get wisdom that gives new ideas. And what holds it all together is accountability mentors.
And so developing Pentecostal believers with Pentecostal spirituality cannot be accomplished outside of personal relationships with Christ and others. It must be taught, but mostly caught. It must be institutionalized in doctrine, but mostly experienced. You can't teach Pentecost as much as you can experience Pentecost. Pentecost produces a personal, passionate relationship with Jesus Christ and then a passionate relationship with other disciples, a core of believers who are passionately going after Christ together.
Run with others. When you get discouraged, see how they are going after God. I needed to keep my passion high to move me all the way to the end. Abraham's greatest temptations were at the end. We must run the race. Let us as individuals and as and Movement rise to the challenge of passionate, personal Pentecost that envelops our lives and recognize we must pull close to us core, passionate believers who will run with us.
Wayne Lee, D.Min, is founder of Church Life Resources and director of the Orlando, Florida branch of AGTS..
This article was transcribed and edited from a sermon Wayne Lee preached at The Assemblies of God Headquarters chapel.