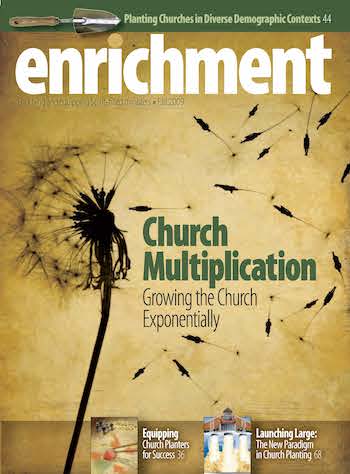 Downloads:
Meeting the Needs of People With Disabilities Within the Church
by Christina M. H. Powell
---
As churches grow and as new churches are planted, we will have more people with disabilities attending church. According to a 1997 census report, approximately 1 in 5 Americans have a disability. According to estimates made by the United Nations, over 650 million people worldwide have disabilities.
A disability is defined as an impairment that limits a major life function such as seeing, hearing, walking, performing schoolwork, carrying objects, or working at a job. Some disabilities are a result of disease, trauma, or advancing age, while others are present at birth. Disabilities are part of the human experience. People with disabilities make up about 20 percent of the population in every nation.
Disabilities require us to consider the frailty and dignity of human life. In ministering to people with disabilities, we are reminded of our own vulnerability. Yet, people with disabilities also remind us of the high value of human life and the unique contribution every person brings to the church.
The guiding principle for addressing ethical issues related to disabilities must be our recognition of the sanctity of human life. The prenatal diagnosis of developmental disabilities such as Down syndrome makes the need for teaching within the church concerning the sanctity of human life critical.
About 90 percent of pregnant women given a prenatal diagnosis of Down syndrome choose abortion. Yet, upholding the sanctity of human life from the pulpit is just the beginning in helping persons with developmental disabilities. Many people with special needs, along with their families, desire to be included in the church but do not know how to proceed. We need to consider how we can make our churches welcoming to people with disabilities, even as we seek to understand the ethical issues related to disabilities.
The Need for a Biblical Perspective on Disability
One way to meet the needs of people with disabilities, and their families, is to teach a biblical perspective on disability. The Bible teaches that every member of the body of Christ is valuable and worthy of honor; just as every part of our physical bodies has a special purpose. "The eye cannot say to the hand, 'I don't need you!' And the head cannot say to the feet, 'I don't need you!' On the contrary, those parts of the body that seem to be weaker are indispensable, and the parts that we think are less honorable we treat with special honor" (1 Corinthians 12:21–23). In addition, the Bible teaches that each member of the body of Christ is related to the other members in such a way that "if one part suffers, every part suffers with it; if one part is honored, every part rejoices with it" (1 Corinthians 12:26). People with disabilities are an integral part of the body of Christ and belong in our churches.
Jesus taught His disciples how to treat people with disabilities. "When you give a luncheon or dinner, do not invite your friends, your brothers or relatives, or your rich neighbors; if you do, they may invite you back and so you will be repaid. But when you give a banquet, invite the poor, the crippled, the lame, the blind, and you will be blessed. Although they cannot repay you, you will be repaid at the resurrection of the righteous" (Luke 14:12–14). We are to make a special effort to reach those with disabilities. In addition, the Lord will bless those who show kindness to people with disabilities.
While the Bible teaches that God heals and the New Testament is filled with examples of Jesus healing people with disabilities, the Bible also teaches that God's power is made perfect in weakness (2 Corinthians 12:9). We do not have the answer to why some people endure more suffering than others. We do know, however, that suffering came into this world as a result of the fall of mankind (Romans 5:12). God's original creation was good and free from suffering and disease (Genesis 1:31). In giving mankind a free will and the ability to choose good over evil (Deuteronomy 30:19; Joshua 24:15), God created a universe in which mankind's choice to sin led to the entrance of sickness and suffering into our world. Yet, Christians live with the hope that "our present sufferings are not worth comparing with the glory that will be revealed in us" (Romans 8:18).
Christians with disabilities along with their family members are able to comfort others with the comfort they have received themselves from God. Comfort from the Lord can overflow in a person's life in proportion to the suffering that person is experiencing (2 Corinthians 1:4,5). Ultimately, all believers, whether they have a special disability or not, must realize they are "jars of clay" with imperfections that need not hinder the display of God's power in their lives (2 Corinthians 4:7).
The Need To Uphold the Sanctity of Human Life
In addition to teaching the biblical perspective on disability, pastors need to uphold the sanctity of human life. We uphold the dignity of an adult with a disability when we decry the abortion of unborn children with the same disability. In the Netherlands, doctors developed the Groningen Protocol to help physicians decide when to administer euthanasia to infants with disabilities. Of the 200,000 children born in the Netherlands each year, about 1,000 die during the first year of life. About 600 out of the 1,000 deaths of babies during the first year of life are preceded by a medical decision regarding the end of life. Fifteen to 20 of these infants are euthanized as a result of having a disability deemed to cause a very poor quality of life.1
One example of a disability for which infants are euthanized in the Netherlands is severe spina bifida. One of Britain's royal medical colleges, the Royal College of Obstetricians and Gynaecology, is proposing that "active euthanasia" of infants with disabilities be permitted to spare parents the burden of raising such children. Yet, granting doctors the power to make a subjective decision on whether or not a life is worth living changes the very nature of medicine from care of the patient to a form of social engineering. Medicine becomes a way to maximize the benefit for society by minimizing the benefit for people born with disabilities. Allowing mercy killing of infants with a certain disability sends a message to adults with the same disability that their life is worth less than the life of other members of society.
In 1989, the U.S. Civil Rights Commission issued a report entitled "Medical Discrimination Against Children," which documented a "quality of life" formula used from 1977 to 1982 at the Children's Hospital of Oklahoma that took into account the socioeconomic status of the child's family when determining what to advise parents about a simple life or death procedure for babies with spina bifida. The doctors gave well-to-do families an optimistic view of their child's future, which resulted in these families choosing the life-sustaining procedure. Poorer families were given a pessimistic picture of their child's potential, resulting in four out of five poor families agreeing not to treat their children. The failure to undergo the treatment resulted in the death of 24 babies.
Even adults who acquire disabilities later in life as a result of an accident are susceptible to how health-care providers portray their potential for rehabilitation. One of the dangers of legalizing physician-assisted suicide is that soon after an injury that results in a severe disability, patients usually go through a time when they wish they were dead. However, a few months or years later, most patients are glad they are alive. If during that critical phase when patients are first coming to terms with their disability, health-care providers cast a grim view of the patient's future in conjunction with the availability of physician-assisted suicide, many patients might make a choice for death, missing years of life they would otherwise enjoy once past the initial crisis.
Advocates for people with disabilities fear that emphasis on cost cutting in the health-care industry may pressure people to request lethal prescriptions when what they need is more support for living. Many people with disabilities who cannot care for their own physical needs can still live independently in their communities if given enough support from society. In the absence of such support, people with disabilities may find themselves confined to nursing homes, living more limited lives, and being more susceptible to the desire for assisted suicide.
Even without the availability of physician-assisted suicide, people with disabilities sometimes experience discrimination within the health-care system. For example, people with disabilities sometimes feel pressured to sign do-not-resuscitate orders by hospital staff when they check into hospitals for treatment. Such pressure reflects an attitude among some health professionals that a life with severe disability is not a life worth living. The ethical concern is whether or not a profit-oriented health-care system could turn the "right to die" into a "duty to die" for some patients without an adequate social support network.
The church can play an important role in upholding the sanctity of human life through pastoral care to individuals facing medical crises. Pastors and chaplains visiting a patient whose injury has resulted in a permanent disability can reassure the patient that life still has purpose and value even after the loss of a physical ability. Pastors and chaplains also can help families cope with the changes and challenges brought by a loved one's new disability. Pastors and ministries within the church can provide ongoing support to individuals living with disabilities and help them feel a sense of belonging in the body of Christ.
The Need To Translate Ethics into Action
Within a church, the ethical stance that upholds the sanctity of human life can be translated into action by creating a welcoming environment for people with disabilities and their families. A church that teaches that children born with special needs are valuable members of society must be ready to provide care within the church programs for these children. The fourth largest unreached people group in the world is people who are deaf. Churches that provide sign language interpretation in their services are serving as missionaries to this people group.
Beyond making the church physically accessible for people with disabilities, there are many small actions church staff and members can do to make a church appealing to a person with disabilities. For example, train church staff members and ministry leaders to use people-first language when referring to someone with a disability.
People-first language means that the person is primary and the disability is secondary. A "person who uses a wheelchair" represents better word choice than "confined to a wheelchair." Instead of saying "Mrs. Jones is disabled" say "Mrs. Jones has a disability." The man "has multiple sclerosis" is preferred to the man "suffers from multiple sclerosis."
In addition to using people-first language, be sure to welcome a person with a disability with a warm smile and speak directly to him, not his attendant or companion. Ask the person who has a disability if he needs assistance and the best way to assist. Do not make assumptions about what activities he can or cannot do. Whenever possible, allow the person with a disability to sit alongside at least one companion. During the greeting portion of a church service, make sure the person with a disability is not ignored. If the person has speech that is unclear, politely ask the person to clarify what was said instead of pretending you understood him.
Pastors can train ushers to be sensitive to parents and their children with developmental disabilities. Perhaps these families would prefer to be seated in the back of the sanctuary near an exit, in case their child becomes disruptive. On the other hand, these families may desire a seat near the front of the sanctuary to ensure that the worship team captivates the child's attention.
Let parents request the seating they feel is most appropriate for their family. If ushers need to inform a family that their child has become too disruptive to remain in the service, train them to convey this message gently and nonjudgmentally, while offering another alternative for the child and parents, such as a room outside the sanctuary where they can view the service on closed-circuit television. Some church crying-room policies limit use of these rooms to younger children. If parents of an older child with a disability such as autism attend church regularly, develop a plan for meeting the needs of this unique family.
If a child with a disability will be attending a Sunday School class, consider recruiting an extra volunteer to be available in the classroom. This volunteer should work with the entire class instead of hovering around the child with a disability. Yet this volunteer should be ready to step in and assist the child with a disability when necessary.
Some pastors may desire to make ministry to people with disabilities a focus of their church. The church's ministry to women can organize support for caregivers of people with disabilities. Churches with small-group ministries may choose to start a small group for those with a particular disability, including developmental disabilities. A larger church may purchase a wheelchair van to bring people with disabilities to the Sunday worship service. Churches may purchase Braille Bibles for people with visual impairment.
Churches of every size, including newly planted churches, can find ways to minister to people with disabilities. By reaching out and including people with disabilities in the life of a local church, pastors are making their church more relevant to the needs of their community. A community will be more willing to embrace a new church when the community sees that a church cares for people and desires to meet practical needs. Thus, meeting the needs of people with disabilities within the church can lead to greater opportunities to serve all people within a community and shine the light of the gospel to a secular world.
Note
1. E. Verhagen and P.J.J. Sauer, "The Groningen Protocol — Euthanasia in Severely Ill Newborns" NEJM 2005;352:959–62. http://content.nejm.org/cgi/content/short/352/10/959