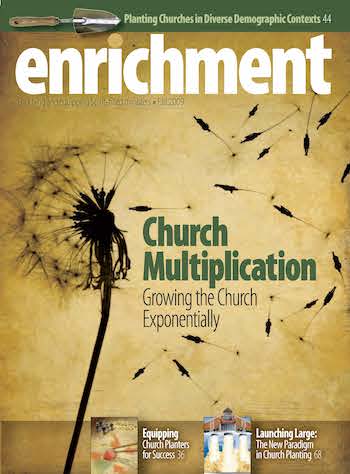 Downloads:
Living With Integrity
---
John Henry Jowett served a distinguished career as a British pastor. Following 6 years at St. James Congregational Church, the famed preacher moved to Carr's Lane Church in Birmingham, England, and in 1917 he succeeded G. Campbell Morgan at London's Westminister Chapel. According to the mayor of Birmingham, the town's crime rate and drunkenness dropped noticeably during the years Jowett poured his life into Carr's Lane Chapel. His ministry made a moral impact.
On the other hand, two Midwestern church officials were convicted by an Indianapolis civil court for defrauding their denomination of millions of dollars. Charged with misappropriating funds intended for use in financing new church facilities around the country, their story sounds strangely similar to the Enron debacle and other corporate and banking scandals rocking the country in recent decades and illustrating the character crunch challenging the church.
Walk "circumspectly, not as fools but as wise," Paul instructed the church at Ephesus, "redeeming the time, because the days are evil" (Eph. 5:16, NKJV emphasis added). Uncertainty and change complicate our lives, making it imperative that the church and its ministry give heed to conventional wisdom and wisely invest our lives.
Nowhere is the character crunch more critical than in today's church. With the average pastor overworked and understaffed, it becomes all too easy to let spiritual formation slide. Lacking the time to discuss right from wrong, however, and not taking time to practice our model, suggests Stephen Carter, simply means "we do not have time for lives of integrity."1 What we think matters very little, concludes Carter, "if we lack the essential integrity, the courage of our convictions, the willingness to act and speak in behalf of what we know to be right."2
Paul concluded the matter elsewhere by recognizing "this world in its present form is passing away" (1 Corinthians 7:31, NIV). For that reason, if for no other, we need to live as fully as possible. To do this, however, we must concentrate on the spiritual quality of life and maintain our focus. When we follow Paul's instructions to his faithful followers, we discover not only how he discipled others believers, we find the ethic which he recommended for both the church and all of its leadership.
Live Fully
Paul spent 18 months establishing the Corinthian church on his second missionary journey. When he returned on his third trip, he found cultural viruses infecting the church with spiritual division, moral and ethical disorder, and marital distress. This created problems not unlike those we face today, problems that hindered the church and left believers with short-term solutions to long-term problems.
Since the time was short and the problems were numerous, time was of the essence. Evolving changes left everything in transition. Nevertheless, Paul remained unwilling to waste either his own life or the lives of others (1 Corinthians 7:28,31). He believed that as Christ's followers we need that discerning balance that dissects the essentials of the faith from the more transitory issues of the culture in which we live.
Paul took up such questions as marriage, male-female relations, etc., and the Lord's soon return magnified his concern. Since Corinth had once housed 1,000 temple prostitutes, Paul knew this was no time or place to outrage propriety with Christian liberties. Although urging believers to get on with their lives, he also knew the worth of remaining unencumbered. People could do this best, reasoned Paul, by keeping their devotion to the Lord "undivided" in every circumstance (1 Corinthians 3:5).
Give us a clear vision, prayed Peter Marshall, that we may know where to stand and what to stand for, because unless we stand for something, we shall fall for anything.3
While sharply distinguishing between his own personal opinions and God's word, Paul explicitly challenged the Ephesian believers to live their lives most fully by standing steady, avoiding snap decisions, and focusing fully on Christ. Life is to be lived, and Paul found that believers do best when they live their lives to the fullest capability that God offers them.
Concentrate on Quality
Should a Christian marry? Should a believer leave an unbelieving spouse? Paul worked hard at sorting out such issues, but he worked equally hard at doing it without bogging down in nonessential details. It became part of the pressure he faced daily in his "concern for all the churches" (2 Corinthians 11:28).
Gamaliel confirmed and strengthened Paul's Jewish orthodoxy, but Jesus redirected Paul's ministry and transformed him into a persuasive Gentile preacher with a word of life for the larger world. Knowing there was much work to be done, Paul continually focused on doing the will of God. Thus, he heralded the good news that he had personally experienced. He saw his personal experience as an essential proof of God's ability to transform other people's lives.
Converting people to Christ became his Paul's primary passion (2 Corinthians 2:12). With the passage of time, he could write "for to me, to live is Christ and to die is gain" (Philippians 1:21).
Whatever the pressures are that we face, we must never lose our passion for winning people to Christ. Like Paul, we can "press on to take hold of that for which Christ Jesus took hold" of us. Paul's passion to share Christ's love led him to do everything in his power to convey that message with the rich fullness of the customs, history, and language he knew as his heritage (Acts 13:14–43; 22:2; 23:6–9).
Paul strengthened his message by further enriching it with the curiosity of his listeners' (Acts 16: 37; 17:22). He filled his verbal communications with deliberate gestures, dramatic actions, and dire warnings (Acts 13:16, 40; 14:14-15). When we take our worship and preaching seriously enough to complement them with sound educational methodologies, our open Bibles will produce changed lives, instructed disciples, and corrected churches. Until then, we have a task to fulfill.
Keep a clear focus
Wherever he went, Paul never lost his sense of direction. He always kept his objective in full view. According to Stephen Carter, integrity requires that leaders demonstrate forthrightness of another kind: they must shun the national habit of engaging in misdirection and instead simply tell us what they mean.4
Thus, Paul reasoned that if there was no resurrection Jesus was a fraud. Without a resurrected Savior, his efforts were worthless, his faith of little value, and our doctrine an empty chest of drawers (1 Corinthians 15:13).
John Jasper lived in the slavery of the old Confederacy for 50 years. He spent 25 of those years preaching the gospel. On March 28, 1901, Jasper died following almost 35 years as pastor of Sixth Mount Zion church in Richmond, Virginia.
On the first Sunday of March, the 88-year-old African-American preacher mounted his pulpit and read from the book of Revelation. He then removed his glasses and began his valedictory sermon. Jasper's biographer reveals him concluding that sermon by lunging into a dramatic conversation with an unnamed angel, which he delivered in the dialect of the day.
"Now, Mr. Jasper, you can see all de folks you'se preached about. Want ter see Moses?"
The conversation gently bounded back and forth throughout the Old Testament honor roll. "Yes, I wan' ter see dem," but, not now — not even his mother.
An exasperated angel fairly shouts, "Well, John Jasper, who does you wan' ter see, anyhow?"
The preacher, a onetime slave, stood tall. He stretched forth his long arms with his whited palms heavenward, and cried "O Angel. Jes' lead me befo' de Great White Throne and let me gaze a thousan' years inter de face uf my Jesus!"
Jasper concluded his sermon but fell ill the following Sunday. On March 28, he rallied long enough to whisper "I have finished my work. I am waiting at the River, looking across for further orders."5 With that, he was gone.
Capturing the mindset of both Paul, the saintly servant, and John Jasper, the slave-preacher, F.L. Eiland left this poetic inheritance. It offers us both a mindset and a confident vision of the providence of God, and it gives us a view that we occasionally need to help us get through life's uncertainties:
Time is filled with swift transition,
Naught of earth unmoved can stand,
Build your hopes on things eternal,
Hold to God's unchanging hand.6
Wayne M. Warner is a retired pastor and freelance writer who lives in Battle Creek, Michigan.
Notes
1. Stephen L. Carter, Integrity (New York: Basic Books, 1996), 29.
2. Ibid., 7.
3. Peter Marshall, Mr. Jones Meet the Master (Grand Rapids: Revell), 68.
4. Carter, 37.
5. Richard Ellsworth Day, Rhapsody in Black, the Life Story of John Jasper (Valley Forge, Pa., The Judson Press, 1953), 141,142.
6. Wayne M. Warner, Get Ready, God Uses Transitions (Prestonsburg, Kentucky: Reformation Publishers, 2004), 13.