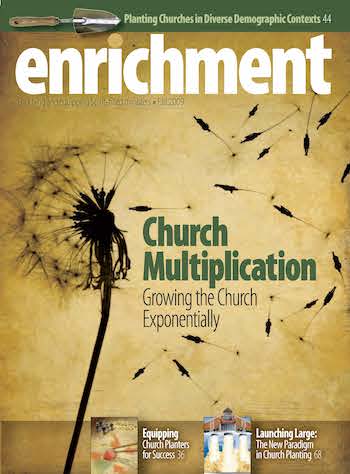 Downloads:
I Miss My Family Desperately
by Gabriele Rienas
---
Q: About 2 years ago we moved 1,500 miles away from our hometown for my husband to take a dream position at a multistaff church. He loves his job and feels fulfilled. I, on the other hand, am having a hard time. I miss my family desperately, and pray every day that we could move closer to home. My mother does not understand why we moved and frequently tells me how hard it is for her. I just found out I am pregnant and now feel more longing than ever to move home. When I observe close, extended families at church, I cry and question God. I feel stuck and miserable. What should I do?
A. I identify with your dilemma. My husband and I have been in the pastorate for 27 years. For 26 of those years we lived 1,500 to 2,500 miles from our hometowns. Moving away from my family was not something I ever longed for or would have chosen, and yet looking back I can enthusiastically say that God's plan was best. Not only did He equip us for what He called us to do; He brought blessings out of our obedience to His will.
The first hurdle is your will and your attitude. If you spend your time and energy longing for what you cannot have, a few things will happen:
1. You will be miserable.
2. You will begin to resent God and the ministry.
3. You will become a hindrance to your husband and his calling (not in your best interest in the long run).
4. You will fail to experience the wonderful blessings right at your doorstep.
Instead, put your energy into submitting to God's will for you today and passionately pursuing His agenda for you.
Submitting your will means you maintain an attitude of obedience, remembering that life is made up of seasons, all designed by God to produce fruit in your life. Remember that this season is about much more than your location on the globe. It is about what God wants to teach you, where He wants to use you, and what He wants to do through you. If you spend your time and energy on the alternatives, you could well miss what is right in front of you.
There are some amazing opportunities that come from crossing geographical (and cultural boundaries) as we minister. If you let it, your horizons will be expanded along with your view of the world. Become a student of the area in which you live and your new culture. What makes people tick? How do they celebrate? What makes them laugh? How do they love? What's special about your part of the country?
Be open to new relationships that have the potential to become family-like. There are loving people in every congregation, but stronger connections are more likely to happen when close family is not in proximity. My children love their biological grandparents, but they have "aunts and uncles" in all the places we have lived. Aunt June potty trained our son. Miss Sue rocked our colicky baby daughter. Even though our children are now grown, Richard and Gloria still remember each birthday, Christmas, and major holiday by sending gifts.
One of the greatest advantages you will find if you stick it out is the personal growth you will experience. You will become more independent, and thus more confident as you discover new things about yourself. Your relationship with your husband can become stronger as you rely on one another. When your baby comes, your family will have a strong bond as you focus on your nuclear family.
Besides, new advances in communication technology have made huge inroads in eradicating the relationship challenges that come with geographical distance. Inexpensive technology like Internet communication, social networking, Skype, text-messaging, web cams, and cell phones all help keep our loved ones close and accessible.
You can still involve your parents and siblings in the passages of your life. Have your family join you for the birth of your baby. Plan ways to involve your relatives in birthdays and family events. Plan ahead for trips home. You will enjoy and appreciate your family much more during these times. Remember that closeness is a matter of the heart. It is not about proximity and availability.
I feel passionate enough about the next thought to be bold in expressing it. Please let your mother know it is not helpful for her to express her grief to you in ways that trouble you or exert pressure on you. It places you in an impossible position — between your joint calling with your husband and your immediate family. Tell Mom firmly that you do not mind knowing that she misses you, but that her positive, upbeat attitude about your life would be much more helpful. Let her know this is the best way she can be supportive of you and your marriage.
This season of your life may last for a short time or for a longer duration. God's plan is securely rooted in what is best for you. You could continue to proclaim your misery and demand change. However, I believe you will miss out on the gifts God wants to give to you through your obedience.
If you choose obedience, it's okay to have a good cry once in a while and think about how much you miss your extended family. Have a good cry, wipe your tears, and then focus on the tremendous opportunities before you.