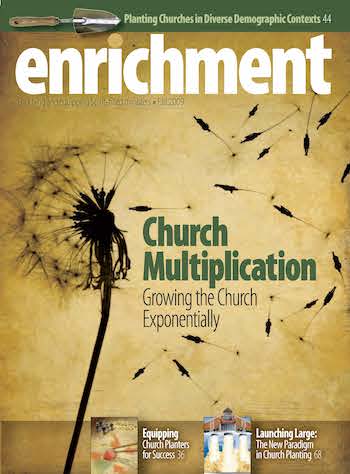 Downloads:
How Do You Minister to " Joe" Student?
by Harvey A Herman
---
Think of the college students near your church. In what ways are they unique? What difference does this make?
Not every student is alike, and every college is not the same. The profile of the typical student can vary greatly from one campus to another. This requires a unique approach for effective student ministry. This affects where and when your student meetings occur, and what type of meetings you have. Do you focus on apologetics, on nonjudgmental dialogue, or on social functions? A one-size-fits-all, works-in-every-situation, or unadorned model of university ministry is a myth.
Every Chi Alpha Christian Fellowship group subscribes to the same philosophy of ministry: We seek to create a community of Christian students on each campus that carries out worship, prayer, fellowship, discipleship, and evangelism.However, every Chi Alpha group within a district or within the same urban area will express its community life in a unique manner. This reflects the leader's awareness of the unique demographic of the university he ministers on. This means every pastor who wishes to reach the students near his church with the gospel needs to engage in environmental scanning to determine his approach for university ministry.
Start by asking: Is the college a public or private institution? Is it a commuter or residential university? Is it highly selective, moderately selective, or nonselective? Is the college in an urban setting or a college town? Each one of these demographics is a crucial factor in determining your approach to student ministry.
First, why make a distinction between public and private universities? This is primarily an issue of accessibility. Chi Alpha has a legal right to organize on a public university, but it cannot make that assumption on a private college campus. It normally requires a miracle of favor to gain student group status at a private university.
Why is selectivity a factor? Some universities are so academically elite that 80 percent of the student body will be either the valedictorians or in the top 5 percent of their high school graduating class. Other schools offer remedial English courses to assist students with reading their assignments. At an academically elite school, you will find very intelligent students who also demonstrate high levels of emotional intelligence, meaning they are quite socially adept. Academically elite students appreciate a more cerebral approach to their faith, while students at less elite schools are more passion-driven. Most schools fall along a continuum somewhere between being highly elite and non-selective.
I will unpack this for you with this table. Each quadrant is uniquely named, and I will suggest the challenges and opportunities each presents.
| | | |
| --- | --- | --- |
| Public | The Townsy College | Joe College |
| Private | The Expert College | The Elite College |
| | Commuter | Residential |
The Townsy College.
This is a publicly funded state university with less than 40 percent of the student body housed on or near campus. Most students commute to school. This profile also includes the 2-year community/junior colleges. Often, you will notice these students attended high school next to the college. This is why I call them a townsy — they are from the same vicinity as the college. This is a challenging student to reach. If he is a Christian student, he already has a home church. He maintains his friendships from high school and church. He does not feel a need to establish community on the university because this need is met elsewhere. He treats the college as if it were a part-time job. He drives to campus, goes to class, and then leaves for the day. This makes nighttime programming difficult to pull off successfully.
Many Chi Alpha groups have found success in offering meals and meetings over lunch, i.e. bag lunch Bible study discussions or prayer cells. If you are going to intersect the lives of these students, you need to do it on campus between 10 a.m. and 3 p.m.
The Expert College.
This is a privately funded college with a small portion of the student body housed on or near campus. There are many of these small colleges in the United States, and they each specialize in an academic discipline. For example, there are colleges for disciplines like pharmacy, business administration, aeronautics, art, music, theater, or information technology. Nontraditional students (these are students at a life stage beyond the traditional 18-22-year-old, single student) frequently comprise a major percentage of the student body. Many of these students study their coursework online. The lack of a visible college community life is readily apparent. These demographics make these schools challenging to minister on.
One notable exception to this is my wife Sally's successful ministry at Georgetown University School of Medicine. All the students are graduate students or Ph.D. students preparing for careers in medicine or research. The school does not provide housing. Sally created what these students needed — an opportunity to experience Christian community and take a break from the demanding rigors of their studies. She prepares a homemade supper and offers a 60-minute, weekly meeting dedicated to food, fellowship, a short Bible lesson, and brief worship. She organizes medical mission trips and community service projects where the students get practical experience in caring for the needy. The students appreciate her service and love, and testify to the significant spiritual impact in their lives as a result of this unique campus ministry model.
Joe College
Joe College is the conventional public university with over 70 percent of the student body housed on or within walking distance of campus. These are major 4-year state universities. Chi Alpha is on 250 universities in the United States and probably 80 percent are public, residential colleges. Why? Several reasons. Most obvious, the majority of college students attend these colleges. Since they are residential, student community life and school spirit are high. A higher percentage of Christian students also attend these schools (in much greater numbers than the low percentage of Christian students who attend Elite colleges). Organized Christian ministry is more prevalent and permitted on these schools.
The Joe College profile lends itself to community building and the religious seeker mind-set. This gives university ministries, like Chi Alpha, a tremendous opportunity to present the gospel to the largest numbers of students in one place. A friend of mine views Joe College as a high-yield mission field. You have thousands of students from all over the world living side-by-side, and they are sincerely interested in developing their spirituality. It is a golden opportunity for ministry. It has captured my heart and vision for over 35 years. Presently, Chi Alpha offers many venues of training to equip people in reaching this mission field.
The Elite College.
This is the private residential university. They are known for their academic selectivity, notoriety, research, and worldwide influence. They excel in political science, medical research, business management, social science, engineering, and research. They are clearly the most influential universities. Their names are recognized around the world: Harvard, MIT, Yale, Princeton, Cornell, Penn, Stanford, Georgetown, Duke, Rice.
Typically, a small percentage of Christian students enroll in elite colleges. Christian organizations, like Chi Alpha, do not have a legal right to access these schools. It takes a miracle of favor every time Christians are permitted to establish a student ministry on one of these campuses.
However, can you imagine a more strategic mission field? The best firms recruit elite students. Companies select these students for the most influential assignments. These students have the inside track on whatever career they pursue. When you reach these students for Christ, you leverage the kingdom of God into the inner circle of human power.
Over the past few years Chi Alpha began experiencing greater success at the Elite universities. It is beneficial when the campus minister has earned a graduate degree. These students enjoy in-depth seminars where they can begin to integrate their Christian faith with their career choice. They respond positively to community service projects and foreign travel. They would love to meet a Christian mentor whose career matches their aspirations. And they are driven more by personal ambition than by emotive passion.
Despite the uniqueness I have highlighted, common factors are true among all students. Every student responds to sincerity and love. Students earnestly seek authentic friendships with their peers and with mentors. Students care about spirituality. And they want to be taken seriously and treated with respect. And most important, the gospel works powerfully in the heart of even the most skeptical student. So scan the environment of your college and then reach out in love to your students. Be confident that Christ's transforming love will find a place in their hearts.