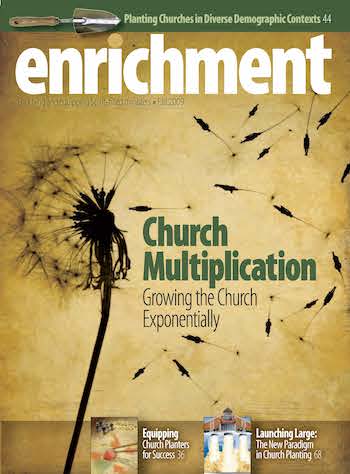 Downloads:
Hope in Transition
When your husband is between roles, life can be extremely unpredictable, but God is always at work on His wonderful plan
---
We knew it was coming. The Sunday morning we had dreaded, yet anticipated, too. The day had finally come.
After teaching Sunday School and getting roped into attending the checkout table unexpectedly at the last minute, I stepped into the worship service midway through the second song. I worshipped God and attempted to direct my focus on His worthiness rather than my own nervousness. The worship team began the third song, "Blessed Be Your Name." While focusing on the worship leader, my eye caught a figure dressed in black pass quickly on the other side of Kris. I turned to look and there was one of the most beautiful forms of worship I have ever seen: she danced for the Lord. As she whirled in praise, I realized that it was something I'd often liked to have done in response to His Glory and my praise, but had never done so, nor seen anyone else do as part of a worship service. Somehow, I didn't question it; I just smiled and thought, Good for her. Praise You, God – I rejoice as well in Your Goodness.
Kris stepped a little closer to me to give her room. Oh, I thought, I think she actually bumped into him. I smiled and lifted my hands again. Oh well, as the Spirit moves, I suppose. I had no idea.
After Pastor's sermon, he asked everyone to sit down for a family discussion, came out from behind the podium, and got ready to make his announcement: The church could no longer afford the full-time position of associate pastor. After seeking the Lord in prayer, Pastor Kris had submitted his letter of resignation and felt led by God to pursue other full-time ministry options, which remain unknown at this time. As he spoke, I sat trembling, gripping Kris's hand like a vice.
After Pastor was finished, he called us to the front to pray over us. I was nervous, numb, and hurting, but somewhere under my flesh, I felt God's peace. "This is how it must be," He whispered to my heart. "Hold on for a little longer."
I didn't begin to weep until after Pastor's prayer was over and the board members who had been praying over me began to hug me. I recalled how much love, support, and respect they had poured into our family. I felt unworthy of their love and dedication. I was sad to know that the love we had all invested into each other would have to be put on hold until the day we see the other side of eternity. It felt as if the church bombarded us. There were lines of people who came to bid us farewell, give loving affections, share supporting words, and express their feelings of missing us.
As I was finally able to walk up the aisle to head for my children in the nursery, my good friend and the church secretary, Susan* stopped me, hugged me, and said she had something to share.
"I've been grieving over this for days," she began in her thick Sri-Lankan accent. "I've waited on the Lord for an answer to my grief over your leaving. When He finally answered, He told me this, and asked me to tell you, as well."
I don't usually buy into the whole "God told me to tell you" line, but coming from her, I was all ears. She was a trusted, spiritually mature servant. I knew from experience that she regularly spent time with the Master. I said, "Yes, Susan, tell me, what did God say. He's been so silent to me as of late. Tell me what you've heard from Him." She began to speak a word from the Lord, and as I listened, I strained to remember the words so I could recall them to my husband. I knew he would cling to them as I did.
"These last 2 years have been a training ground for what God has planned for you and your ministry next. The Lord will use this to launch you into something that is beyond even what you have dreamed. I asked the Lord to confirm this word that He spoke to me last night, which He has done this morning. The dance of joy this morning was meant for you and Pastor Kris. It was right in front of you and it was God's sign of the joy He has in store for you through His good plan and purpose."
Over the next couple of months I held onto those words like a treasure. I wrote them in my journal and read them several times a day. I had to. I couldn't see it happening in the natural realm. Kris applied to every church he knew. He called all of his colleagues and previous ministry partners. The response was always the same, "Sorry, but I don't have anything for you. Our staff is full right now, but I'll keep you in my prayers." He continued to send in resume after resume, with not a single interview.
I tried to focus on God's call on my husband's life, on His plan for our family, on Susan's words from the Lord, but often my mind wandered into anxious worry: How are we going to pay our bills? What is going to happen to our home? Should we put it on the market? Should we wait and see? What should I do? How long, O Lord?
My husband decided to take a short trip from our home in Maryland to his cousin's house in New York. Usually he took the less-miles-but-longer-duration route to save gas, but for some reason, he decided to take the more-miles-but-faster-highways route. I stayed home to work my child-care business. He took our two children with him to visit the relatives. As he was driving the 5½ hours, he periodically prayed for God's direction and guidance for the next step in ministry. Although confident from the beginning that he was called to full-time ministry and that God wanted him to remain in this vocation, he had begun to second-guess his decision to resign.
Desperate for God's answer, he began to pray in the Spirit as he drove on late into the night. He spoke aloud in the midst of his prayer, "God, would you please open a door?" Just as the words left his mouth, he turned his head and saw the words "First Assembly of God*" on the side of a building facing the turnpike as he sped by at 65 mph. Hmmm, he thought, maybe I should call them, just to see if they might be looking for someone on their staff.
After looking up the church in his directory, on his way home from New York two days later, he called and left a voice mail, "Hi, my name is Kris. This may sound weird, but I was just wondering if you are hiring right now for your pastoral staff. I have experience in youth and associate ministry, and would appreciate a call back either way." He knew it was a long shot. It surprised us that it had come to this, to cold-calling churches in desperation to find God's will for this calling. After all, we did know quite a few pastors around the nation, and no one had known of a single opening. He didn't expect to hear from the church, but a few days later, a woman from the administrative staff called for him. She asked a few questions about his ministry experience, his family, and his goals, then said, "We're actually not hiring for a staff position at this time, but we are looking for a pastor to plant a new church from our congregation. Is that something you've considered?"
We hadn't considered church planting, but her question made him think long and hard. After their conversation, he came downstairs with a light in his eyes that I hadn't seen in months. "What do you think God has been preparing me for?" he asked me.
"I don't know. What?" I responded without a clue.
"Church planting," he declared, as if God had turned on the light of revelation and guidance like a switch. "Think about it. I've headed up just about every ministry under the sun, He's stretched me beyond what I could have thought possible, He's given me a gift and passion to preach, and besides, I'd love to start something new. What if this is it? What if we could be church planters?"
I was more hesitant. "What does that mean? What would you need to start? How would we be supported? Is that what God is revealing to you?"
He was thoughtful, but still excited. "I think so. I just e-mailed my resume to that church I called in Pennsylvania. Let's pray." And we did. We prayed as hard as we had ever prayed, knowing it was still a long shot, but sensing God in it somehow.
A few more days passed and then we got another phone call on a Friday. This time I answered. "Hello," said the friendly voice of a man at the other end, "this is Larry* calling from PA," (the endearing term Pennsylvanians use, as I would soon come to know). "Is this Robyn?"
"Yes it is, how can I help you, Pastor Larry?"
"Is your husband available?"
"Of course, one minute please," I said, then rushed the phone to Kris with my eyes wide with excitement. I covered the mouthpiece and whispered, "It's him — the pastor from Pennsylvania," and handed the phone over. They talked for close to an hour and then amazingly, he left the ball in our court.
"We'd like you to consider coming to PA to candidate for the church planting pastor here. Please pray with your wife and see if that is something you would be interested in pursuing. You can get back to me on Monday."
I know my husband felt like saying, "Okay, done. When do you want us to come?" However, he also wanted to honor Pastor Larry's request, so he agreed and they hung up. This was the only realistic lead we had entertained in months, and it was hard to hope for fear of disappointment, but we couldn't help but be excited.
We asked our pastor for prayer and he recommended we drive up to Pennsylvania for a covert mission to check out the potential "mother church" and seek the Lord's direction up close. "After all," he said, "it's not like it's in Kansas. You can get there and back in one over-night trip. Go in late, sit in the back, don't approach anyone. Just check it out."
It sounded easy enough, so we tried it. We did everything he said, only after Communion, who should walk up the aisle toward us but Pastor Larry. We wanted to hide, but found the bulletin too small of a cover-up. He had recognized us from a picture on our previous church's Website, which he had checked out only the day before. We felt caught red-handed, although we had not really done anything wrong.
As the choir sang another song, he asked, "Why didn't you tell me you were coming?"
Kris responded, "Well, we didn't want to take any of your time, we just wanted to come and see what your church was like and pray for God's direction."
Pastor Larry was not upset, as we imagined he might be, but felt excited to meet us, and wanted to talk more with us after the service. He revealed that in his 9 years of pastoring that church, he could not remember walking a Communion tray out after serving. If he had not done so, he would not have seen us, and would not have been able to meet with us after service. We spent about an hour discussing the potential church plant and then he had to get home to his family. He sent us on our way, happy to get to know us and said, "I'll be checking your references this week."
And the rest is history. His Story. God was the only one who could have orchestrated something so coincidental as a drive by the church, followed by the nudging to call, when just the previous night their board had been praying for God to send the right pastor to lead the new church plant. Only He could have known that we needed that dance of praise to confirm His word of hope and promise. And only God could have known that it would all turn into what is now a blossoming congregation in the eastern suburbs of Pittsburgh that meets in a movie theater and is called Crossroads Church. Only God.
Robyn Langdon, pastor's wife, Export, Pennsylvania
* names changed for anonymity