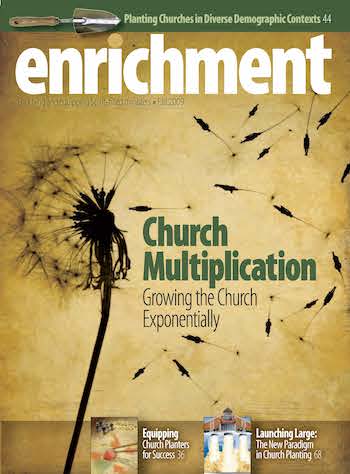 Downloads:
Failing Forward
If we allow our failures to define us, they can ruin us. But failure handled properly is the best thing that can happen.
by Mark Batterson
---
For more than a decade I have served as lead pastor of National Community Church in Washington, D.C. I love living on Capitol Hill. I pray for the privilege of pastoring one church for life.
But I have also experienced my share of challenges, disappointments, and failures.
After graduating from Central Bible College in Springfield, Missouri, I attended seminary at Trinity Evangelical Divinity School in Deerfield, Illinois. My dream was to plant a church in the Chicago area. My wife and I grew up in Naperville, a western suburb of Chicago. I love Chicago style pizza. And Michael Jordan was still playing for the Chicago Bulls. Why would we want to be anyplace else? So we formed a core group, opened a bank account, and chose a church name. I even put together a 25-year plan. But our core group imploded before we could hold our first service.
I still have unanswered questions about that first church plant. Were we even called to plant this church? Or did God plan the failure? Was our timing off? Or did my ineptitude or inexperience cause it to fail? I came out of this experience with a core conviction: Sometimes our plans have to fail for God's plans to succeed.
That failed attempt at church planting ranks as one of the most embarrassing and disillusioning seasons of my life. I had no idea where to go or what to do. And I was emotionally and spiritually miserable.
If we allow our failures to define us, they can ruin us. But when failure is handled properly, we learn our most valuable lessons. We are far less likely to take the credit or take for granted later successes. We discover that, even when we fall flat, God is there to pick us up. Failure has a way of opening up other options.
When the dream of planting a church in Chicago died, I was willing to go wherever. So after several months of praying and seeking, I found a door opened in D.C. We did not have a place to live or a guaranteed salary; but, by faith, we packed our belongings and moved.
Coming Soon to a Theater Near You
On the first weekend of January 1996, a blizzard swept through the East Coast leaving record snowfalls on the nation's Capitol. That was my first weekend as pastor of National Community Church. Only three people showed up for the service — my wife, my son, and me. The upside is that we experienced 633 percent growth in one week when 19 people showed up the next Sunday.
We broke several church planting axioms. I was told that if you did not reach 100 people by your first year or 200 people by your second year, you would never break those barriers. Our average attendance our first year was approximately 35 people;. We would often start services with six or eight people in attendance. I would close my eyes during worship because it was depressing if I opened them. But I never lost a sense of destiny. I knew God had called us. And I knew something good would happen. I just did not know the good thing would be something I perceived as a bad thing.
In fall 1996, the D.C. public school where we had been meeting was closed because of fire code violations. National Community Church could have easily become a church-planting casualty. We started exploring meeting space options. Every door closed except one: the movie theaters at Union Station.
In retrospect, it is hard to imagine a more strategic spiritual beachhead than Union Station. Twenty-five million people pass through Union Station every year making it the most visited destination in D.C. We have nine theaters, 40 food court restaurants, and a parking garage. We even have our own subway system that drops off and picks up at our front door. If God had not closed the door to the D.C. public school, we would not have been looking for an open door at the theater.
I must mention one historical footnote. On the day I signed the lease with the movie theater at Union Station, I picked up a book, Union Station: A History of Washington's Grand Terminal. I wanted to know the story behind the Station. On February 28, 1903, President Theodore Roosevelt signed the Bill of Congress allowing for the creation of Union Station. The bill stated: "An Act of Congress to create a Union Station, and for other purposes."
Roosevelt thought he was building a train station, but God knew that years later Union Station would be serving His purposes through the ministry of National Community Church.
The Middle of the Marketplace
I went into church planting with the traditional mindset: Meet in rented facilities until you can buy or build a church building. But I experienced a paradigm shift. I knew it would be a long time before we could even think about buying or building. Property was going for $10 million an acre. And this thought occurred to me: Why would we build a church building when we have a made-to-suit auditorium complete with screens, comfortable seats, and surround sound? Besides, how many churches have a food court, parking garage, and subway system? Doing church in the marketplace became part of our spiritual DNA.
I was walking home from Union Station, and I had a vision at the corner of Fifth and F streets, NE. No angelic choirs. No graffiti on the sidewalk. But I could see a metro map in my mind's eye. I envisioned NCC meeting in movie theaters at metro stops throughout the D.C. area.
We eventually launched our second movie theater location in Ballston Common Mall in Arlington, Virginia. We have since launched two more theater locations in Georgetown (Washington, D.C.) and Alexandria, Virginia.
Along with our four theater locations, NCC also owns and operates the largest coffeehouse on Capitol Hill. In 2008, Ebenezers was voted the No. 1 coffeehouse in the metro D.C. area by AOL CityGuide.
The passion was simple: Create a place where the church and community cross paths. Jesus did not just hang out in the synagogue; He hung out at wells. Wells were not just a place to draw water. In ancient culture wells were gathering places. Coffeehouses are postmodern wells.
Not only do we interface with hundreds of customers daily; we also do two Saturday night services in our performance space. All coffeehouse profits go to missions.
Five Lessons
Here are lessons I learned during our church-planting journey.
#1 Zoom out
If you have a short-term perspective, you will live in perpetual discouragement. When I am discouraged, usually it is because I have zoomed in on something I am frustrated about. I need to zoom out and remember the big picture. I need to remind myself that 2,000 years ago Jesus died on the cross for my sins. And I need to remind myself of the eternal future I have. That helps me recalibrate spiritually. Why am I doing what I am doing? I need to reconnect with the primal calling that God placed on my life. And I need to remember that I am in it for the long haul.
Growth takes time. God will not bless you beyond your ability to handle it. He is far less concerned about what you are doing than who you are becoming. The longer you have to wait, the more you appreciate. Our coffeehouse, for example, is the byproduct of 8 years of praying, rezoning, and constructing.
Church growth is not the issue. The issue is personal growth. If you are growing personally, the church you lead will grow corporately.
Here is an irony of church growth. On the weeks I am hitting on eight cylinders and I think every visitor will become a member the next week, no one comes back. Then the next week I preach a message that bombs. I feel like e-mailing a complaint to myself. Then people get saved and all the guests return.
#2 Make mistakes
Every church planter wrestles with fear of failure. The cure is not success. The cure is failure in small doses, almost like allergy injections, so you build immunity.
Failure has a freeing effect. You realize God is there to pick you up and dust you off. And it keeps you humble.
We have a core value at NCC: Everything is an experiment.If the kingdom of God had departments, we could work in Research and Development. I am driven by a core conviction: There are ways of doing church that no one has thought of yet. But that means I need to make some mistakes. I must get to the point where I am more afraid of missing opportunitiesthan making mistakes.
I have no problem with staff making a mistake. I just do not want them to make the same mistakes over and over. Mistakes mean you're trying new things. And that is the way to continue to grow as a leader.
#3 Quit comparing
I am competitive. I do not like losing a game of Candyland to my kids. But I have asked God to sanctify my competitive streak and use it for His purposes. Too often we compare ourselves with other pastors and view other churches as competitors.
Healthy leaders have a Kingdom mind-set. I do not have to be all things to all people because I am not the only church in town. We need different kinds of churches because there are different kinds of people. Let us celebrate our differences as long as we are preaching the gospel.
You can compare yourself to someone who is not as gifted as you, and it will result in pride. Or you can compare yourself to someone who is more gifted than you, and it will result in jealousy. Either way, you lose.
Part of the leadership challenge is discovering who you are. The other half is discovering who you are not. And then you surround yourself with people who can compensate for your weaknesses. Early in ministry your level of giftedness will determine your influence. But over time your giftedness will have less to do with your ultimate influence. Your influence will be determined by the giftedness of the people with whom you surround yourself. That is why leadership development and hiring staff are such mission-critical capacities.
If you do not have a clearly defined vision, you will try to be all things to all people. Too many pastors are contortionists. We try to meet all the whims and wishes of everyone who walks through our doors.
Years ago I memorized something Abraham Lincoln said and it has become a leadership mantra: "You can please all of the people some of the time, some of the people all of the time, but you cannot please all of the people all of the time."
#4 Keep learning
An intern asked me: "What is the key to success in ministry?"
I said, "Keep learning."
Leaders are learners. Part of what drives them is a holy curiosity. And they are humble enough to admit their lack of knowledge.
One of my fears is becoming a closed system. You stop doing ministry out of imagination and start doing it out of memory. You stop creating the future and start repeating the past. You stop leading and start managing.
Two things have helped me remain an open system. First, books keep my synapses firing in new ways. And I try to do as much reconnaissance as possible. I go to conferences and visit other churches to get new ideas. It helps me keep a healthy perspective on National Community Church.
#5 Enjoy the journey
When I interviewed for credentials, one pastor on the credentialing committee asked: "If you had to describe yourself in one word, what would it be?"
"I said, "Driven."I thought it was a great answer then. I am not so sure now.
My goal as a church planter was to pastor a thousand people before I turned 30. There is nothing wrong with setting God-sized goals if the motive is right. The size of our dreams is a pretty good barometer of spiritual maturity. But the problem with that particular goal is: I was more concerned with numbers than with people. We plant and water; God gives the increase (1 Corinthians 3:7).
I am so future oriented I often fail to appreciate the journey. But the Lord impressed on me early on: Be the best pastor you can be right here, right now. This is like being a parent. You need to enjoy every age and every stage. Ministry is difficult. But may we never forget the awesome privilege of being part of God's redemptive plan for planet earth. The sacrifices we make will pay eternal dividends.
Vineyard Study of Failed and Successful Church Plants
Todd Hunter conducted a significant study while he was a denominational director of church planting. Though dated, several significant findings are still quite relevant from his study for Association of Vineyard Churches Church Pathology Report, December 1986.
Hunter divided his report into two main categories: "Autopsy Reports" of failed churches and "Successful Churches." Key issues sited that contribute greatly to church planting failures include:
The planter's inability to recruit, mobilize, and nurture workers and leaders,
The planter's inability to plan effectively,
The planter's ineffectiveness at gathering new people, and
The planter's ineffective evangelistic methodology.
Hunter concluded that church planters could correct these issues with training and church growth experience.
Hunter went on to discover that the disposition of the planting pastor makes a crucial difference.
The pastors who struggle the most are more pastoral than hard-charging and lack strong leadership skills. Low success church planters are simply predisposed to a more passive approach to ministry that focuses on nurturing those who naturally come to them rather than aggressively seeking to penetrate the community and gather those who could be leaders for the Kingdom. They prefer to nurture existing relationships rather than recruit, evangelize, plan, or research their community.
Success Factors
On the other hand, according to the Vineyard research, the plants that thrive are led by pastors who work hard, who have well thought-out plans, who focus on gathering new people, and who can creatively work through and solve problems. These pastors engage in aggressive outreach, and optimism and faith fuel their passion. Additionally, these planters have good social skills and take responsibility for the growth of the church while imparting the value of the church to the people.
Finally, Hunter also discovered several success factors related to the new congregation. The prospects of survivability in a new church diminish if in the early stage the church attracts too many nominal or hurt Christians who are unwilling or unable to change and grow (i.e., church hoppers, burned out leaders, the chronically hurt, etc.). Also, if those initial members are unwilling to actively seek and welcome those who are different from themselves, it can also reduce the health and survivability. Sociological strangulation and backdoor problems hurt new churches as well as established churches.
ED STETZER, Alpharetta, Georgia, is missiologist and senior director of the Center for Missional Research at the North American Mission Board, Southern Baptist Convention. From "Improving the Health and Survivability of New Churches," Leadership Network. Used with permission.