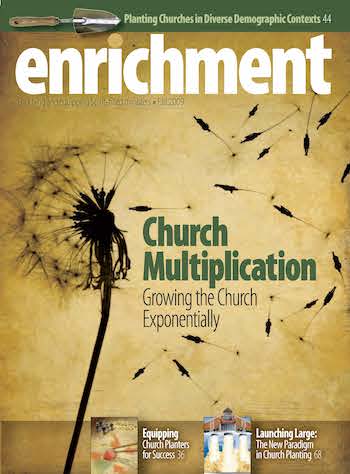 Downloads:
Equipping Church Planters for Success
by Ed Stetzer
---
I have always been struck by the first few minutes of the movie Saving Private Ryan.The Americans have landed on the beach. Captain Miller (Tom Hanks) sees an opening for the men with protection on the other side. He says, "That's the route." Immediately, he sends six men through the gap and they are brutally killed.
The sergeant, who is more experienced, warns Miller with a stern look, "That's a … shooting gallery, Captain."
Miller/Hanks responds, "That's the route." Miller commands another group of six — "Go." They obey and are brutally cut down.
Miller turns to the next six and says, "It's the only way … you're next." The third group of six loses several but finally breaks through the German lines. It is hard to watch. Many people close their eyes, unable to stomach the harsh realities of combat.
That is what church planting looked like when I started in the late '80s. Planters and their teams, unprepared for the challenges, quickly ran into harvest fields that soon became killing fields. They were excited for the task, but they were not ready to face the realities.
When I came to Buffalo, New York, to plant my first church, eight of us began with great enthusiasm. Now, 20 years later, only one of our churches remains. Four pastors are out of the ministry; three are out of their marriage and faith.
My interest in developing ways to change some of these brutal realities started in a conversation in St. Louis, Missouri. My denomination wanted to stop the carnage, so they brought our church-planting leadership together and asked, "What systems can we create to change the tide?" I was determined to be a part of the solution. I later wrote my Ph.D. dissertation focusing on how church-planter support systems impact church plants.
The past 20 years have produced radical changes in how churches are planted. Success rates are increasing. A 2007 North American Mission Board study assessing multidenominational church-plant survivability rates shows how 99 percent of church plants now survive their first year, 92 percent survive their second year, 81 percent survive their third, and 68 percent survive their fourth.1 These are encouraging statistics, especially in light of pessimistic reports that "80 percent of church plants fail in the first year."2
We are doing many things better and much of this is due to the emergence and development of church-planting systems. This article will explore church-planting systems, their components, and the impact they currently have in church planting. I will address church-planting systems in three ways: who uses them, how effective they are, and what we have learned about them.
Church-Planting Systems
Church-planting systems typically consist of assessment, real-time training (usually in the form of a BootCamp or other intensive), mentoring/coaching/supervision, and church-planter networks. These work together to provide guidance, encouragement, and accountability for church planters. This support provides planters a greater chance for success. Church planters involved in church-planting systems tend to lead faster-growing churches and reach more people than those who are not.3 The reason is simple: Each component of church-planting systems is designed to support planters in an area of major need.
Behavioral Assessment
Most church planters begin with an assessment. An assessment evaluates potential church planters for important qualities they need to plant a church. It helps planters know if they are gifted and called to plant a church.
Most behavioral assessments measure 13 key qualities identified by Charles Ridley, Ph.D., of the University of Indiana: visioning capacity, intrinsically motivated, creates ownership of ministry, relates to the unchurched, spousal cooperation, effectively builds relationships, commitment to church growth, responsive to the community, utilizes giftedness of others, flexible and adaptable, builds group cohesiveness, resilience, and exercises faith.4
Assessment interviews help candidates understand whether or not they have the potential to be a church planter. Assessment interviews affirm those gifted and called to church planting and effectively screen applicants who are not. Assessment does not make any single planter more effective; it does, however, help eliminate potentially ineffective church planters. Thus, it improves the effectiveness of any collective church-planting effort as a whole.
Most sending denominations, churches, and networks use some variation of the Ridley Behavioral Assessment. The Assemblies of God reports: "We use the Ridley Behavioral Assessment interview, plus personality tests and typical interviewing processes."5 In a recent study including 109 denominational leaders from 40 denominations, more than two-thirds possess a formalized church-planter assessment system.6 Likewise, church-planting networks such as Vision USA, Church Planting Network, and Acts 29 are often more selective than are denominations, utilizing only 20 percent of those who apply.7 Assessment has become a staple for most sending groups.
Most church-planting leaders now believe assessment is essential because it has proved to be successful over the past 20 years. In 2003, I studied several hundred church planters and discovered that assessed church planters substantially outperformed those who had not been assessed. Assessed church planters led churches with at least a 20 percent higher attendance each year during the first 4 years than planters who were not assessed.8 In year three, churches led by assessed planters were 27 percent larger than their counterparts.9
Assessment is also a strong indicator of evangelistic effectiveness. By the fourth year, assessed church planters average approximately 25 conversions annually, while non-assessed church planters average 12.10 Thus, assessed church planters achieve more than twice as many conversions. And, many who were not assessed would not have successfully passed a Ridley Behavioral Assessment. Removing such candidates from the pool would further inflate the statistics. If we were to track this same phenomenon with church planters who both passed and failed the assessment interview, the results would undoubtedly be even stronger. Assessment obviously impacts the integrity of church-planting efforts by screening out ill-suited candidates and assures that stronger candidates are affirmed in the process.
Assessment is arguably one of the most important church-planting developments during the past 20 years. For those seeking to facilitate a church-planting movement, it would be foolish to ignore some type of formalized church-planter assessment process. Any denomination, network, or church seeking to plant effective and successful churches must have some mechanism in place to effectively assess church-planter candidates. Failure to initiate such a mechanism will result in weaker churches and a higher rate of attrition.
Finally, anyone seeking to plant a church will likewise be unwise to forego a behavioral assessment. A church-planter assessment is well worth the effort because it affirms gifted and called church planters, while saving untold heartache, failure, and embarrassment for those who are not.
BootCamp or Basic Training
Intensive church-planter training and strategy sessions, often referred to as BootCamps or Basic Training, are another key element of church-planting systems. BootCamps provide real-time training for planters preparing to enter a target community. Hence, a high degree of learning readiness can be developed as planters anticipate the challenges they will face.
Most BootCamps last 3 to 5 days while a few last as long as 2 weeks. A typical BootCamp walks planters step-by-step through starting a new church with an emphasis on contextual application to their specific community. Such training is intended to help planters consider all aspects involved in starting a church. Therefore, most BootCamps are not intended for people interested in church planting but are reserved for those who are planting a church.
BootCamps ensure that planters address weaknesses in their strategy and make adjustments. Planters have the added benefit of developing strategy while having access to experienced church planters that typically include their field supervisor or mentor. The presence of a mentor enables higher degrees of accountability while planting their church and during other stages of the church-planting system. These experts are responsible to ask hard questions to assist the planter to define vision and approach. Planters leave a BootCamp with a comprehensive, contextualized, and more clearly defined strategy.
BootCamps are widespread and easily the most utilized component of church-planting systems. A survey of over 300 church planters in one denomination revealed that 66 percent had attended a BootCamp or basic training.11 Likewise, most denominations and church-planting organizations have extensive church-planter training systems in place. During the 2007 study I conducted for Leadership Network involving 40 denominations, we found that 65 percent of them possessed specific training systems for church planters.12 Additionally, 51 percent of denominational church-planting leaders agreed with the statement, "We have a defined strategy in place for training church planters." Only 14 percent disagreed with that statement.13 In addition, 40 percent of these denominations provide online training resources and 13 percent provide internships.
Denominations are clearly taking church planting and church-planting training far more seriously than they did 20 years ago. In fact, many denominations and church-planting networks now require church planters to attend a BootCamp or basic training before they receive any funding. Church-planting leaders now understand the necessity for church planters to receive real-time training and are doing everything they can to facilitate this component of church-planting systems.
BootCamps are perhaps the most embraced component of church-planting systems for good reason. Planters participating in BootCamps or basic training are clearly more effective than those who are not. In one denominational study, those who did not participate in a BootCamp were leading churches that were 23 percent larger at year one than those who did participate in a BootCamp. However, planters who had participated in BootCamps were leading churches that were 30 percent larger by year three and 27 percent larger by year four.14 This statistic emphasized the effectiveness of BootCamps and basic training.
Church-planting leaders have learned how critical real-time church-planting training is. We now know that BootCamps, basic training, and toolkits assist planters in planting larger and more effective churches. Denominations and networks invest a large amount of time, energy, and resources in training those starting the next generation of churches. This investment is paying dividends, and BootCamps are partly responsible for the higher survival rate among contemporary church plants. Real-time training is essential for any missionary enterprise seeking to send out prepared and equipped domestic church planters.
Planters should likewise realize the benefit that real-time training can provide. Twenty years ago there was little material available for domestic church planting. I am aware of few books and no specific training mechanisms. Most church planters did the best they could with what they had. Not surprisingly, church-plant survivability rates were low, and many church planters suffered along with their failing congregations. Training resources are now readily available to anyone planting a church. Still, nearly one third of church planters fail to take advantage of this beneficial experience. It is a needless risk often based on a mythological need to get going rather than take time to plan. Statistics show that these church planters will likely struggle unnecessarily.
All church planters should be strongly urged, if not required, to participate in a BootCamp, basic training, or toolkit process. Fortunately, most denominations, church-planting networks, and sending churches agree and require their church planters to undergo real-time church-planting training.
Mentors (Supervisors)
Mentors, supervisors, and coaches have demonstrated that they are invaluable to church planters and church-planting systems. All three of these roles fulfill separate functions in most settings. Mentors tend to focus on church-planter spiritual development. Coaches tend to focus on the strategy and development of the church plant. Supervisors tend to focus on church-planter accountability. All three are important and often occur simultaneously within the mentoring process or even with a single mentor/coach/supervisor. Also, it is not uncommon, and even advisable, for church planters to meet with separate mentors, coaches, or supervisors. There is no set rule regarding the frequency of such meetings. Some church planters meet with mentors and coaches weekly, some monthly, and some less frequently. Church planters benefit from these meetings not only because of their frequency but also because they have regular access to a trained and experienced church planter during their church-planting experience.
Church planting is an extremely and often lonely experience that can wear down church planters — especially lone church planters. The opportunity to regularly dialogue about personal and strategic issues provides encouragement, accountability, and expertise. Thus, this important relationship guards the spiritual health of the planter and his church. Mentors, coaches, and supervisors are a necessary resource for most, if not all, church planters.
Church-planting leaders certainly recognize this need and many now require mentors for their church planters. The challenge for denominational church-planting leaders is finding enough qualified mentors to assist all of the church planters they deploy. The International Church of the Foursquare recently discovered that two-thirds of their current planters use a coach during their church-planting experience.15 They explain, "77 percent reported that coaching had 'some' to 'very significant' impact on their personal effectiveness and productivity, with 54 percent reporting coaching had 'significant' or 'very significant' influence."16
I discovered similar results in a study of one denomination that showed 60 percent of their church planters had a relationship with a mentor during their church-planting experience.17 Furthermore, it is likely that church-planting networks and missional churches possess far higher rates of mentor and coaching use. Such groups tend to be more hands-on and involved with their church planters.
Mentoring is a growing practice among church planters and shows no sign of slowing down. Mentoring is also enjoying strong results. In one study, church planters who meet with a mentor or coach plant larger and more effective churches than those who do not.18 Church planters with mentors lead churches that are 12 percent larger during the first year, 13 percent during the second year, 16 percent during the third year, and 25 percent during the fourth year.19
Furthermore, the frequency of the mentoring meetings also impacted the success and size of the church plant. Church planters who meet weekly with a mentor lead churches that are 50 percent larger than church planters who only meet monthly or quarterly and are 100 percent larger than those who do not meet with a mentor.20 Statistics for supervisor meetings are even more pronounced indicating that church planters who meet weekly with a supervisor lead churches that are twice as large as those who meet only monthly.21 Without question, mentors, coaches, and supervisors increase the effectiveness of church planters. The more intentional a church planter can be in this area, the better.
The past 20 years have taught us that church planters need direct field support. The rigors of church planting are well documented. Planters need encouragement, strategic and emotional support, as well as accountability. Church planters who receive mentoring, coaching, or supervision gain an important partner for their task. Given the personal effort and potential spiritual fatigue that accompany church planting, a mentor becomes a valuable line of accountability, plumb line for the church's strategy, and encourager when sailing in deep waters. Church planters are better equipped to face the turbulent and challenging environment of church planting when partnered with those who have already traveled the path of church planting. They possess an ever-ready source for insight, perspective, and perseverance. Sending bodies understand this truth and are making efforts to provide qualified mentors for every church planter. In fact, any church planter would be wise to seek out a mentor, coach, or supervisor, whether his sending body provided one or not.
Church-Planter Support Groups
Church-planter support groups are the least utilized and the most underdeveloped aspect of church-planting systems. Church-planter support groups involve several church planters meeting together with a trained facilitator to discuss church-planting related issues and receive continual church-planting training and education. These support groups provide another team level for church planters who feel isolated and alone in their church plant. Church planters are able to learn from one another as they pool their collective experiences. Church-planter support groups tend to meet monthly and most planters find them helpful.
The data regarding how widespread church-planter support groups are utilized is somewhat incomplete. Many denominations and other sending groups use church-planter support groups, but tracking participation in those groups is not always a priority. Thus, we know that many church planters are participating in peer support groups; we simply do not know the extent.
Church-planter support groups do give every indication they are effective in helping planters plant larger and more successful churches. One denominational study shows that church planters involved in peer support groups lead churches that are larger during the first 4 years of their new church.22 The largest margin is seen in the first year as church planters involved in peer support groups lead churches that are more than twice as large as those who did not participate in peer support groups.23
Church-planter support groups are the newest component of church-planting systems, and we can certainly learn more about them. However, statistics show they are effective in helping church planters build a base of support. Many church-planting leaders are beginning to invest more effort in providing this helpful resource. It is advisable that anyone planting a church seek out a church-planting support group when it is within his power to do so.
Conclusion
Twenty years ago the parachute drop was the dominant church-planting method. This occurs when a sending denomination or church drops a church planter and family into a community with little training or support. By the grace of God, many of these church planters succeeded in planting healthy, growing, and reproducing churches; however, many did not. In fact, many of the alarming statistics regarding the survivability of new church plants may simply be outdated.
Imagine being asked to begin a business with only a city to face and a dream to make reality. No one gave you any resources and no one trained you how to accomplish this task. The person who said yes to such a request would either be a supreme hero or an utter fool.
Now, imagine being asked to start a church without knowing if you possessed the gifts and calling to do so, without any specific church-planting training, and without any field support in the form of a mentor, coach, supervisor, or peer network. The task would be daunting to say the least. Many church planters experience this scenario and many subsequently fail. Let us not fail these God-called church planters. Instead, we need systems to help them be a part of a growing movement that is penetrating the darkness and bringing many people into God's kingdom.
We have learned over the past 20 years that support must be given to those entering the mission field. The support must come from us. It is difficult to plant a church. Not everyone can do it. A church planter should be gifted, called, trained, and supported. Church-planting systems were developed by church planters to address this great need. Assessment, training, mentoring, and support groups have proven to provide valuable assistance enabling church planters to plant larger, healthier, and more successful churches. We have learned that church planters perform better when surrounded by a team committed to their success. Church-planting systems provide an excellent framework for such a team to function. We believe Christ has sent us to every city and every nation. Let's prepare one another for the task of reaping God's harvest through church planting.
Notes
1. Edward J. Stetzer and Phillip Conner, "Church Planting Survivability and Health Study" (Nashville: Center for Missional Research, North American Mission Board, 2007), 13.
2. http://www.churchleaderinsights.com/newsletter/September2004.php
3. Edward J. Stetzer, "The State of Church Planting in the U.S. Today," (Leadership Network, 2007), 23.
4. Charles Ridley, (A leading pioneer in church planting assessment), Indiana University, Bloomington, Indiana, 812-856-8340.
5. Stetzer, "The State of Church Planting in the U.S. Today," 26.
6. Ibid.
7. Ibid., 36.
8. Edward J. Stetzer, "The Impact of the Church Planting Process and Other Selected Factors on the attendance of Southern Baptist Church Plants," (Ph.D. Diss., The Southern Baptist Theological Seminary, 2003), 81.
9. Ibid.
10. Ibid., 82.
11. Ibid., 83.
12. Stetzer, "The State of Church Planting in the U.S. Today," 27
13. Ibid.
14. Stetzer, "The Impact of the Church Planting Process and Other selected Factors on the attendance of Southern Baptist Church Plants," 85.
15. Stetzer, "The State of Church Planting in the U.S. Today," 99.
16. Ibid.
17. Stetzer, "The Impact of the Church Planting Process and Other selected Factors on the attendance of Southern Baptist Church Plants," 90.
18. Ibid.
19. Ibid., 91.
20. Ibid.
21. Ibid., 93.
22. Stetzer, "The Impact of the Church Planting Process and Other selected Factors on the attendance of Southern Baptist Church Plants," 96.
23. Ibid.
Church Planting
Survivability and Health
Many people have repeated the idea — which turns out to be a myth — that the vast majority of new churches fail within their first 2 years. In fact, the opposite is true. In a research project commissioned by Leadership Network, The North American Mission Board reviewed dozens of studies on church plant health, survivability, and processes to discover what improves the strength and effectiveness of church plants. Church plants from 12 denominations and networks were included in the study. Leadership Network participated in this study of more than 1,000 churches. From this study NAMB discovered that 68 percent of church plants still exist 4 years after denominations had started them. The graph below displays the survivability by year.
Discovery: 68 percent of New Churches Still Going After 4 Years
Factors Influencing Survivability
One long-held principle says that churches must become self-sufficient to have long-term survivability. Though 30 percent of the churches studied attained self-sufficiency in the first year, 30 percent were still not self-sustaining by year 5.
In the North American Mission Board study, over 100 factors were tested for statistical significance in relationship to survivability. Only a few factors indicated a statistically significant relationship to survivability. Interestingly, the chance of survivability increases by over 400 percent when the church planter has a "realistic" understanding and expectation of the church-planting experience. On the other hand, conducting door-to-door or cold-call evangelism in church planting decreases the odds of survivability by 59 percent.
The odds of survivability increase by over 250 percent in church plants that offer leadership-development training. In addition, survivability increases by 178 percent when there is a proactive stewardship-development plan within the church plant.
The Planting Pastor
Over the past two decades most church-planting leaders have come to believe that the most critical factor to the success of a church plant is the church planter or planters. Research by Leadership Network and others bears this out. Survivability is significantly higher when the church planter engages in support systems provided by denominations, networks, and/or church-planting churches. Before the 1990s most church-planting groups had little interest in focusing on the church planter's abilities, training, or involvement in support networks. None of the church planting books written before 1990 address such issues. In contrast, today the topic of systems is a key issue for church planting organizations. Every group surveyed indicates that having well-designed support systems for the planter improve their survivability. Some groups report that their survival rate has doubled since implementing important systems such as assessment, training, and coaching.
The NAMB study also focused on the value of peer groups. Odds of survivability increase by 135 percent when the church planter meets with a group of church planting peers.
ED STETZER, Alpharetta, Georgia, is missiologist and senior director of the Center for Missional Research at the North American Mission Board, Southern Baptist Convention. From "Improving the Health and Survivability of New Churches," Leadership Network. Used with permission.
Indicators of New Church Health
Size is a common indicator used to evaluate the health of a new church. Though size is not a complete measure of health, achieving a critical mass is essential for survivability. A surprising result of the North American Mission Board study shows that church plants are actually smaller than many imagined. The typical church plant does not pass 100 in attendance after 4 years.
Another indicator of new church health is evangelistic effectiveness. The number of baptisms or conversions has a strong correlation to the evangelistic effectiveness of new churches. The average number of baptisms or conversions is 10 the first year, 11 the second year, 13 the third year; and 14 the fourth year.
Certain factors, when present, correlate with higher baptisms. Over 100 factors were tested and the following were found to be statistically significant:
engaging in ministry evangelism (i.e., food banks, shelter, drug/alcohol recovery)
starting at least one daughter church within 3 years of the church plant
having a proactive stewardship development plan enabling the church to be financially self-sufficient
conducting a mid-week children's program
conducting a children's special event (i.e., Fall Festival, Easter Egg Hunt)
sending out mailers for invitation to services and church events
conducting a block party as an outreach activity
conducting a new member class for new church members
conducting leadership training for church members
receiving church-planting training in terms of a boot camp or basic training by the church planter
working full-time over part-time as the church planter
being assessed prior to the beginning of the church plant as the church planter
delegating leadership roles to church members.1
ED STETZER, Alpharetta, Georgia, is missiologist and senior director of the Center for Missional Research at the North American Mission Board, Southern Baptist Convention. From "Improving the Health and Survivability of New Churches," Leadership Network. Used with permission.
Note
1. Ed Stetzer and Phillip Connor, Church Planting Survivability and Health Study (Nashville: Center for Missional Research, North American Mission Board, 2007), 5.