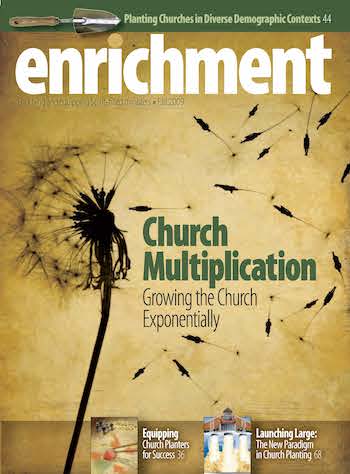 Downloads:
Envisioning the Invisible
---
Church planters envision the invisible, dream the undreamt, think the unthinkable, and do the impossible. They look beyond the void that exists and see great churches that must be established to minister to the radically unchurched.
Lynnette lives in Willard, Missouri. She attended the first service of Carpenter's House, a new church plant. She has invited four of the five people who have accepted Christ in the short history of the church. Recently, she asked a thought-provoking question: "What kind of people do you want in this new church?"
When I asked what she meant, she replied, "I have many friends in Willard, but they do not look like you, dress like you, or talk like you. They are drug addicts, Meth addicts, and real sinners. They live together. They have problems with the law. But they are longing for something more. They will come, if I invite them. But I was not sure you wanted them." I reminded her that one of my first sermons in the new church was on the verse: "For the Son of Man came to seek and to save what was lost" (Luke 19:10, NIV).
Today's successful church planters are not afraid to seek out and touch the untouchable. With authenticity and transparency, they proclaim good news to the impoverished, freedom for the imprisoned, healing for the infirm, forgiveness for the guilty, and deliverance for the addict (Luke 4:18). "It is not the healthy who need a doctor, but the sick. I have not come to call the righteous, but sinners" (Mark 1:17).
Truly effective planters understand the only way to make a lasting impact on society is by ministering in the power of the Holy Spirit (Zechariah 4:6). Only the Holy Spirit can transform individuals from the inside out. This inward transformation is the first step to solving individual, familial, and societal problems.
However, while depending on the supernatural work of the Holy Spirit, contemporary church planters are establishing churches that do not look like the churches their grandparents attended. Society and culture in the Western world is changing. The methods and media used to communicate the message of Christ are changing. Such culturally responsive ministry is not new.
Culturally Responsive Churches
Many early Pentecostal ministers and missionaries mistakenly believed the supernatural ability to speak in other tongues that accompanied their Baptism in the Holy Spirit would enable them to preach in the native languages of the people to whom God was sending them. A.G. Garr, the first missionary to leave the Azusa Street Revival, "went to India fully expecting to preach in Hindustani. After a few months, he admitted his failure on this point, but nonetheless remained to carry on a successful ministry for several years, preaching to these British subjects in English."1
Though disappointed by their inability to speak the languages of the natives, the early Pentecostal missionaries adjusted their presentations of the sacrosanct message of God to connect effectively with their audiences. They adopted methods and media to aid them in communicating the good news that reconciliation and restored intimacy with the Creator is possible through the atoning sacrifice of Jesus Christ.
Eventually, the Pentecostal missionaries implemented indigenous church principles so that native converts — who obviously understood the local language and cultural context — could even more efficiently share the gospel.
Today, passionate Pentecostal ministers find themselves confronted by a similar dilemma. This time it is not a foreign language in a foreign land, but a foreign culture in the neighborhood.
This alien culture is the result of an epistemological and cultural upheaval. According to Diogenes Allen, "A massive intellectual revolution is taking place that is perhaps as great as that which marked off the modern world from the Middle Ages. The foundations of the modern world are collapsing, and we are entering a post-modern world."2 The tectonic activity of cultural change is making it necessary for today's Pentecostal ministers and missionaries to adjust their methods and media to communicate God's good news about Jesus Christ more effectively — just as the Pentecostal pioneers did.
Contemporary church planters are launching churches dedicated to finding culturally responsive, innovative ways to present the inviolate message of Christ.
Innovative Churches
Contemporary church planters do not limit themselves to buildings with steeples and stained glass. They go where the people are and launch churches in various settings. These men and women preach Jesus in theaters, hotel conference rooms, coffee houses, shopping plazas, apartment complexes, casinos, race tracks, rodeo arenas, factories, amusement parks, homes, schools, and even among the sky walks that connect the high rise office buildings in downtown Minneapolis.
Likewise, contemporary church planters do not limit themselves to traditional schedules. Some meet on Saturday nights. Others meet on Sunday afternoons. One holds a Friday night healing service. Some planters hold multiple services on the same campus while others meet on multiple campuses and the preacher delivers his message by video or travels to the various venues in a circuit-riding fashion.
The diversity also extends to the methods and media used by innovative church planters. For her readers, Seattle Times reporter, Janet Tu, described the culturally responsive churches she studied.
Often these churches are relatively small, dedicated to fostering personal relationships among members and not setting the pastor above the members. They value experiential, intuitive experiences of God. They often are involved in social-justice issues and tend to be theologically conservative; emphasizing the earliest days of Christianity and the root meaning of stories in the Bible ... They often use creative means of conveying their message. Some combine traditional practices such as Gregorian chants with modern R&B music. Others may use works of art to talk about spirituality.3
Whereas the culturally responsive, innovative churches are diverse, the church planters tend to have similar characteristics.
Innovative Church Planters
Innovative church planters are visionaries. The vision drives them and fills them with a fire. a passion. They share the vision in a concrete, compelling way until others begin to see what they see and feel the passion they feel.
As creative communicators, contemporary church planters often approach the preaching event with a nontraditional method. The preacher no longer has to be what Kenton C. Anderson calls an "information salesman" — someone who gets people to buy ideas and concepts that they have little interest in or for which they have no use.4 Instead, the preacher assumes a collaborative stance and "help[s] people hear from God."5 Rather than point-making sermons, alliterated outlines, and a third-person descriptive logic, preachers draw on image-rich narratives and stories to "capture postmodern imaginations and penetrate postmodern hearts."6
Effective church planters are leaders with interpersonal skills. They are people who are able to inspire and to build strong, synergistic ministry teams. Secure in their own leadership, church planters are willing to share ministry and thereby multiply the impact.
In today's world, team ministry has become increasingly important. The emerging generation is blasé toward the polish and panache of "spectator church." They crave involvement. They want to experience the supernatural. The innovation they desire is a hope born out of a face-to-face encounter with God.
What a challenge for the Pentecostal Movement. Pentecostal churches, with their emphasis on ministering in the Gifts of the Holy Spirit, corporate prayer, and expressive worship, should be in the forefront of the ministry to a spiritually hungry culture.
J. David Arnett, D.Min., is vice president of academics at Central Bible College, Springfield, Missouri, and lead pastor of the Carpenter's House Churches. He has pastored churches in Illinois, Wisconsin and Missouri, and has been involved with church plants since the 1980s.
Notes
1. D. William Faupel, "Glossolalia as Foreign Language: An Investigation of the Early Twentieth-Century Pentecostal Claim." Edited by Michael Mattei for the Wesley Center for Applied Theology at Northwest Nazarene University, 2003. Web site, available from http://wesley.nnu.edu/ WesleyanTheology/theojrnl/31-35/31-1-05.htm#_edn21; accessed 14 February 2004.
2. Diogenes Allen, Christian Belief in a Postmodern World (Louisville: John Knox Press, 1989), 2.
3. Janet I. Tu, " 'Emerging churches' drawing young flock," The Seattle Times (Thursday, January 16, 2003). See http://community.seattletimes.nwsource.com/archive/?date=20030116&slug=emergingchurch16m (Accessed March 24, 2009).
4. Kenton C. Anderson, Preaching With Conviction: Connecting with Postmodern Listeners (Grand Rapids, Mich.: Kregel Publications, 2001), 48.
5. Ibid.
6 . Ibid.