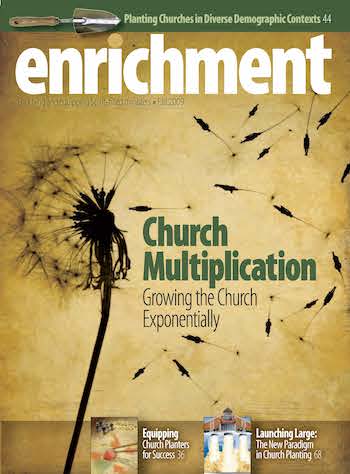 Downloads:
A Starting Place For Discipleship Ministry
"Pastor, why is our church is so weak in discipleship?"
---
This question came from an experienced deacon last year in a leadership discussion concerning the needs of a congregation where I was then senior pastor. The questioner then expressed the frustration he was feeling because some of his friends and co-workers had shared the successes of their churches in other denominations in maturing converts, particularly men, and because he did not feel we were making progress as a church body toward the same end.
While my first reaction was to defend our record in that respect, and to justify our unfruitful efforts in creating strong, effective discipleship ministries by pointing out the indifference of key individuals in our congregation, I mentally bit my tongue. As others chimed in, I realized our church had no choice but to take a fresh look at this truly vital part of our ministry that was not functioning. Out of the ensuing discussions and prayer times, ideas and inspiration came for more effective ministry, with greatly improved results.
That process spawned in my own heart a desire to return to basic New Testament truth about the discipleship ministry, beginning with a simple, yet profound passage from the writings of Paul to his young friend, Timothy, "And the things you have heard me say in the presence of many witnesses, entrust to reliable men, who will also be qualified to teach others" (2 Timothy 2:2, NIV).
There are some things that strike me as both spiritually and strategically important about this simple directive.
The most obvious is probably the generational nature of the work of bringing believers to maturity. Beginning with Paul's own indoctrination in the things of God by some of those who had been with Jesus, there are four spiritual generations represented in this one verse, ending with "others." How can we calculate the cost in lives and opportunities lost or undeveloped if one or more of those spiritual generations fails to take responsibility for the next?
More than we often realize, the key factors in the survival and growth of our people center on their being effectively mentored by someone more mature, while being given opportunities and encouragement to reach out to others. Perhaps the best way to express this is that every healthy believer reaches up with one hand to someone who helps him along, and reaches down with the other to help pull someone else up with him. Paul's message to the youthful elder in Ephesus tells us that we as leaders are responsible for initiating and developing a succession of spiritually healthy generations of believers.
This challenge is also powerful in its relevance to the social ferment of our post-modern world. Demographic surveys and our own personal experience with the changing face of ministry to multi-generational needs tell us that the focus of really effective ministry keeps changing rapidly. One of the resulting issues is the lack of interest shown by youth and young adults in religious events, schedules and programs, in contrast to their intens,e and often-expressed passion for, meaningful relationships.
Paul's model from the above passage could be seen as an ideal focus for effective discipleship ministry in an age that values "hanging out" more than another special service or program. Decisions about whether our ministries are component-driven, or primarily focused on major events and activities, or whether they will focus on relational values could make a major difference in the ways we connect with the people we are reaching and hoping to disciple.
Most of us have repeatedly turned to Acts 2:42–47 for direction in identifying and communicating the purposes of church ministry. Without belaboring each specific element of that church's life as described there, it can be said simply and in fact every element of their ministry and activity had an essential relationship/discipleship focus. The first Christian body of believers was more about those relationships than it was about any program or event.
These facts have led me, after nearly 35 years of church staff and pastoral ministry, to a heartfelt conviction I feel compelled to offer. I have spent half of my life learning and doing my best to honor the wonderful concept of serving our Lord in a "systematic" way. I believe in that concept, and have endeavored to teach and to model that truth. I would in no way dishonor the value of it.
At this point in my life and ministry, however, I must confess that I find being systematic in my walk and ministry to be less than sufficient by itself. I have come to believe that, by themselves, our church programs and strategies can also fall short if we forget that, at least in regard to discipleship, healthy Christians are more about being than doing.
The answer may be in a word that is similar in spelling and sound to "systematic," but which bears an entirely different meaning. That word is "systemic." In my life and ministry, as in yours, there is always more room to become systematic. Yet I long for, and I pray others do as well, for systemic change in my life and ministry. That factor could potentially change my understanding of how I relate to others, how to be a mentor, how to impart God's truth with greater anointing and purpose, how to live out the gospel I believe, and how to become a better agent of positive change wherever I serve or minister.
There are, as a result, some questions I am prayerfully asking myself. It may be that they will be echoed in the hearts of some who read this, and that asking them will be as encouraging and challenging to them as the process has been for me.
1. Have we made it too hard? The process espoused by Paul seems to beg for the simple application of truth, example and relationship in Christ. Our planning and activity in discipleship ministry should be full of truth and relational value.
Every church and every mentor needs a Spirit-driven sense of direction and purpose that will place the process on the "bottom shelf" for all to share.
2. Am I committed to the survival and spiritual vitality of the next spiritual generation, and what am I prepared to do about it? There is no substitute for personal involvement on the part of strategic individuals in each place of ministry and in all our personal relationships, where we are all people of strategic significance, chosen "for such a time as this" (Esther 4:14, NIV).
3. Do I have godly vision to see the incredible opportunity for the Church in post-modern society? Minus technology, our world would be more like Paul's world than we could imagine. The mixture of cultures, the increase of travel and knowledge, the emergence of new social and cultural norms and the proliferation of religions and cults were a reality in the first century, as they are today. Christianity flourished there. Christianity done the way it was done in that day will flourish again and again, which in large part explains the advancement of A/G World and U.S. Missions. I believe there is an increasing hunger to see it happen here in our existing churches, and I long personally to be deeply involved in the great move of God and in the great harvest that should result.
4. Am I possessed of a courage and a hope born of the Holy Spirit that allows for systemic change in my life and in the lives of those to whom I minister? This search for answers about discipleship has turned into something more intensely personal for me. I must not rely on my previous experience only, or on more familiar ideas and methods, if God is calling me higher. I must humbly seek change in my own life if I am to lead or disciple.
If the old cliché about the truth being "caught rather than taught" is true, and in light of the challenge and responsibility given to us concerning the next spiritual generation, may we find God-given answers to the needs of those we mentor and disciple.
May the churches we serve find simple, effective ways to help believers to grow. Dr. James Kennedy, the renowned Presbyterian pastor, author and soul-winner, now deceased, was a founder of the dynamically productive ministry of Evangelism Explosion. He once said that he could take Evangelism Explosion to any city or town by himself, and begin an outreach that would make converts and begin the growth of a church. His contention was based, he said, on the fact he could simply make one convert, disciple him to reach another, disciple them to reach more, ad infinitum. The worldwide success of that ministry signals that Kennedy had hold of the simplicity and power of our Master's original plan, as the Early Church implemented it.
My fervent hope is that we are wise enough to do the same, no matter what we may be led to change or where we may be led to go on our journey to that same victorious result. If we have indeed made it too hard, Lord, help us to have an open heart to learn from You, and the courageous will to change.
Timothy L. Turner, Cherokee Village, Arkansas