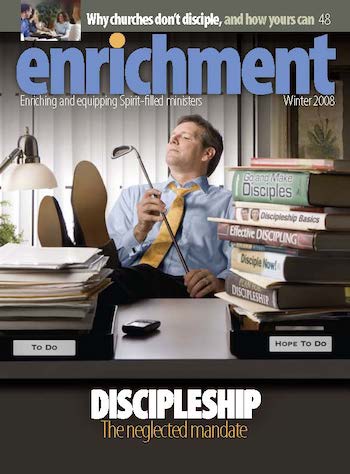 Downloads:
My Five Core Values
by George O. Wood
---
At this past General Council, you extended to me the grace of responsibility in serving as the next general superintendent of the Assemblies of God. I am humbled by your confidence in me. I ask that you pray for me and the other leaders as we begin this journey of serving you.
People have been asking me, "George, what's your vision for the Assemblies of God? What will you focus on as general superintendent?"
First, I will do my best to fulfill our three-fold mission — worship, evangelism, and discipleship; and second, to serve the entire Assemblies of God.
Five core values are on my heart as we seek to fulfill our mission. You will hear me repeat them often throughout the time the Lord gives me to serve you. As the country preacher said, "I'm going to tell you what I'm going to say, then I'm going to say it, and then I'm going to tell you what I said."
Passionately Proclaim
Acts 2:42–47 lists characteristics of the Early Church. Listed first is: "They devoted themselves to the apostles' teaching." My desire for the Assemblies of God is that we, as ministers and laypeople, by word and action, passionately proclaim Jesus as Savior, Baptizer in the Holy Spirit, Healer, and Soon Coming King.
Our message is not the Assemblies of God. Our focus must not be on fads and extremes. We must not be carried about by every wind of doctrine. Our message is Christ. If we exalt Him first, everything else will fall into its proper place.
The information age has created a new world. The result is an age in which people are skeptical of any claim to absolute truth. We must speak and demonstrate authentically and powerfully to our culture that Jesus Christ is The Truth, The Way, and The Life.
Our heartbeat has been and must always be missions, at home and abroad. We are debtors to our nation and the entire world in that we owe all people the proclamation of all the gospel in the power of the Holy Spirit.
Strategically Invest
Both the Old and New Testaments reflect a deep concern for the transmission of the faith (Psalm 71:18; 2 Timothy 2:2). Thus, we must strategically invest in the next generation.
We have more than 1.1 million people under age 25 in our 12,333 churches. National studies indicate that between 50 to 70 percent of youth from evangelical homes will be lost to the faith by the time they are 4 years out of high school. We must not let this happen in the Assemblies of God. We must carefully watch over transition moments in our youth, while reaching millions of unsaved youth across the nation.
I am also asking that we put support for our endorsed postsecondary schools and Chi Alpha as a priority.
It is a blessing to have a new generation of men and women ministers. They are passionate for Christ but not so sure about ecclesiastical structures. They are looking for encouragement, nurturing relationships, and teamwork; not command and control. Let's listen to them, welcome their gifts, and help them reach their fullest potential
Vigorously Plant
The most effective way to evangelize and disciple young converts is to plant new churches. Thousands of unreached communities in the United States need an Assemblies of God church, including many ethnic groups, divergent socioeconomic groups, suburbs, cities, towns, and rural places.
So, let's vigorously plant new churches. Every Assemblies of God church needs to parent or partner in planting new churches. Let's pray and work for a rapid increase of new churches in all our geographical and foreign language districts, as well as among our ethnic fellowships.
Skillfully Resource
The national office of the Assemblies of God exists to serve you; therefore, we must skillfully resource the Fellowship. We will give priority to ensure that all ministries flowing from the national office meet the needs of our ministers and laypeople of all ages, churches and districts, and the broader Christian community.
We must provide resources that are both excellent and relevant so the Lord receives glory, lives are changed, and believers are built up in the faith. This is the information age, and we must ensure that the way we communicate is both missional and relational.
Fervently Pray
Without prayer our efforts to passionately proclaim, strategically invest, vigorously plant, and skillfully resource will be in vain. Therefore, we must fervently pray for God's favor and help as we serve Him with pure hearts and noble purposes.
Early Church father, John Chrysostom, said, "God can refuse nothing to a praying church."
One of my seminary professors said, "We cannot suppose that God will do for us without prayer what He has promised to do for us only through prayer." So, we must fervently "pray in the Spirit on all occasions with all kinds of prayers and requests" (Ephesians 6:18).
Allow me to share a closing thought. On the Friday afternoon of my election, the Lord dropped a verse in my heart: "My yoke is easy and my burden is light" (Matthew 11:30). I know that many responsibilities await me — but I also believe the Lord intended all ministry to be a journey of joy. I pray that for you as well. The loads many of you carry are heavy, but I pray that the Lord will grant you refreshing and that the yokes we wear will fit well so labor for the Lord will not be just a duty, but a delight.
What the "O" Stands for
I usually sign my name George O. Wood. It distinguishes me from my minister dad, George R. (Roy) Wood (deceased), and my pastor son, George P. (Paul) Wood.
But, I keep the "O" for a special, additional reason.
My maternal grandfather was Oliver Weidman.
My grandfather grew up in the small town of Portland, Pennsylvania. He married Minnie and they had eight children. Each day he boarded a train and earned his living by selling candy and edibles to passengers. One day his boss announced that on the following Monday he was to start selling cigars and cigarettes. No one knew early in the 20th century that tobacco was a leading killer, but my grandfather knew his body was the temple of the Holy Spirit. He also did not want tobacco to defile other people. Without knowing what he would do for income, he quit. It was a step of obedience and faith.
He moved his family to Cleveland, Ohio, and spent the rest of his short life (dying in his mid-50s) selling pots and pans door to door. He never owned an automobile, so the streetcar was his means of transportation. In between streetcar transfers, he would lay aside his pots and pans and hold an impromptu street meeting. If his children were around, they would try to make themselves inconspicuous.
Although the large family had meager resources, my grandfather brought home people who were down on their luck to share the dinner meal. The homeless and needy knew him to be a man of compassion. When Pentecost came to Cleveland, he received the baptism in the Spirit, but his wife did not. She remained with their evangelical church along with some of their children. Others in the family went with my grandfather to the Assemblies of God church, located on the opposite end of town. It was a great missionary giving and sending church. My mother recalls many evenings when they lingered at the altars, leaving just in time to catch the last streetcar that would transfer them to another streetcar, which would take them home.
Mother told me that my grandfather prayed loudly 2 hours a day. She said that when he died, she missed most his prayers.
My grandfather believed so deeply in the imminence of the Lord's return that he felt buying life insurance was an act of faithlessness. For 2 years, my mother postponed going as a missionary to China and Tibet to work as a bank clerk and pay off his funeral and other debts. Mom always wryly said, "After that, I believed in life insurance."
Out of my grandfather's home came three Assemblies of God missionaries: my mother, Elizabeth; my aunt Ruth, who married Victor Plymire and served in China and Tibet; and my uncle Paul Weidman, who with his wife, Virginia, served in West Africa and Japan.
We are now into the fourth generation from Oliver Weidman and throughout the generations there continues to be a flow of missionaries, pastors, and dedicated Christian laypeople.
Through his fervent prayers, dedicated personal evangelism, compassion for others, and deep Pentecostal piety he left an enduring legacy. I am humbled and honored that my middle name is a tribute to my grandfather: Oliver.
George O. Wood, D.Th.P., Springfield, Missouri