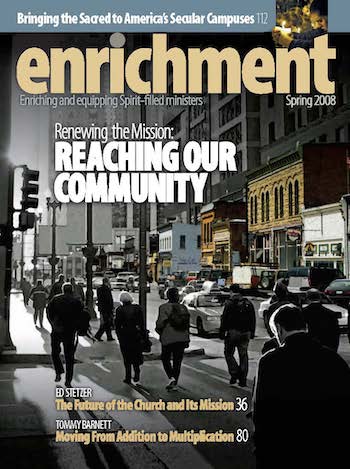 Downloads:
Writing on the Wall
The Future of the Church and its Mission
by Ed Stetzer
---
In the movie, Lonesome Dove, Danny Glover portrays Joshua Deets, a cattle-drive scout whose job is to ride ahead of the drive and survey the terrain. Largely responsible for the success and safety of the drive, Deets would inform the team of any obstacles, dangers, enemies, or resources that lay ahead. By assessing the upcoming path, he could help the trail boss make an informed decision about how to navigate the way to the trail drive's destination.
Deets' role is reminiscent of the tribe of Issachar in 1 Chronicles 12:32 — men who "understood the signs of the times and knew the best course for Israel to take" (NLT).1 Today, church leaders must act as scouts, fervently asking the Lord for discernment into how they can best practice biblically faithful ministry in their cultures and contexts.
Here are the facts: North America is the only continent in the world where the church is not growing. In North America, the church is in decline. Some even claim it is dying. Most denominations — including evangelical denominations — are shrinking.
While the global spread of Christianity and its explosion in the Global South needs to encourage us, our leaders must ask themselves: What must the North American church become and do in this season of decline?
Loss of Influence
The North American church is quickly losing its influence in society and culture. Fifty years ago, if someone sought a position on the school board or membership in a civic organization, one of the first questions asked was, "Are you a member of a church?" If the answer was no, the applicant was much less likely to be appointed to a key civic role. Also, not long ago, Hollywood had a film-standards board run largely by churches.
Today, society's standards are just the opposite. It is often difficult for an active church member to receive appointment to a school board. Meanwhile, the church's influence in Hollywood now stems primarily from its members' purchasing power, as reflected in the production of more family-friendly films.
The New Religion
The days when the church served as chaplain to the culture are over. The culture has pushed the church to the margins of society, and the popular media, literature, arts, and politics reflect the results. In the current culture,secular spirituality has replaced the church. Everyone is spiritual, and the entire culture is on a spiritual quest. As leaders, we must acknowledge the fact the masses have decided that our churches do not have the answers to their spiritual questions.
Millions have turned to various kinds of secular spirituality. I call it the Oprahization of North American spirituality. Think back to the days immediately following 9/11. Yankee Stadium hosted "A Prayer for America." A diverse group of cultural, political, and religious leaders gathered to mourn, pray, and rally hope for the future. To synergize this mix of leaders and create solidarity, the people chose Oprah Winfrey to lead the gathering. Winfrey has become the pastor of the church of American spirituality.
Accepting the Blame
The difficult truth is that people are not as interested in the church as they once were. Recent studies show that emerging generations are rejecting the faith they grew up with. Many twenty-somethings are asking, "Is the church a source of meaningful spirituality?" Since the United States is still one of the most churched nations in the world, those who reject the church usually do so because of experience, not ignorance. They have found the church to be lacking. We must receive this rebuke in humility and listen to the Spirit of God as He guides us in a new direction.
Today, there is much talk about the growth of Mormonism, Islam, and other faiths.
The problem is not that adherents of these religious practices are recruiting people to their faith. The bigger issue is that the practice of Christianity is repelling people from the church. We urgently need to recognize that something is dreadfully wrong when people come to our churches and do not find a meaningful encounter with Christ. This needs to provoke us to look long and hard at our churches.
The Problem
I have spent the last several years in full-time research and observation of the North American church. I conclude that the church has lost its influence because it has forgotten its mission. I have seen churches across North America fighting over preferences and drawing battle lines over issues that do not matter, while the world and the surrounding communities are dying without Christ.
If we are to witness a genuine move of the Spirit, we cannot spend our time pining for the past and for methods that no longer work. Neither should we spend our time frantically looking for ways to innovate and keep up with the times. Some evangelical leaders are in panic mode as they search for new methods to fix the problem. Solutions abound — whether it is the emerging church; the missional-incarnational movement; a renewal of polity or biblical preaching; or groups that reemphasize certain gifts, actions, or ministries. Everyone seems to have an answer.
Many of their concerns are legitimate, and worthy of consideration. But the Spirit can only begin working in our churches when we repent of the unbelieving attitudes that have repelled the lost. At times our hearts are hard, fallow ground that will not allow a Kingdom harvest to germinate.
Nevertheless, pastors and leaders must find comfort in the fact — despite the church's decline — the gospel is still faithful and true. To reach the lost, they must hold more firmly than ever to the gospel, find stability on its rock-solid ground, and move forward, engaging the culture.
Remember, Jesus said He would build His church. This promise should calm our fears and allow us to rest in God's mighty power to work out His purposes.
Marginalization of the Church in Culture
As the church has lost influence, the culture has pushed it to the margins of society. But this marginalization is not necessarily a bad thing. Historically, God has often moved at times when society has marginalized the church.
Over the centuries when the church has gained power, the results have been poor. For example, after Constantine, Christianity became the official state religion in Rome, and the church soon became stagnant. Similarly, the church in France received state power before the French Revolution, after which France quickly went from being one of the most churched to one of the most unchurched nations in history. Jesus does not call His people to power — He calls them to service. He mandates that they serve Him and His causes.
Political and social involvement is still important if the church is to be faithful to its calling. An African-American pastor told me: "You know why I am involved in this neighborhood? Because every day we pull people out of the river who are drowning and near death. And every day we watch some of them go by already dead. At some point we decided that we needed to go up the river and find out who was throwing them in."
There are many compelling reasons for the church to be involved in social justice and other mercy ministries, but we must vigilantly guard our motives from triumphalism and a lust for power.
A Loss of Confidence in the Gospel
Many evangelicalshave lost confidence in the gospel. Since society has marginalized the church, it seems people are saying: "Maybe this gospel is not all we thought it would be." Since the church cannot be trusted, they think, maybe the gospel cannot be trusted either.
Our loss of confidence in the gospel is evidenced by the fact believers are sharing their faith less and less. The seeker movement has unintentionally disempowered evangelism by training people to bring their friends to church services so professionals can take over and seal the deal.
In addition, churches have become dispensers of practical advice. During the 1980s and '90s, pastors told church members to bring their non-Christian friends to hear insight on everything from how to have a better life to how to overcome stress.
This method was a perfect fit for a culture that was open to vague spiritual advice — or, Oprahization. Many seeker churches took that advice and used it to bring their hearers to Christ for the answers.
Leaders spent 20 to 30 years reshaping their churches around this new vision. Churches focused on practical advice — moral, biblically based, practical advice — and made inviting friends to hear such advice the church's evangelism strategy. In the process, the church unintentionally de-emphasized teaching people to share their faith. As a result, laypeople lost confidence in the power of their faith. Now, like a bear fed by the tourists, the church is unable to fend for herself. She has lost her natural ability to evangelize.
Regaining the Gospel
One cannot read Scripture and miss the fact it focuses on a bloody cross and an empty tomb. The gospel is about a Savior who died on a cross in our place. These are facts — not just interesting things to think or talk about — and they are usually unpalatable to our neighbors. If we do not have confidence in them, then we do not have true faith, and we reduce the gospel to a 12-step program for inner peace.
Luke 24:47 says, "Repentance and forgiveness of sins will be preached in his name to all nations." When believers lose confidence in the gospel, Christ's evangelistic mandate withers away. But those who are confident in the gospel become living epistles, God's love letters to individuals and communities, and messages that carry the gospel's prophetic edge.
If we fail to regain confidence in the gospel, subsequent generations will continue to walk away from it. Staying culturally relevant is important, and it is beneficial to minister in fresh, new ways. After all, we must remove any roadblocks that keep people from getting to Jesus. But, in the end, if strategies and systems replace the core of the gospel, its meaning and power will be lost.
Repentance or Loss
To have any measurable redemptive impact on our culture, we must rediscover the gospel. Jude 1:3 says, "Contend earnestly for the faith … once … delivered to the saints" (NKJV).2 Some things are worth fighting for, and we must hold on to them. To regain confidence in the gospel, we must discern between the beliefs we must fight for and those we can contextualize.
With the intention of reaching people for Christ, in the 1960s and '70s many mainline churches contextualized their messages. But because they did not separate the essential tenets of the faith from the nonessential, they lost their footing. In an incredible twist of irony, while trying to reach a lost world, many mainline denominations lost their beliefs. They quit contending for their core values and, as a result, unbelievers were no longer interested in listening to them.
Today, the evangelical church is in decline, and we find ourselves in a position similar to that of the church 40 years ago. We have a decision to make — for what will we contend, and what will we contextualize? We might envision the things we will contend for as being held in our right, closed hand, and the things we will contextualize being held in our left, open hand.
We must absolutely preserve
certain beliefs if we are to remain faithful to the Scriptures. These include tenets, such as the Virgin Birth and the authority and inerrancy of Scripture. The Assemblies of God must also maintain other certain distinctive theological beliefs — such as the baptism in the Holy Spirit with the initial physical evidence of speaking in tongues. This is a right hand, non-negotiable issue for the Assemblies of God.
Through candid cooperation, denominations and fellowships can work together, recognizing that we all hold certain distinctives. We can see God at work in each other's movements and cooperate, while acknowledging that we also differ on some important things.
Some forces are pressuring us to loosen the right hand. In a season when the church has lost confidence in the gospel and been marginalized, some are doing this in the name of reaching the lost. They are dangerously close to falling into the same pitfalls as the mainline church.
Discerning the Non-negotiables
How do you know what to hold tightly in your right hand and what to hold loosely in your left? Granted, this is no minor task, and we need the wisdom of God to discern the difference. Essentially, you must hold firmly to your best understanding of Scripture.
As we have lost confidence in the gospel, we have also lost confidence in our denominational distinctives until we tend to act as if they do not exist. There are, however, certain things we must contend for, even if we differ on what they are.
For example, I believe in certain things that not every Christian believes in, such as the autonomy of the church, regenerate church membership, congregationalism, and believer's baptism. I would earnestly contend for any of these beliefs, just as Assemblies of God churchgoers would and should earnestly defend some of their unique beliefs. I hold believer's baptism in my right hand, while an Assemblies of God believer may also hold initial physical evidence in his right hand.
The answer to reaching a lost world is not to create a bland evangelicalism. The church has tried this before and the results were problematic at best. Instead, we need movements that are deeply committed to their scripturally formed distinctives. We need to see God at work in movements with different distinctives. We also need to work together as much as we can without violating each other's conscience or beliefs.
Our Future
Looking to the future of evangelicalism, I expect the major issues in the next 10 years will revolve around issues of ecclesiology and missiology. Our understanding of Jesus — our Christology — will influence both of these. We must realize that Jesus sends, and He sends us to people in cultures. If we are to have biblically faithful churches living out the gospel in different contexts, we must acknowledge the different cultures around us. We must do this while still faithfully contending for the faith.
When we look at the future of the Church and its mission, we must be hopeful. Many people are longing for the past, but they forget that no one is there anymore. Those people are living in a different time and place.
What does the future hold for the church? Although I believe there will be a great reordering of evangelicalism over the next 20 to 30 years, I am hopeful. I believe mainline denominations will continue to decline — particularly those rushing away from their theology. I think evangelicals will spend the next 10 years figuring out how to regain confidence in the gospel. From that gospel, evangelicals will birth a new confidence in the church.
We must desire that the gospel be reborn in every culture and community that needs a biblically faithful witness. We will not accomplish this by abandoning the authority of Scripture and a gospel focus. We must, instead, hold on tightly to the right-hand issues. But when we address the diversities of the cultures to which we minister, we must hold the left hand loosely.
We must teach pastors and church members to help one another hold on tightly to the right-hand issues. Even as we hold the left hand open, as men and women go into different cultures and contexts, we rejoice in the fact we have an unchanging gospel and an unchanging God. We must recognize that we will continue to be a church in the margins, sent and led by Jesus Christ, whose birth and crucifixion in the margins changed the world and continues to turn lives upside down.
Notes
1. Scripture quotations marked NLT are taken from the Holy Bible, New Living Translation, copyright © 1996. Used by permission of Tyndale House Publishers, Inc., Wheaton, Illinois 60189. All rights reserved.
2. Scripture quotations marked NKJV are taken from the New King James Version. Copyright © 1982 by Thomas Nelson, Inc. Used by permission. All rights reserved.
---
[i] New Living Translation of 1 Chronicles 12:32, Holy Bible. New Living Translation copyright © 1996, 2004 by Tyndale
An Incredible Explosion of Innovation
Seventeen years ago Elmer Towns wrote a book entitled 10 of Today's Most Innovative Churches. Today, in less than two decades, we would consider the things he wrote about as being traditional. The church has changed. Today, we have cyber churches, pub churches, beach churches, and motorcycle churches. We have churches that feel like a giant Starbucks® lounge and churches with campuses that are similar to small amusement parks. Some churches present weekly multimedia presentations that rival the best rock concerts of the day, while others eschew complexity and meet in the simplest surroundings possible.
It seems that every place you turn in the evangelical scene, there is something new. I believe in innovation. I recently presented a paper on the importance of biblical church innovation. But we also need to ask ourselves: What is the source of some of our innovations? I believe it is a frantic desire to reach a culture. This is a good and correct impulse. On the other hand, much of the innovation birthed is because we have lost confidence in the gospel and in the church. What has 30 years of church innovation produced? Our culture is less churched, and people who are less committed fill our churches.
To be fair, if we look at the churches that did not innovate over the last 30 to 40 years, we will not conclude that a lack of innovation is better. This issue points to a loss of confidence in the gospel. Herein lies the real danger. We must not replace our confidence in the power of the gospel with a confidence in our own methods and strategies.
Ed Stetzer, Gallatin, Tennessee