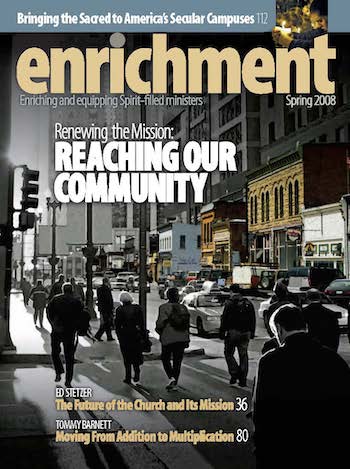 Downloads:
Walking Toward the Harvest
How one pastor walked his church toward the harvest one step at a time.
by J. Don George
---
When I arrived in Irving, Texas, in 1972, I had 17 years of ministry experience — 6 years as an evangelist and 11 years as a pastor. During my evangelistic travels, my wife, Gwen, and I had seen numerous churches touch their communities in a variety of ways. When I accepted the Irving pastorate, I asked God: How shall I reach this city? More than 80 churches are in this community. There are also thousands of churches in the entire Dallas/Fort Worth metroplex. Which strategy of church growth do You want me to employ?
It seemed the established churches with their great choirs, beautiful buildings, and polished programs had an advantage in reaching this area with the gospel. What should I do?
God clearly spoke to my spirit. He revealed to me that the existing churches had their place in His plan, but there were gaps in their outreach. He told me to reach out to the people no one else was reaching. God challenged my heart, and I accepted this challenge by faith.
I made a commitment to personally visit 500 homes every week. Each Monday morning I prepared 500 flyers and separated them into bundles of 100. I faithfully fulfilled my personal commitment to visit 100 homes each day, Monday through Friday.
During these visits, I talked in a personable manner that let people know I cared. Then quietly, but uncompromisingly, I pointed them to our church as a place where they could find hope through an encounter with Jesus Christ.