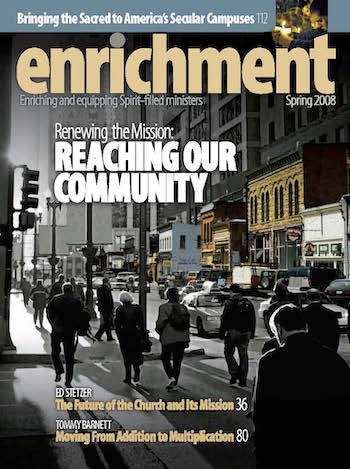 Downloads:
The Holy Spirit and Evangelism
by Don Detrick
---
"Every person has an eternal soul and deserves a clear presentation of the gospel." Most pastors would affirm that statement. Some hold it as a core value. We agree that evangelism needs to be a priority. But we are often too busy or too involved with our own families, friends, occupations, and church activities to pay much attention to those outside the church.
That hit home with me as I was working in my backyard. My next-door neighbor, who is a prominent local attorney, stepped out her back door. We exchanged pleasantries and then I asked, "So, what's new?"
"My mother died a couple of months ago."
"I'm so sorry to hear that. How are you doing?"
"Well, it has been hard. I had so many questions. I thought about calling you a couple of times, but I know how busy you are."
Our next-door neighbor had been going through one of the toughest times in her life, and we had not even had time to speak to her. If we do not have time to respond to those who might reach out to us, how can we expect to find time to reach out to others?
We care about lost people, but it is too easy to neglect them. After all, they usually do not ask us about our faith or how Jesus could make a difference in their lives. Therein lies our challenge.
Successful evangelism requires more than a program or strategy. It requires intentionality forged with compassion through the flame of the Holy Spirit. On the Day of Pentecost, the Spirit led believers from their inner focus in the Upper Room outside to the people.
We are now more than 4 years distant from the trauma of 9-11. The exhilaration many pastors felt because of the sudden surge in church attendance and many people's newfound concern for spirituality has eroded significantly in light of subsequent realities. A recent survey by George Barna shows that not much has changed in America's spiritual climate: "How people react to moral issues is a common challenge these days. In spite of the fact most Americans consider themselves Christians, few adults base their moral decisions on the Bible, and surprisingly few believe that absolute moral truth exists. These are among the findings from a new national survey conducted by The Barna Group among a representative sample of 1,002 adults."1
Statistics show that church attendance has leveled off or declined in most parts of our nation. The church as a whole is having limited impact in reaching the lost in America. Perhaps one reason is that most Americans do not feel they are lost. Barna concludes, "The survey also revealed that most Americans say they are "deeply spiritual," feel "accepted by God," and believe they have a clear personal understanding of the meaning and purpose of their life."2
How are churches responding to these issues? Do churches have a clear vision for outreach and a missional approach to ministry? Many are experimenting with a variety of strategies for reaching their communities with the gospel. This can be a good thing because the Holy Spirit does not have a one-size-fits-all program of evangelism. He works with people in every generation at their own point of need.
Barna highlights the increased use of technology by churches across America. This is an interesting phenomenon because it reveals that many churches have existed in a 1950s time warp. These characters are just now beginning to realize they must step into the modern age.
While pastors are trying to raise finances for video projectors and computers, they might be missing the point because the culture has already moved beyond modernism to postmodernism. Technology can provide effective tools and gadgets, but we cannot substitute them for the Holy Spirit. Something else needs to change in the ethos of the church. Upgrading technology from an overhead projector to a video projector is negligible in reaching a lost person who does not feel lost and who already has a portable video Ipod to complement his large screen plasma TV.
In fact, updating technology or experimenting with a new worship style, however needful, may prove no more effective than rearranging the chairs on the deck of the Titanic. A church often needs more than a change of style, management, or organization. Many churches are in serious need of a systems upgrade, and churches must address these issues. But more important than the mechanics of the organization are the dynamics of the organization. The church must examine its core values and underlying purposes. In the process, churches sometimes neglect the spiritual dimension that provides the impetus for the dynamics of robust church health. Pastors fill their schedules and minds with urgent issues that they drown out the Spirit's gentle promptings.
More than 100 years ago, D.L. Moody, the great evangelist, said, "I believe that many a man is praying for God to fill him when he is full already with something else. Before we pray that God would fill us, we ought to pray Him to empty us."3
In the 21st century, the church needs to rely on God's Spirit to help it provide a relevant, powerful witness. Our efforts at evangelism are often, at best, an exercise in recruitment. When energized by the Holy Spirit, however, evangelism becomes sharing the good news in a dynamic and comprehensible way as the Holy Spirit opens peoples' hearts.
The fact lost people matter to God is a compelling reason for evangelism. Evangelism presents two questions: How do we convey the gospel to people who do not think they are lost? and, How do we meet the growing theological challenge that arises when people do not view lostness as a terminal condition?
Many Americans question the concept of personal sin. While this is nothing new, it is a distinct feature of 21st-century evangelism that must be confronted by the church. In a world that questions whether anything is wrong, many are not sure if anything is right either. This is especially true regarding people's views about matters of faith. "Whatever works for you" is often the stated perspective.
Oprah Winfrey says, "One of the biggest mistakes we make is to believe that there is only one way. There are many diverse paths leading to God."4
Some emerging church leaders are halfway down the slippery slope leading to universalism. Others have slid all the way down. Phil Gulley, a Quaker pastor, has written a book entitled: If Grace is True: Why God Will Save Every Person.5 In a review of this book, John Wilson writes: "If you reject grace in this life, Gulley and Mulholland promise that God isn't finished with you yet — what they call his infinite patience guarantees that sooner or later in your posthumous existence, you will see the light. Ultimately, theirs is a world in which human action has no real consequences, a distorted mirror image of Calvinist predestination."6
The voice of truth spoken by the Holy Spirit is necessary to counter the many confusing voices leading people astray. While a person can resist the Holy Spirit (Acts 7:51), the Holy Spirit is active in bringing conviction to a lost person. To convict means to convince. A person must be convinced of his own sin and need for a Savior.
Roman courts did not have public prosecutors. An offended party had to bring charges and convince the judge of guilt. These parties often hired legal assistants who helped them make a case. These legal assistants were called parakletos. This is the same Greek word Jesus used to describe the Holy Spirit's ministry: "But I tell you the truth: It is for your good that I am going away. Unless I go away, the Counselor (parakletos) will not come to you; but if I go, I will send him to you. When he comes, he will convict the world of guilt in regard to sin and righteousness and judgment: in regard to sin, because men do not believe in me; in regard to righteousness, because I am going to the Father, where you can see me no longer; and in regard to judgment, because the prince of this world now stands condemned" (John 16:7–11).
Americans have many opinions about God, sin, and salvation. Louder preaching, angry pulpit pounding, and intimidation are not the answers. We must remember that it is the Holy Spirit's job to convict people of sin, not ours. We may be able to persuade or cajole a person to win an argument, but we cannot effect spiritual change in that way. Only the Holy Spirit can draw people toward spiritual change.
Jesus said, "I still have many things to say to you, but you cannot bear them now. However, when He, the Spirit of truth, has come, He will guide you into all truth; for He will not speak on His own authority, but whatever He hears He will speak; and He will tell you things to come. He will glorify Me, for He will take of what is Mine and declare it to you" (John 16:12–14, NKJV).7
The Holy Spirit is a communicator. His compassionate, loving voice reveals the grace of a merciful God. He breaks down walls of division, prejudice, and hatred that people have erected on foundations of disappointment — missed opportunities to experience God's grace. One by one, He removes the bricks of anger, resentment, frustration, and pain that are held together with the mortar of bitterness. Meanwhile, He does not speak of himself. He speaks of Jesus — the healer of broken hearts and shattered dreams.
The Holy Spirit is the Voice of reality in a world of virtual reality. He does not disappoint. He does not lead people astray or build false hopes. Although His work is often a mystery, He does not work through illusions or trickery. He knows the past, present, and future. He speaks the truth and tells of things to come.
One of the most beautiful titles for the Holy Spirit in the New Testament is "the Spirit of Grace" (Hebrews 10:29). The New Living Translation renders it, "the Holy Spirit who brings God's mercy to His people" (Hebrews 10:29, NLT).8
God is merciful. Mercy is so much a part of His nature that the Bible repeatedly says, "His mercy endures forever." (Psalm 118; 136, NKJV) The Holy Spirit never runs out of mercy. Some believer's may dispense it by the spoonful. To facilitate evangelism, we must realize that God pours it out extravagantly, lavishly, and without measure. No person is beyond the range of the Holy Spirit's mercy and grace.
Jesus exemplified compassion. He wept at the tomb of Lazarus (John 11:35) and over the lost city of Jerusalem (Mark 6:34). The Gospels identify Jesus with compassion at least 14 times.
Having compassion for lost people is essential to evangelism. The Holy Spirit can fill believers with compassion. The old-time Pentecostals spoke of having a burden for the lost. Weeping and crying at the altar because of lost people should be something we experience, not something we read about in church history books. The passion of the Spirit can empower us with the compassion of Jesus to reach the lost.
In spite of her checkered personal life, Aimee Semple McPherson left her mark on the North American Pentecostal movement in the early 20th century. One characteristic of her ministry was her stamina in reaching out to hurting, marginalized people with the compassion and love of Jesus Christ. During the depression years of the 1930s, her church in Los Angeles was one of the largest relief agencies, providing food, clothing, and shelter for thousands.
One episode from her ministerial career illustrates her compassion. During a February 1920 crusade in Winnipeg, Manitoba, in Western Canada, Aimee determined to reach the downtrodden of the community and invite them to her meetings at the Pentecostal Assembly of God. Biographer Edith Blumhofer explains: "Late on a Saturday night, she spent the next few hours in the red light district, where she made her way into every house she could, visiting, crying, and praying with women. Each received a New Testament and the assurance that she was loved. The response was dramatic. The next morning the church — which seated 1,700 — was packed, and the crowd jammed all the hallways, stairways, and the basement. People swarmed about outside, unable to enter, and streetcars kept bringing more."9
We must never underestimate the power of compassionate outreach that is anointed by the Holy Spirit. Once a person repents of his sins and accepts the Holy Spirit brings miraculous change. Paul described it as, "the washing of rebirth and renewal by the Holy Spirit" (Titus 3:5). The work of the Spirit is essential in evangelism. Only God can change the human heart.
Don Detrick, North Bend, Washington
Endnotes
1. The Barna Group, "Most Adults Feel Accepted by God, But Lack a Biblical Worldview," The Barna Update, http://www.barna.org/FlexPage.aspx?Page=BarnaUpdate&BarnaUpdateID=194 (accessed December 3, 2007).
2. Ibid.
3. Dwight L. Moody, Secret Power (Chicago: Moody Press, 1881), 33,34.
4. LaTonya Taylor, "The Church of Oprah Winfrey," Christianity Today, April 1, 2002, 45.
5. Phillip Gulley and John Mulholland, If Grace Is True: Why God Will Save Every Person (San Francisco: HarperSanFrancisco, 2004).
6. John Wilson, "A Distorted Predestination,"Christianity Today, September 2003, 73.
7. Scripture quotations marked NKJV are taken from the New King James Version. Copyright © 1982 by Thomas Nelson, Inc. Used by permission. All rights reserved.
8. Scripture quotations marked (NLT) are taken from the Holy Bible, New Living Translation, copyright © 1996. Used by permission of Tyndale House Publishers, Inc., Wheaton, Illinois 60189. All rights reserved.
9. Edith Blumhofer, Aimee Semple McPherson, Everybody's Sister (Grand Rapids: Eerdmans, 1996), 150.