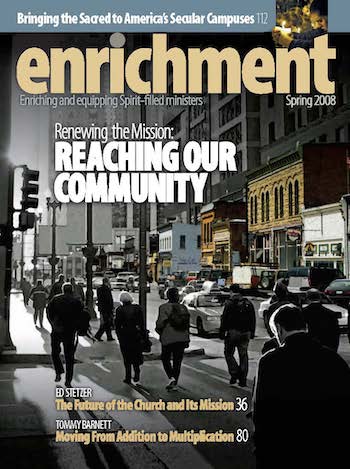 Downloads:
Receiving All That God Has for Your Church
---
If you attend Cornerstone on a Saturday night, you will see our church alive with activity. Our people gather in the sanctuary to connect with heaven. This is the biggest prayer focus of our week. It energizes everything else that goes on.
First, people pray in their seats, and then they gather for group prayer. Next, we spread out through the sanctuary and pray over every seat, believing that God will touch the person who will sit there on Sunday. Finally, we go to the wall in our sanctuary where we display our missionary photos. We intercede for these men and women who are ministering around the world.
Why do we focus on prayer and ministry preparation when most people use Saturday evenings for leisure? Because we obeyed God's leading for our church.
When I share with pastors how Cornerstone is ministering to our community, I am careful to explain how God has led our church to take specific steps to accomplish specific goals. God is fulfilling His plan for our families. We want all that God has for us, so we seek to discern how He desires to move among us.
There is nothing sacred about gathering on Saturday night. But discerning the heart of God for a church and a community is sacred. I pray that any pastor who sees value in what is happening at Cornerstone will become just as excited about what God can do in his church. Maybe it will involve a Thursday night prayer meeting or a different dynamic. The key is to follow wherever God leads.
Praying for All That God Has
I do not believe God makes cookie-cutter churches. He shows us principles we can follow. These principles may be powerfully illustrated in another church, but we need to adapt them for our own congregations. That is how our Saturday night prayer meeting originated.
In 1996, during the early days of the revival at Brownsville Assembly of God in Pensacola, Florida, I visited that church to see what God was doing. During an evening prayer service, God impacted my life. God said, "You need to start a Saturday night prayer meeting. Whether anyone else comes, you need to be there. You need to lead by example. If you believe prayer is the key to church growth and to bringing people to Christ, you need to pray."
The impression was so distinct that I called my two staff members. "I'm coming home tomorrow," I said. "I want you at the church Saturday night. We are going to pray together."
Had I tried to replicate Brownsville, I would have floundered. What I took from Brownsville was a hunger for God. I did not leave impressed by a person, but I was impressed by the hunger for God I sensed in Brownsville.
God was leading me into disciplined prayer. He wanted our church leadership to model prayer as well. So, I committed to pray every Saturday, and I mandated my staff to participate. Over time, the congregation began to identify Saturday night with prayer. Since we have no other activities on Saturday nights, many of our people are focusing on prayer with us.
One key to the effectiveness of our Saturday night prayer meeting is that it is not pastor driven, or staff driven; it is people driven. Our families are praying through issues that are close to their hearts, they are seeking God.
Saturday night prayer is helping our people build a love for God, for missions, and for winning the lost. When we walk through the sanctuary and pray over every chair, we pray, "Lord, You know who will sit here tomorrow. You know what needs to happen in his life. God, please bring him to You." Every service has an altar call. People are given opportunity to respond to God in answer to the intercessory prayers offered on Saturday night. It is a blessing to see new converts accept Christ, and then start attending Saturday night prayer. They start praying for other people because they know intercessory prayer is the reason they came to Christ.
Our people are experiencing a move of God far beyond their own realm of influence. They are saying, "God can do great things." God has done great things during Saturday night prayer — people are saved and healed. People also commit to God in faith the challenges and needs they face during the week in their workplace, school, and community. People come to prayer meeting expecting God to answer prayer and save the lost on Sunday. They believe He will open new doors for spiritual victory throughout the week.
Prayer in the Bible reveals that anyone who wants to improve his prayer life will supplement prayer with fasting. At Cornerstone, our people fast 3 days a month. This has impacted our church life. People who never previously fasted are fasting during those times, and God is moving in their lives. We have an extended period of fasting to bring in the New Year. This establishes a spiritual foundation for the rest of the year.
Obeying for All That God Has
Prayer is not only our foundation at Cornerstone, but it also illustrates another key to receiving all that God has for our church, or for any church — obedience. We launched Saturday night prayer meetings in obedience to God. His blessing has followed. This is true in any area of obedience.
For example, the scriptural call for water baptism is clear and undeniable. But for too long at our church — and at too many churches — we have tucked water baptism into a corner. God began to impress on us that water baptism is to be a highlight, not just a ritual we do out of obligation. We now hold our water baptisms on Sunday mornings, in the second service, in the middle of worship, when most of our people are present.
During one service, 12 people were baptized, and most of them were new believers. All were from different age groups. Seeing them obey the scriptural command to be baptized so soon after salvation reinforced the idea that there is a next step after coming to Christ. Water baptism is just one of many steps to follow. But a public demonstration of obedience is powerful.
Highlighting water baptism has brought a positive change to our church. Depending on how many people come to Christ over the weeks, we might baptize new believers once every 2 or 3 months. We always try to hold a baptism service on New Year's Eve. I dream of when we will hold a water baptism every week.
At Cornerstone, prayer and water baptism are two expressions of our obedience to God. We continue to seek God for His direction. Does this mean that when we hear from God, we are instantly in step with His plans? I wish I could say yes. Change takes time. Momentum must develop. As clearly as I had sensed God leading me to start Saturday prayer meetings, after 6 months I began to look for a way out. I already had enough to do. Why did I need to hold prayer meetings the night before the busiest day at church?
God continued to work in my heart. He continued to speak to our church leadership. As our staff grew, and as more people became involved in lay leadership, we had 15 to 20 church leaders who consistently attended. They became an inspiration to me. Now people come early to pray. I look forward to when everybody in our church will make Saturday night prayer meetings a part of their lives. God has given Cornerstone Church that mandate. As more of our people fall in line with His plan, we will see the miraculous take place.
This principle is true for any pastor. When God directs a pastor and a church to pursue His plan — whether it is a specific outreach in a community or a renewed focus on a timeless scriptural principle such as prayer, fasting, or baptism — the key to success, fulfillment, and blessing is to keep moving forward. Do not give up. People will follow as you keep setting the pattern and modeling the behavior.
Sharing All That God Has
At Cornerstone Church we want to discover what God wants to do in Bowie, Maryland. We have been praying for God's will to be done, and God is doing great things. We have not seen everything God wants to do yet, but what God is doing is exciting.
We are not here to serve ourselves; we are here to serve the Lord. We are here to make Him known to our community. We have a role in the community that no other organization has.
People want to be a part of something bigger than themselves. If they just stay in their own church, even if they fill the building, they have the wrong focus. Having people accept Christ, whether they attend your church or not, is a huge step in the Christlike development of a church's mindset.
For years we have looked for ways to promote Jesus in the community. We found a cinema close to the church, a 14-screen complex that would allow us to rent ad space on every screen for a month at a time.
We developed an ad concept that invited people to visit our Web site to learn how to accept Christ. About 100,000 people come to this cinema every month. Our area has about a million people. This was a simple way to reach 10 percent of our regional population. This ad campaign has had an incredible impact. People who were unfamiliar with church have started to see the name of Jesus Christ.
Cost is involved, but the cost is worth it.
We do not see a great deal of the harvest. I make it clear to our people when we plan any kind of community outreach that the goal is not more people coming to our church. That is not our focus. What matters most is that they hear about Jesus — wherever they may choose to attend.
Growing Missions for All That God Has
Our Fellowship has thousands of missionaries around the world. Cornerstone Church supports some of them. Assemblies of God World Missions is not an organization that is trying to grow and bless itself. Our missionaries are ministering sacrificially on foreign soil, not to build kingdoms of influence or personal prestige, but to help believers establish their own churches, Bible schools, and ministries.
I tell our people whenever we are looking for a new way to minister to our community, "Just get them to heaven." I pray with other pastors every week. Our congregation prays for a different church every week. We ask God to do great things in the church.
This focus is another element that produces growth in our church. Our goal is for people to accept Jesus. God will take care of the rest. Our people are leading the lost to Christ in their workplace. Young people are sharing their faith in their schools.
One woman in our church office shared Christ with the repairman as he was fixing our copier. She led him to Christ. She took advantage of an opportunity to witness, and she was thrilled to say, "Pastor, it works. It just works."
As people know that they are part of a larger team that God has assembled to impact people's lives, more believers will participate in personal evangelism. Our role as pastors may be to water a seed that someone else has planted and nourish that seed wherever God plants it.
As we financially and prayerfully support our missionaries, we are reaching other fields. This allows our church to have a local and global impact. Missions is God's heart. As He communicates His heart to our hearts, we see people support local missions and bring their friends, relatives, and neighbors to church to encounter Christ. We have missionaries on every continent except Antarctica, and we enjoy hearing missions stories from the missionaries we support. Their example inspires our people to believe, "If God can use that person, He can use me."
Another aspect of missions that has helped us tremendously goes beyond giving and praying — going. We have asked God to help us minister overseas. We have participated in short-term missions to Ecuador and several other countries. When we go, our hearts are brought right back to Bowie. Our people see firsthand the impoverished churches overseas. These churches are using limited resources with divine results. Our people say, "If these churches can bring people to Christ in spite of the fact they have little money or resources, God can surely use us because He has given us everything. We can win our community for Jesus. We can have an impact right where we are."
Missions has dramatically impacted Cornerstone Church.
Hungry for All That God Has
Over the years, more than one pastor has shared with me his concerns about the lack of growth in his church. My response is, "Are you hungry?"
The reply is, "Yes, I'm hungry."
I follow up with another question: "How hungry are you? What are you willing to do to go after God?"
I ask myself that question. It drives me. I have said to myself, and I would say this to any discouraged pastor, Do not give up. Instead, say to the Lord, "Lord, I'm going to believe You for things I've never seen before. I'm hungry for all You want to do in my congregation and in my life."
Remember these three concepts: First, promote Jesus. Do not promote a person, your own church, or your denomination. To reach unchurched people, you must promote Jesus. Second, minister with the power of prayer. God can do anything through prayer. We try to model that through our Saturday night prayer meetings and through fasting. We pray with people anytime they call the church with a request. Third, missions is the heart of God, and missions starts right where you are.
I am not special nor do I have great gifts, but I increasingly depend on God. Any pastor can hear from God despite the size of his church or city — if he will seek God's face. God will tell him exactly what he should do. God has a specific plan for every church.
Pastors need to take the pressure off themselves. Go after God and God will guide you. He will be pleased with you. God is not comparing you with anyone else. Be hungry, and then let God fill your hunger. Do not be hungry for numbers or for growth, be hungry for Jesus and for lost souls. Promote Jesus and He will change people's lives for eternity.
Mark Lehmann is senior pastor of Cornerstone Assembly of God in Bowie, Maryland.