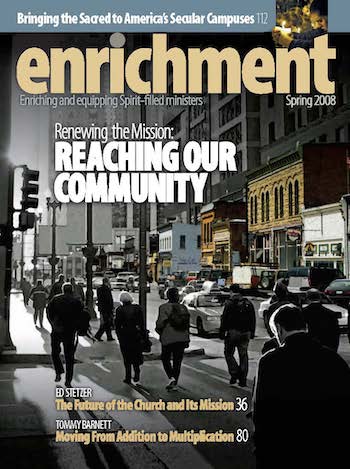 Downloads:
Reaching America's Communities Is Every Church's Responsibility
---
What does it take to effectively reach your community? It doesn't happen by simply opening the church's doors and expecting people to come. To reach your community, pastors and their people must become involved in the community.
Ray Berryhill, pastor, Evangel World Outreach Center in Chicago, Illinois, Mark Lehman, pastor, Cornerstone Church in Bowie, Maryland, and Steve Dodson, pastor, Hazel River Assembly of God in Rixeyville, Virginia, share how they and their churches have used practical and innovative ways to reach their communities for Christ.
Most personal evangelism in the local church is done by less than 10 percent of the congregation. Why don't more Christians tell others about Christ? As a pastor, how do you cultivate and motivate your members to personal evangelism?
Berryhill: Many Christians do not tell others about Christ because they believe evangelism is the responsibility of ministers, evangelists, or those with evangelistic giftings. Their focus is on having church instead of being the church. Some Christians feel inadequate or unworthy because of their own spiritual struggles. The church has also failed to teach believers how to share their faith on a practical level.
Lehman: I agree. People fear evangelism because they do not know how to share their faith. We have stopped being the church; we are playing church. Instead of asking God, "What did You initially intend for us?" we have become more institutionalized.
We need to be more radical and say, "God, You have told us to be salt and light. What does that look like in our culture?"
Dodson: The two elements our people face are fear and opportunity. Some people have been in church their entire lives and have never shared their faith. As we have given people opportunity, they have begun to share their faith. They now realize they can lead someone to the Lord because we gave them opportunity. Our church has recently started an emphasis called Let's Catch 100. We are believing God for 100 decisions for Christ.
There seems to be a perception among some Christians that America is not a mission field. Why do you think this perception exists, and how we can change it?
Lehman: It is easy for people not to think of America as a mission field. It is easier to send money to missionaries overseas and forget that we are to minister to the people in our communities. In our church 40 nations are represented. The world is at our doorstep.
We must change people's perceptions, fears, and sense of responsibility, or we will lose the reason why the church exists. Evangelism is not filling a building or having events. Event evangelism is fine, but my concern is with statistics. Statistics in our Movement show a high number of conversions and few people being plugged into our churches. Evangelism and discipleship are best done relationally — having our people share their faith as part of their lives — rather than as part of a program.
Berryhill: One of the reasons America is not considered a mission field is that many believe America is a Christian nation because it was founded on Christian principles. But where we were at the founding of our nation and where we are now are worlds apart. We are a nation in need of God. As we look at the needs of the nation, we see poverty, latchkey children, crime, and gangs. These problems need to motivate us to make changes in our sphere of influence. We cannot solve all the world's problems, but we can solve the problems where we live. The way to change our communities is to address the needs. Then, as pastors, we need to go out and model it. As we do, our people will follow.
Dodson: One of the ways we can change this perception is by taking people on a local missions trip. I took members of my church on an overseas missions trip. Those who went developed a compassion for meeting people's needs. Later, as we reached out into our community, they started to see the same needs. Their missionary-like compassion returned, and they said, "Our local community is also a mission field. People are hungry. People need our help." They began to see that they could be missionaries to their own community or neighboring communities.
The people in your church will only be as enthusiastic about reaching people for Christ as you are. How does that truth play out in your life?
Lehman: It motivates me not only to talk about evangelism but also to live it. I am always trying to build relationships outside the church. Pastors regularly give an altar call; and, when people respond, pastors think they have done their duty. But they have not. To me, altar calls and building relationships are separate issues. I am trying to build relationships with people who are unbelievers.
Recently, we built a building. One day we were talking to one of the workers about the Lord, and he said, "You have good karma." I took that as a great lesson. I knew what he was trying to say, but the verbiage was different.
We can convey Christ in a practical way to where people are living. Evangelism is not just about coming to church or escaping hell. We often focus on those two aspects. Evangelism is about life. I try to present Christ in a practical way to people.
Berryhill: Evangelism needs to be on a personal level. When my wife and I were in Mexico, we were invited to a timeshare presentation. While we were learning about the timeshare, my wife was talking to people about Jesus. When the presentation concluded, these people wanted us to come back to Mexico and start a church. She was just sharing her faith.
Many people think they need to know the entire Bible or be perfect to share their faith, but evangelism is sharing what Jesus has done for you. We try to model evangelism by our own lives. We try to convey it publicly and celebrate decisions for Christ that are a result of our personal witness.
Dodson: Personal evangelism is about relationships. In the Early Church believers devoted themselves to the Word, to prayer, and to fellowship. They went from house to house, and they shared what Jesus had done in their lives. A church becomes as relational as its pastor.
Many have decided against Christianity because of a negative church experience or because of the lifestyle of some Christians. How can the church change this negative perception?
Dodson: Christians must not become so much like the world that the world does not need them. We need to live in a way that shows the world that we have the answer — Jesus.
People in our community who do not go to church hear about God's love. But when the church reaches out and shows the love of Jesus, people will respond.
Berryhill: We first need to demonstrate the love of Christ in our own lives and marriages. If the world does not see the love of God in the covenant we have with our spouses, they will not believe us regarding our covenant with God. We need to model godly living and love our wives and children. Second, we need to be salt and light. We need to meet people where they are and meet their needs. When they see our selflessness and the fact we go beyond what is expected to reach them, they will be impacted.
Lehman: The idea of living for Christ does not offend most people. I think church offends them most. God is trying to get our attention by taking away the focus on personalities. Since the 1980s some people still have a negative view of televangelists. Others have had a negative church experience.
To overcome this obstacle does not require overcoming their adversity to Christ or knowing Christ, but their adversity to Christians and what the church has become. Most of the time people see church as a show, especially if we are not living the lifestyle in public. The church needs to be more than just a show to the community.
Dan Kimball, Rick Warren, and Brian D. McLaren coauthored The Emerging Church. It mentions the fact the cross and/or Christian images are no longer offensive to people. People are not even offended by the truth of Christianity. In fact, they will embrace Christ more if we set a standard. We do not need to water down the gospel for people to receive it. The church needs to be relevant without losing its distinctive.
God has a way of multiplying a church's resources when resources are used to reach the lost. How has this has been true in your church?
Dodson: When we came to Hazel River, Virginia, the church did not participate in any outreach or support missions; it was financially strapped. God impressed us to stop passing the offering plates during services, so we placed them near the door. In addition, the church did not support even one community ministry. Had the church dissolved, our community would not have missed it. We began reaching out to people in the community and showing the love of Jesus.
We began to give away groceries and love people despite our limited resources. The first time we gave 12 Thanksgiving baskets. God multiplied this ministry. This past Christmas we blessed 500 families with a turkey and all the food needed to make their Christmas dinner. We now support many missionaries. We used what God gave us, little as it was, and He multiplied it. He continues to do that even today.
Berryhill: In 2 Corinthians 9:10, Paul writes, "Now he who supplies seed to the sower and bread for food will also supply and increase your store of seed and will enlarge the harvest of your righteousness." God does just that. He gives us seeds to sow. As you take opportunity to sow, the Lord multiplies it.
Last year we did an outreach called 40 Days of Blessing. During that time God redirected our ministries and saved us millions of dollars. We were planning to buy a building, but God opened another door and we rented a school. Schools were not allowing churches to rent in this area of Chicago. Because we had sowed seed in our time of need, though, God opened tremendous doors of opportunity. We are now ready to embark on our building program. We have seen God meet needs — in supplying funds and in changing strategies — so we did not need to spend money.
Lehman: We have experienced God's provision on three different occasions. When deciding whether to give money away or to try to raise money, we have always chosen to give money away. God always brings in more money. In our most recent building project, we felt we needed to give away all of our building-fund money. Within a few months God not only brought the money back but also multiplied it.
Several years ago during the Jesus Video Project we offered free videos for everyone in our community — about 50,000 homes. This cost the church a great deal of money, but the investment was worth it. People saw the love of Christ because we were not trying to make money, but were giving the videos away. This made a positive statement about the church. The church needs to be about people, not buildings.
What do you say to a pastor who believes his church is too small to do anything meaningful in the community?
Berryhill: Never underestimate the difference one life can make. Mother Teresa said, "If you cannot feed a 100 people, then feed just one."
To a small-church pastor I would say, "I was that pastor." Do not despise the days of small beginnings. Jesus started with 12 men. They impacted the world, and the impact of Christianity has continued. Sometimes we need to be a Joshua and take steps of faith. As we take each step, each step becomes a miracle if God has put His vision in your heart. We must understand that it is God's vision. You are just the conduit. God is the author and the finisher of our vision.
Lehman: At times we get too hung up on numbers. We compare churches that are larger, but do we compare smaller churches? I pastored in a town of 3,000 people. In that setting, if you reach 10 people for Christ, percentage wise, you are reaching more people than I am reaching here in this metropolitan area. We are not in competition with each other. Ministry usually starts with the pastor. Is the pastor making it happen?
How has prayer impacted your church's outreach?
Dodson: Prayer needs to be the center of a church's outreach. Regarding outreach, it has been said, "As long as there is one lost soul in our community, we have a job to do."
Someone also said, "Never make an excuse why God cannot grow our church." Prayer empowers and energizes us. Prayer reminds us that we are doing the supernatural, but without God we can do nothing. The need to pray reminds me that my help comes from God.
Lehman: Our Saturday night prayer meeting is the most important meeting of the week — more important than Sundays or Wednesdays. It paves the way for everything that happens in the church.
For the last 11 years we have had Saturday night prayer. People come to pray not only over the sanctuary, but also over needs in our community. This prayer meeting allows us be a conduit for what God has for us. Prayer is the engine for outreach, as well as for growth.
Prayer keeps us focused. How do we get people who are not churched in church? Lift up Jesus, and let Jesus draw them. Let prayer be the means.
We cannot evangelize by ourselves. It does not matter how good our programs are or how nice the facilities may be; these do not change people. Prayer allows our people to take ownership, instead of the pastoral staff taking ownership.
Describe one of your church's most creative approaches to community outreach.
Berryhill: We had worked 2 years to buy a Greek Orthodox facility, but at the last minute the deal fell through. I felt depressed. The Lord spoke to me during my prayer time and said, Be a blessing.
I asked, "What do You mean, 'be a blessing'?"
I went to Genesis 12 where God spoke to Abraham and told him to leave the land of his fathers. God told Abraham that He would bless him, and Abraham was then to be a blessing. Blessing became a rainbow word for me. I realized I was already blessed. God was saying to me that He wanted me to be a blessing.
I told my staff, "God is speaking to me about being a blessing. How can we do this?" We decided that, as a church, we would do 40,000 random acts of kindness in 40 days. We called this our 40 Days of Blessings. We began to seek out people with felt needs. We bought groceries for a year for someone. We provided rent and mortgage payments for a year for a family. We provided utility payments. Whatever the needs, we acted in kindness to meet them. This outreach cost us $100,000.
The church received citywide attention. I received publicity I would have never gotten otherwise. We did not do 40,000 acts of kindness for publicity; we were obeying God. In the end about 300 people accepted the Lord. Many of these people joined the church.
Many churches are emulating that outreach by doing random acts of kindness. This has been one of our greatest outreaches.
Lehman: For a year we did a similar outreach. We have been able to love people and change the community's view of the church. The East Coast is different because it has been overchurched with liturgical churches. But when a church takes care of people's needs without asking for money, it amazes people.
Dodson: Each summer we do two camps for the community — one for children and one for youth. We conduct a free secular camp at a sports complex for football players. Camp hours are 9 to 5. Every year families join the church because we love their children. Some people bring their children only because they do not need to pay for daycare that week. This outreach has been a huge asset to our church.
Another outreach, called Bless the Kids, is at Christmas. It has become huge in the community. We give each child a toy, tell the Christmas story, show an animated movie, and have a birthday party for Jesus. Then we give the families a Christmas basket.
Technology is changing the face of how some churches do ministry. What technologies, if any, are you using to reach your community?
Berryhill: We live in a techno world. To be effective, we need to reach modern generations in a way that speaks to them. At Evangel we are updating our technology to include a new interactive Web site with live streaming and blogging. We have been amazed at the number of prayer requests that come in. We respond to those needs. We also have a weekly radio ministry. Pastors cannot be entirely dependent on technology for evangelism. People still need a personal touch from the church. We also want to be faithful in reaching people who have limited access to technology, and not just become a technological ministry.
Lehman: We do similar things with our Web site; however, people want a personal touch more than they want high-tech ministry. We cannot compete on the Web as the world does. But we can do some things better — things the world will never think about — touching people's lives with God's love. Technology attracts people and lets them know we are trying to be relevant to where they are living. But I also hear people saying, "Technology is cool, but I want something that's lasting."
Describe what your church is doing to reach the neglected and abandoned people in the community.
Dodson: Several years ago God revolutionized our church and took it to another level. One day I was sitting in an orchard wondering where the church needed to go, and I had an encounter with God. God made it real through the apples that had fallen to the ground and had been left there.
I knew the man who owned the orchard. He told me, "Pick all the apples you want and take them." I filled the truck with apples and took them back to the ladies in the church. Some apples were bruised and had scars, but the ladies wanted them because they make pies and other food items.
God turned this experience into a message. I covered the sanctuary floor with apples. On Sunday, people had to walk around the apples to get in their pews. The message God gave me was that many people in our communities have bruises and scratches. They have been overlooked and passed by. But they are still valuable and useful because of what is on the inside. They can still be used for God's kingdom.
Many people do not talk about bus ministry anymore, but we still bus children in for impact growth ministries, Royal Rangers, and youth. Some of the people we bussed in are now leaders in our church. Some are on my board. Some have come from rough backgrounds, but God saw the inner value of these people. He has done a wonderful job in their lives.
Berryhill: What we do is in our name — Evangel World Outreach Center. We consistently do outreaches. We were the first to bring Convoy of Hope to Chicago. Last year we had an outreach called Chicago's Largest Back-to-School Bash. We wanted to attract students. We had inflatable rides, a three-on-three contest for young people, a youth stage with hip-hop music, and games. There was also an adult stage. During this 4-hour outreach, evangelism teams connected with and loved people and told them about Jesus. Students left with backpacks filled with school supplies. We provided immunizations for students and also held a job fair.
Our outreaches meet tangible needs, provide wholesome family fun and entertainment, and minister to the whole family. We are earning a right to be heard. We preach the gospel, but we do not blast people with the gospel. Many people have joined our church because we took the initiative to reach out without asking for anything in return.
Reaching America's communities is every church's responsibility. Please share a closing comment or challenge in this regard.
Lehman: The great opportunity for pastors is to be who God called them to be. Be light in the world, love people, care for people, and follow God. Sometimes pastors become confused with what they do rather than focusing on who they are in Christ. The question I would ask is: When did evangelism end?
Evangelism is not measured by how many people we have or by the people who responded to an altar call or prayed the sinner's prayer. Evangelism involves a relationship. Every pastor is capable of leading a person to Christ and then walking alongside him or her in discipleship. When Jesus said to go and make disciples, He did not say go get numbers. Evangelism happens when a person can walk with the Lord and disciple someone else.
Every pastor not only has this opportunity, but also has giftings that enable him to do it. At times pastors are fearful of evangelism. But we need to love and care for people and look at long-term discipleship. We cannot be satisfied with drawing quick numbers from the events we do. Every person is called to win people to Jesus. Let the congregation bring them in.
Dodson: The church will fail if it doesn't place a strong emphasis on the things Jesus commanded. He commanded the disciples to be empowered by the Holy Spirit. In all we do, including outreaches, we need the Holy Spirit. Jesus empowers the Church through the Holy Spirit to go, baptize, and disciple all nations. If the Holy Spirit is not interwoven in all we do, we have missed it. Be sure to include evangelism and discipleship in all you do as a church.
Berryhill: First, evangelism and missions must be the heartbeat of the church. The Great Commandment and the Great Commission need to be essential. Second, we must go and make disciples. The church needs to take the gospel to people in need. Instead of waiting on people to come to us, we need to go to schools, parks, malls, and restaurants. We need to have small groups, prayer groups, and other ministries that can impact people without being offensive. We need to send our ministries out. Instead of choir rehearsals, send the choir to the mall. Send the prayer team and the altar workers to the mall; so, when the choir sings, the altar workers are there to minister. The church needs to rise up and do random acts of kindness.
In the Book of Acts miracles happened outside the temple because the church went where the people were. Until the Lord comes back, this is what we need to do. The blessing is in our consistency, as we continually do what the Lord has called us to do. God said He would give us the nations as an inheritance. As we stand on the Word of the Lord and do what He has called us to do, God will empower us and bless our work.