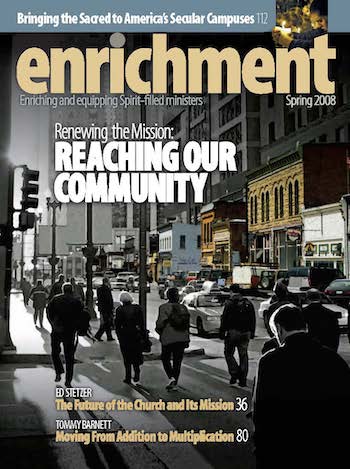 Downloads:
Organizational Development and the Church
Part 2: Developing Leaders Through Community
---
During my work in the church and the business sphere, I have experienced and observed the power of small clusters of hungry learners as they unleash leadership.
Jesus demonstrated how isolation does not birth or sustain leadership. One of His first acts of ministry was to identify 12 future leaders. He poured His teachings into these disciples and demonstrated His power among them. He eventually gave them opportunities to practice and reflect on what they were learning.
In Acts 6, these same disciples, along with the church in Jerusalem, effectively organized an incubator of leaders known as deacons to serve various practical needs of the growing Christ-following community. This was a powerful demonstration of the vital tension between learning and application and betweenbeing and doing.
"We have found that the biggest problem in training and teaching people is to get them to use what they've learned," observes Ken Blanchard, author of The One-Minute Manager and founder of the organization, Lead Like Jesus. "We've been struggling with how you close that learning-doing gap. One way is to train teams together, rather than a leader going off somewhere. Train them together so, while they are working together, the examples they can use to apply what they are learning can be things they are working on anyway. The application starts right away."
Communities of Practice
Part 1 of this series (see Winter 2008 Enrichment, page 136) asserted that the living systems, known as churches or businesses, face the constant challenge of identifying potential leaders in their environments, and on zeroing in on such persons — whether staff or volunteers — , and on knowing how to develop their talents and skills. A portion of these candidates need to be veteran leaders, since true servants and professionals never stop growing.
Some churches or organizations have moved toward a formal leadership development track in which the church takes an identified group of leaders through intentional learning and application assignments throughout a designated period. Others develop leaders more on the fly, in the crucible of daily activities that carry out the mission of the organization and intersect with various heat-of-the-moment crises.
In recent years the church has come to label this regular gathering of existing or emerging leaders as the small group. Its structure has ranged from Sunday School, to home-group Bible study, to standing church committees. Its application has varied from fellowship, to discussion of topical issues, to intense Bible study, evangelism, or missionary work, or to a combination of these.
The small-group philosophy ranges from being just another program of the church to representing the DNA of the congregation. Is yours a church with small groups or a church of small groups? Again, the innovations of today's small-group ministries stand on the foundation of Jesus' model and other historical utilizations, such as John Wesley's use of societies to disciple new believers and hold them accountable for spiritual growth.
In the business arena I have observed the use of the newer phrase, leadership community of practice, to describe a group of younger or veteran leaders facilitated by a senior executive. For example, in my current role as an organizational development practitioner with a health-care organization, I assemble practice groups of 10 to 12 corporate directors to discuss key issues and challenges facing the company. We often use certain books or articles as launching pads for discussion. We ask these directors to collaborate on action steps for addressing these opportunities. We expect them to report at the next session how they have followed through and applied the action steps and learning points from the previous discussion.
"Humans struggle to apply what they know is right," asserts Paul Litten, an Atlanta-based graduate of Southeastern University, a former leader with InterVarsity, and now a founding partner with a leadership consulting company called Healthcare Performance Solutions. "There's a gap between what people know to be optimal leadership behavior, decision making, care and support of employees and direct reports, strategic planning — and their everyday practice. One of my favorite quotes that we have been using in our work is C.S. Lewis' statement that 'human beings need less to be instructed as much as they need to be reminded.'
"Leadership training and development," Litten continues, "is about trying to help a person understand a new concept, practice, or perspective — and put it into practice on a regular basis.
"Churches can spend resources, time, and dollars to create more effective leaders, but don't see improvement in their spiritual leadership, key metrics, team effectiveness, and employee engagement," he notes. "Let's not start our training strategy around the question, 'How do we create great training?' We start with a different question: 'How can we fundamentally change behavior?' "
For example, Litten's consulting group meets with senior executives of an organization and asks them to identify the key leadership competencies needed for success. He then builds training curriculum around those crucial needs and brings together heterogeneous learning teams of about six or seven people.
"The learning team stays intact for an entire year of training facilitated by a senior leader who has had some development and training on the subject," Litten points out. "They help participants mine the learning and apply it. The focus is how they can apply this learning as quickly and effectively as possible toward real-time issues. Remember, our goal is performance, and our strategy is development of essential competencies."
In Litten's method, each group member is assigned an accountability partner with whom they commit to connect for a minimum of 20 minutes every 2 weeks.
"There are two things they need to discuss when they meet. First, share how they are applying what they have learned in real-time situations. Two, talk about any obstacles or struggles they are having in applying the learning, and peer coach each other on how to do a better job with that," Litten says. "Once a month, for 50 minutes, learning teams meet and do two things. They share how they are applying their learning, and share any roadblocks or challenges they are having. The goal is to use a community of practice to continually reinforce application. It's had tremendous impact on an organization."
According to Litten, churches do not need to limit such communities of practice to senior leadership. A congregation could build a curriculum or program around the attributes needed for people to be spiritually healthy and make an effective impact on others. "It's about clarity in the church's mission and what must be driven into its people to help fulfill that mission," Litten says.
Examples From Churches
Rod Loy pastors the 95-year-old North Little Rock First Assembly of God, which averages 2,300 worshipers each week and offers numerous nonconventional ministries. The congregation has undergone what the pastor calls "a unique metamorphosis" during the past 6 years. Small groups are a key vessel for leadership development and team building in his church.
"In student ministry, we have class pastors. Starting from when youth enter sixth grade, two volunteer lay youth pastors move with them all the way to their first year in college. Those people become their pastors," says Loy. "The coaching, developing, and training of class pastors happen in the small group. They are essentially a youth ministry staff, with all the responsibilities of a full-time youth pastor."
Loy continues, "On the other end of the spectrum I have 'Rod's Lunch Group,' which is six or seven guys from different businesses. We get together and troubleshoot stuff in the church. I'll e-mail them and say, 'Help me figure this out.'
"It's the strangest group. We have a vice president of a Fortune 500 company, a general manager of a water park, a customer service representative, and a regional manager of a copying company. We get together for relationships and fellowship as well."
Hardly a committee-driven church, North Little Rock assembles teams for short-range projects or events, and Loy empowers the leader to draft his team members.
"We continually form and re-form groups," Loy says. "For example, Catalyst is a group of young adults who are growing with our young adult pastor by studying together. Right now they're studying how the principles of Starbucks® apply to the church and young adult ministry."
John Lindell, lead pastor of James River Assembly of God in Ozark, Missouri, has organized the six couples comprising his executive leadership team into an engaging small group. Lindell and his wife, Debbie, host the group each month for a meal and a time of planning and development.
"It encourages and inspires them, and provides them a lift," Lindell says. "My hope is that what they're getting from me, they are taking to the people they are leading."
Lindell's method of developing his leaders through this community is more contingent on relationships than formal curriculum. "I'm less concerned about studying a book than I am sharing my heart with them, while especially drawing in the spouses. They are hearing from us, we're hearing from them; that exchange of information and heart has a unifying effect. Spiritual development happens along the way, but my biggest concern is maintaining the unity, so we have one heart, one passion."
During Lindell's 16 years of ministry at the church, James River has grown from about 90 persons in weekly worship to approximately 12,000. The staff consists of 100 full-time employees, including 15 pastors. A regular staff chapel focuses on developing attitude and outlook, emphasizing where the church is heading and how.
"In the midst of our growth, we had become somewhat fragmented," Lindell admits. "Departments were doing their own thing; the church had become more like an apartment building than a house. There's real strength and synergy when people come together."
Randy Valimont, senior pastor of Griffin First Assembly of God in Griffin, Georgia, utilizes every Monday morning to facilitate 30 to 45 minutes of leadership lessons with his staff. They also spend a similar amount of time together in prayer several other mornings during the week.
"Each one of our pastors gets paid based on two things," Valimont says. "No. 1 is their job performance; but No. 2 is their showing us that their ministry has brought at least 10 families into the church. They then need to plug them in and begin to develop them as leaders.
"Twice a month these staff pastors invite a few of these spiritual seekers to their home for dinner," Valimont says. "One of our staff pastors teaches divorce recovery. Even though this is open to the community, he develops relationships, begins to mentor people, and walks them through their difficulties. He becomes a life coach to them. Eventually, they get plugged in to the church."
Valimont meets with five young business leaders every Thursday morning, mentoring them spiritually, and talking about leadership principles they can enact in their marketplace arenas. "We talk about how we conduct ourselves in a godly manner in an ungodly world," he says.
Griffin's average weekly worship is approximately 4,000 people, with about 1,500 participating in a Sunday School program conducted as small groups. The youth program, with a class of about 100 students led by 10 adults, focuses on leadership development.
"We have found that if a person can come into our church and find two friends within the first 2 months, we will keep him," Valimont notes. "Getting people plugged into a small group enhances that possibility. In our case, we have a group leader and an assistant leader. The leader raises up an assistant when he sees someone who begins to apply himself. When the group grows to about 20 or 25, they split in half. The assistant takes someone with him to be his assistant and begins training him."
Identifying Leaders
Jesus had a unique and powerful ability to discern whom God was preparing for key leadership roles. But how can a church identify its emerging leaders in the midst of so many distractions and competing motivations?
"I have found that the people who volunteer for leadership may not always be the best leadership material," Litten observes. "Church staff and board members need to be clear on the spiritual leadership competences they feel the church needs. This clarity is the first step to knowing what to look for to find latent talent or emerging leaders.
"The church's second step is building a strategy for developing the behaviors desired in such talented people. The third step is extending an invitation to those who possess leadership competencies and behaviors, then having a structure that is easy to plug people into," Litten advises.
"Many churches lack spiritual middle management," he notes. "There's a small cadre of senior leaders, then a group of people who are hanging out at church, doing their own thing in their own world. Where are the people who have simple gifts, who can lead small groups and participate in other aspects of ministry, and who can help people go from baby to teenager to adulthood in their walk? How do we push it down to the laity as much as possible? In other words, if someone wants to be a leader, is there a clear path to leadership in my church?"
Partnering With Technology
Newer Internet technology provides opportunity for these small communities within the church to stay connected beyond their regular meetings or one-on-one follow-up discussions among members. This improves the speed and quality of discipleship. Blogs or message boards designed exclusively for a group permit the discussion and learning to continue without depending on people's schedules. E-mail is another vehicle for staying in touch whenever it is convenient.
Cell phone text-messaging enables the savvy group facilitator to provide real-time learning experiences by sending a short insight or action suggestion to a member where ever he happens to be. This also can be a quick and effective tool for a spontaneous gathering of the practice group to address an urgent need or opportunity.
"Blogs are great for us, especially for a group, such as the class pastors, that is scattered in different areas," notes Loy. "We form private blogs that are password protected. Someone will post a topic or question, and everyone will interact on that thread to find a solution without their needing to get together or text a message. We also use text messaging a great deal. We've learned that within two or three age groups, text messaging is our most efficient means of dialogue. We get an instant response, as compared to e-mail. Such modes of connection and communication are fun and have huge advantages," Loy adds.
"They also make it so much easier to get a group together. Someone might be sitting at his desk at work; someone else might be in a hotel in Chicago. You get real-time interaction without everyone needing to drive to the church," he notes. "However, we don't resolve conflict that way."
Whatever the format, method, or technology, the careful gathering of potential or existing leaders to learn and practice bears timeless value for churches and organizations. Having discussed the urgency of recognizing a church or business as a system, and the constant need to intentionally develop leaders who engage that system within the context of community, my next article will examine the crucial development roles of both coaching and mentoring.