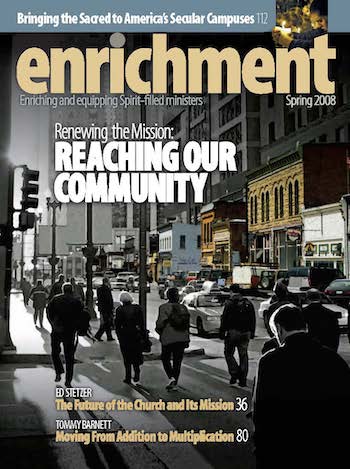 Downloads:
How Married Adults Can Minister to Single Adults
---
After 28 years of ministry to and with single adults, I have concluded that the evangelical church in the United States is mostly marriage and family focused. This in itself is not wrong — I am all for marriage and family. However, thousands of single and single-again adults feel excluded and isolated from the church because of this emphasis on marriage and family.
The Great Divide
A great divide exists between married adults and single adults in the church today. Many single adults feel like a fifth wheel in our family-oriented churches. Announcements, such as, "ladies, talk to your husbands about your attending the upcoming women's retreat," exclude up to 45 percent of women in the church. Married women sometimes feel guarded and suspicious of single women who befriend them and their husbands. Many times church staff look to married adults before single adults when filling key leadership positions. Ironically, this is the opposite of Paul's perspective. Paul indicated that single adults have more time and flexibility of schedule to minister and are not encumbered with the potential challenges and stresses of marriage and caring for a spouse (1 Corinthians 7:32–35).
Many single adults are not attending church because of the perception, (whether intended or not) that church ministries are directed mostly toward married adults and families. The common practice of befriending like people (married to married, and single to single) prevails in most churches, despite the emphasis of reaching out to each other.
Ideas for Bridging the Gap
The word family is more than a noun; it is also a verb. The church is to be family-ing the single adults so they feel included. Virginia McInerney said, "Bridging this gap is one of the most important things we can do to make the church a family. Ordinarily, the social circle of singles diminishes as we age and friends marry. The gap between singles and couples distances single adults from half the population, cutting the pool from which old friends are kept and new friends are made."1
Single adults need to be willing to push their way in despite feeling out of place. Married adults need to be willing to pull single adults in and expand their own dimensions beyond family life. Psalms 68:6 states, "God sets the solitary [person] in families" (NKJV).2 God can use married adults to family single adults. This needs to become more of a reality in our churches.
How Married Adults Can Minister to Single Adults
1. Resist the temptation to suspect that a single adult might be attracted to your spouse.
2. Do not suggest a match for single adults or ask questions such as, "Why isn't a wonderful single adult like you married yet?"
3. Pray for single adults and let them know you are praying for them.
4. Reject cruel myths, such as single adults have fewer problems; single adults are on the prowl; single adults are lonely, and single adults are rich.
5. Offer to help single parents with home repairs, childcare, visiting the single parent/adult when he/she is in the hospital or in need.
6. Get involved with a single adult ministry or a young adult ministry.
7. Invite single adults over to your home and include them during holidays.
Families in many churches tend to network well with one another, but the connection between single adults and married adults is usually not strong. This gap does not reflect how the body of Christ is to minister to each other as God intends it to. Commit yourself to doing all you can to close this gap and bridge the great divide between married adults and single adults.
Dennis Franck, director, Single Adult/Young Adult Ministries, The General Council of the Assemblies of God, Springfield, Missouri.
Endnote
1. Virginia McInerney, "Bridging the Chasm between Singles and Marrieds," Spirit Led Women, August/September, 2003.
2. Scripture quotations marked "NKJV" are taken from the New King James Version. Copyright © 1982 by Thomas Nelson, Inc. Used by permission. All rights reserved.