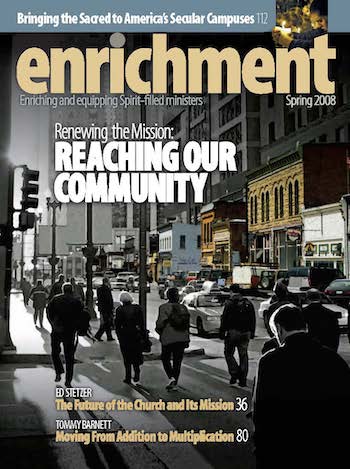 Downloads:
Hope in Americas Crisis
The Future of Missions in America
by L. Alton Garrison
---
As we might have said in my Texas hometown, "It ain't your grandpa's America anymore."
Shocking changes have occurred in our culture in the past generation. American Christians think the unreached people groups are in Asia, Latin America, and Africa. But our nation is a land of unreached people groups: disillusioned teens, prison inmates, Muslims, addicts, the homeless, disaster victims, senior citizens, and cynical college students. Demographics and circumstances rather than geography define these mission fields. Consider these statistics:
U.S. News and World Report estimates that more than 3 million crimes per year are committed in or near the nation's 85,000 public schools.1
A University of Michigan study reports that 9 percent of America's eighth-graders carry a gun, knife, or club to school at least once a month. An estimated 275,000 guns are carried to school every day.2
In a single year in America, the average 16-year-old will witness 15,000 sex acts and references on television.3
By the time an American child reaches high school, he has witnessed 33,000 murders and 200,000 acts of violence on television.4
Since 1960, the rate of illegitimate births in America has climbed by 419 percent.5
These radical changes in our society have made the work of the church more crucial than ever. But the church is largely silent. Why?
Three misconceptions hamper the church. Here are these misconceptions and ways American believers can overcome them and stand together for national revival.
Misconception No. 1: America Is Not a Mission Field
In my grandfather's day Americans sent missionaries to other countries. Today, other countries are sending missionaries to plant churches in America.
Christians need to become missions-minded — to think like missionaries — at home. The strategy of an effective foreign missionary is to learn the culture, language, and how to relate the gospel so the target audience will receive it. But in America we tend to build our buildings and expect the lost to come to us, even when the unreached people groups in our communities have demonstrated that they will not attend our churches. We have insisted on speaking our own language and doing our own thing. Meanwhile, our culture has drifted away from us.
Previously, people considered Christianity to be American's religion. Even if America did not widely embrace Christianity, many perceived Christianity to be a part of our national ethos. But America can no longer make this claim. The church is not out of business, but America has drifted away from the church. This drifting away has not been a slow or gradual process. It has happened in the past two generations. In fact, events in the past decade have accelerated it.
Many Christians are convinced that America is not a mission field. But Jesus said, "You shall be My witnesses both in Jerusalem, and in all Judea and Samaria, and even to the remotest part of the earth" (Acts 1:8, NASB).6
The first stop on the apostles' missionary journey was their own hometown — Jerusalem. The same is true for us today. Satan wants to persuade believers to give up on America — to give up on ministry to our own Jerusalem. God forbid.
Misconception No. 2: Church Is Only for Christians
In America we have become desensitized to social ills and have become complacent with wickedness. Most American families with a television — including Christian families — have witnessed so much crime and violence that it is commonplace for us to watch someone harmed or killed on the news, and then turn to our dinner as if nothing has happened.
We have become desensitized to the sin in our society because of our constant exposure to it. The church has become our place of escape. We do not want the church to send us into the sin-sick world. We want the church to shield us from it. But this proves that we have not thoroughly understood the purpose of the church.
Acts 2:42–47 defines the convictions the Early Church had regarding its purpose. Today, we need to hold these same convictions and pursue these same purposes: evangelism, discipleship, gift-oriented ministry, community/fellowship, and prayer.
Perhaps your church energizes its members to change their world. But many believers only see missions as a need they send money to overseas — in Africa, India, Asia, and Latin America. They have a misconception that missions are abroad, and the church in America is just for them.
Kent Hunter interviewed 15,000 evangelical Christians regarding their thoughts on the church. He states: "Our research shows that most Christians do not have a clue to what the mission of the church is. ... We discovered that up to 80 percent of church members believe that the primary purpose of the church is to provide a place of fellowship where Christians can share God's love with one another rather than reach out to those who are unchurched."7
When the people in our pews do not realize that the purpose for their church includes presenting Jesus to the lost, no wonder the lost are not flocking to the church to hear about Him. No wonder America has become post-Christian.
Researcher Tom Clegg states that nearly half of all churches in the United States did not add one new person through genuine conversion last year.8 Any growth they experienced came from people transferring from other churches. At a time in America when our witness is desperately needed, we have kept it behind church walls and only allow the initiated to receive it.
Perhaps the church does allow people to hear the good news, but we have become so separated from certain segments of our society that some people have no desire or reason to come and hear it. The result, in any event, is the same. The church has plenty to say to Christians and nothing to say to the lost. The church in the United States has become silent at a moment when:
6,000 teenagers commit suicide each year.9
13 million children live in poverty.10
150,000 people die because of substance abuse each year.
Six million people are incarcerated or on probation.
The United States is the third largest unreached nation.
Islam is the fastest growing religion in the world.11
28 million people left the church over the past decade.
72 churches permanently close their doors every week.
Against the backdrop of these staggering statistics, pastors sometimes tell me, "We do not give money to evangelize America because we are evangelizing America ourselves. We do not give to evangelize people who have heard the gospel many times because we are trying to send the gospel to those who have never heard."
Many in the United States have not heard the gospel even once. Statistics show that many people would like to hear the gospel, and they would accept Christ. Research shows that in America:
17 million people would probably accept Christ if they were presented with the gospel.
Another 43 million people are moving that direction, if someone presents them with the truth.
82 percent of the unchurched are somewhat likely to go to church if someone invites them.
According to Thom Rainer, less than 22 percent of the unchurched have ever been invited to church.12
American Christians need to reach out to the lost. The field is ripe unto harvest. Surveys show that most unbelievers have a positive view of Christians, pastors, and the church. They are also deeply concerned about the spiritual welfare of their children, feel guilty about not attending church, and have a spiritual view of life.
But American Christians have the false perception that church is for Christians. If church is for Christians, why invite a non-Christian? If we want to see a spiritual revival in America, American Christians must realize that the church is also for the unsaved.
But one more major misconception could keep you from the victory God intends for you and your church.
Misconception No. 3: It Is Impossible To Make a Difference
The math, I realize, is insane. America has more than 300 million people. Some believe there are 105 million lost people in the United States while others believe that number could be as high as 200 million. Bringing 105 to 200 million people to Jesus seems an impossible task, especially while trying to grow your congregation in the Lord, build a new building, send money to foreign missions, and conduct weddings, baptisms, funerals, and other specialized ministries.
Impossible?
U.S. Missions reports that the 6,000 unreached people groups in the United States13 include:
7.8 million Jews.
6 million Russian immigrants, largely unreached.
2 million people from India, the majority Hindu.
7 million Muslims.
2.4 million Chinese and Taiwanese who are either nonreligious or who follow their ethnic religions.
These figures do not take into account the whites and African-Americans who grow up unchurched and never receive a presentation of the gospel, or never receive one they can understand and respond to.
Into this vast mission field where many people have no background at all for understanding faith,news.
It seems impossible, doesn't it? Who can overcome the impossible? I cannot; you cannot; your church cannot. But what may seem impossible to a person with no faith looks possible to a person with faith the size of a mustard seed. The Bible says, "The things that are impossible with people are possible with God" (Luke 18:27). Impossibility is no barrier when you are following God's call.
Consider for a moment the following two lessons about overcoming the impossible.
First lesson in overcoming the impossible: you cannot do it alone
To meet this seemingly impossible task we not only need Christ at work in us, but we also need the partnership and cooperation of other Christians and churches. Scripture is emphatic about the power of unity. It is critical that American churches realize they are not competing for the Christians in the community, but they are partners in presenting Christ to the lost people in their communities. To revive America with the message of hope in Jesus Christ, it is imperative that churches work together. To do the impossible, churches will need to work as a team.
No single program exists to accomplish this task, but there is at least one unifying effort that every city can undertake — a prayer initiative. Every pastor in your area can agree with you that it is crucial to pray.
Prayer along these lines is appropriate for every congregation. Pray for:
unsaved loved ones.
people to come to Christ.
God's favor.
a spirit of urgency. The task is urgent; we must unite and fulfill it with haste.
each other. Every believer in our churches needs to accept the responsibility to think like a missionary and live out the truth of Christ in direct contact with the lost around them.
A prayer initiative can unite the church, community, and the entire city. Be among those who bring unity to your area. Inspire every pastor to join in leading the body of Christ in your city in such an initiative.
Another way to unite your church is through giving to missions. Giving to missions, at home or abroad, will bless the people who will hear the good news because of your gift. It will also bless your church.
Imagine what would happen if the churches of your area united in prayer and giving for lost people at home and abroad? Churches would share in the unity Christ spoke of and promised. It would be key to accomplishing the impossible — presenting a credible witness of Jesus Christ to everyone in the United States.
Second lesson in overcoming the impossible: the revival can begin in you
The story of King Hezekiah provides a clear example of how revival blesses a nation through the faithfulness of one person. Here is Hezekiah's description of his society: "For our fathers have been unfaithful and have done evil in the sight of the Lord, and have turned their backs" (2 Chronicles 29:6).
Sounds like America today.
But Hezekiah was not content to watch the moral self-destruction of his country. Less than 1 month into his reign, he led his people to restore the temple and renew their relationship with God.
For years the Jews had been living in a dark time of instability and apostasy. A nation that had once walked in the ways of God was scraping by. They were a derelict collection of disorganized, disoriented, and disenchanted people. They were products of their previous ruler, King Ahaz, who ignored, rebelled against, and walked away from God.
Yet, through the faith of King Hezekiah, their long march of disobedience and drought ended. Through his vision, courage, and faith, a nation began to return to God.
Remarkable events that had not taken place in generations began to happen:
Believers called on each other to repent (2 Chronicles 30:6).
The call brought new unity (2 Chronicles 30:12) and a new desire among the people to give a greater portion of their earthly treasures back to God (2 Chronicles 31:12).
Individual renewal grew into a tremendous corporate response as people shared their material possessions with others in need (2 Chronicles 31:19).
What began as humble confession became a national movement of repentance, obedience, and meaningful social change. And it all started with one person.
No one can create revival, but we can prepare the way for it. Like Hezekiah who sought the Lord, we can come to God just as we are, with everything that concerns us, saddens us, and moves us about the condition of our nation. We can prepare for personal revival by asking the questions of Psalm 139:23,24: "Search me, O God, and know my heart; Try me and know my anxious thoughts; And see if there be any hurtful way in me, And lead me in the everlasting way" (Psalm 139:23,24).
Treat these questions as a personal inventory of your heart:
What about my heart does only God know because I do not want anyone else to know the truth about me?
What are my most anxious thoughts?
What are the hurtful ways in me?
Be honest as you answer each question. Agree with God about each need He reveals in your life. Confess each sin with the willingness to make it right and forsake it. Praise God for His cleansing and forgiveness.
In this way we can prepare for the revival God intends to send — and prepare the church to carry His message to our communities and to our land.
Where will the spiritual leaders of this generation emerge? Who will step up and give the nation, our communities, our families, and our people hope? We must step up. We have the message and promise of hope. We have the advantage of living with the conclusion already in mind.
Our hope is rooted in a true faith. It would be shameful if we did not share it. How can we make disciples of our own nation when 205 million people are waiting to hear? How can I ask you to do it?
Four simple but powerful truths must guide us.
Truth No. 1: The command is not optional.
The first step toward an impossible goal is starting. We must tell the lost that they need Christ and explain salvation to them.
Truth No. 2: The possibilities are mind-boggling.
The command is not optional; we must obey it. The resources, innovations, and raw power available as we attempt the impossible are unprecedented in the United States.
Truth No. 3: Conflict is inevitable.
Satan will do everything in his power to try to stop you. This is proof he realizes you will be successful, and he fears it.
Truth No. 4: A commitment of faith will finish the task.
Jesus has promised His Holy Spirit to abide in you, to do the seemingly impossible work of evangelism in the United States. A faith commitment is required of each minister in the Assemblies of God. It will take the faith commitment of not only you and me, and your church, but also the church down the street. Maximum evangelistic impact in this country requires the faith commitment of every American believer.
You may need to pray, give, work, and tackle challenges you have not envisioned yet. However God leads you and your church, commit to becoming missional. Begin taking the steps to make your church outward focused. Every week you must release more missionaries into your community.
Conclusion: It Is Up to You
I ask you again to look at today's America. In America's short history, she has reached millions of nonbelievers around the world with the gospel. Today, however, America is a land of lost people. Use fresh eyes and a new perspective. Look at how much change has occurred in just a few years. As you evaluate what you see, you can react in two ways.
One reaction is to become frightened and concerned about how much America has changed, and build up walls and hunker down to protect your turf. Second, as you see the rapidly changing face of America, consider it as an unprecedented opportunity to personally engage and change America. You can make a difference.
You do not need to be a superstar to make a difference. To do what I have suggested does not require an advanced degree in theology, missiology, or sociology. These ideas do not call for years of reflection and thought. Changing your world only requires that you step out, trust God, and do something.
The urgency of our times demands action. Each believer must function as salt and light in the marketplace. In the final analysis, it is up to you.
My message is simple: America is lost; Jesus is our hope; and pastors are the delivery system. What you do with this awareness of the need, with your influence in the community, and with the simple means within your church will determine how you build the kingdom of God in your town. God's plan is to do His work through you.
Will the gospel reach America? It is up to you.
Notes:
1. Thomas Toch, Ted Gest, and Monika Guttman, "Violence in Schools," U.S. News and World Report [Internet]; available from http://www.usnews.com/usnews/news/articles/931108/archive_016059.htm; accessed 13 June 2007.
2. Available at http://www.icpsr.umich.edu.
3. Victor Strasburger, "Children and the Media: What Parents Need To Know." Available from http://drgreene.healthology.com/teen-health/article1423.htm#Sex%20and%20Sexuality%20in%20the%20Media; accessed 13 June 2007.
4. Deborah Lutterbeck, "Prime Time Politics — Influence of the Motion Picture Industry and the Religious Right Movement on Congressional Decisions Regarding Media Violence," Common Cause Magazine, 1995. Available at http://calbears.findarticles.com/p/articles/mi_m1554/is_n1_v21/ai_16791417. accessed 13 June 2007.
5. William J. Bennett, "Quantifying America's Decline," The Wall Street Journal, 15 (March 1993).
6. Scripture references are taken from The New American Standard Bible unless otherwise noted. Copyright © 1960, 1962, 1963, 1968, 1971, 1972, 1973, 1975, 1977, 1995 by The Lockman Foundation. Used by permission (http://www.Lockman.org).
7. Kent R. Hunter, Move Your Church to Action, (Nashville, Tenn.: Abingdon Press, 2006).
8. Tom Clegg and Warren Bird, Lost in America: How You and Your Church Can Impact the World Next Door (Loveland, Colo.: Group Publishing, 2001).
9. Department of Health and Human Services: Centers for Disease Control and Prevention. [Internet]; available from http://www.cdc.gov/ncipc/wisqars; accessed 9 August 2006.
10. The following statistics are from the U.S. Census Bureau.
11. The following statistics are from the Cable News Network/cnn.com.
12. Thom Rainer, "Reaching the Unchurched in 2004: Surprising Insights and Effective Churches" [Internet]. PDF available from http://72.14.205.104/search?q=cache:-9Zy6WoHtPUJ:www.faithnews.cc/features/cld/pdf/rainer-outline-march2004.pdf+17+million+people+would+accept+Christ+if+they+were+presented+with+the+gospel&hl=en&ct=clnk&cd=5&gl=us&client=firefox-a. Accessed 28 June 2007.
13. The following statistics are from http://www.ag.org.statistics.
---
---
In or Out?
The misconception that church is just for Christians creates an inward focus, and an inward focus prevents outreach. An inward-focused church has a consumer mentality. People expect the church to serve up programs their way. While this may help attendance, it does not bring lost people into the Kingdom.
This inward focus must shift outward. The church in America must move from an attractional theology to an incarnational theology.
Today, megachurches swell with thousands of members and hundreds of families partly because of the wide range of programs and services they offer. These ministries attract people to the church — attractional thinking. The focus of the New Testament church was not to attract people but to allow Christ to live through people. We need to become the incarnation of Christ to our culture — incarnational thinking. We must permeate our society with our Christlike presence, our Christlike thinking, and our Christlike behavior.
Megachurches, medium-sized churches, and small churches must all be places where believers are growing in their likeness to Jesus and carrying His incarnation into their world. Your church can offer programs and services that attract people while adapting your methods to your area. But it is equally important that your church equip believers to carry the presence of Jesus into their homes, jobs, schools, and communities.
An attractional theology draws people in.
An incarnational theology sends people out.
An attractional theology is inward focused: How can we serve our congregation?
An incarnational theology is outward focused: How can we serve people who do not know Jesus?
If we are to succeed in the crucial objective of presenting the Savior to millions across America who do not know Him, it is critical that every church, whether a mega churchmegachurch or a smaller church, turn the corner from attractional to incarnational.
L. Alton Garrison, Springfield, Missouri
Evangelism Resource List
The Internet is a resource to help bring your church to the community. It can, also help connect you and your church with ministry partners who can assist in your mission of evangelism. Some helpful sites include:
Web Sites
http://reachamerica.ag.org/
This is the ReachAmerica Coalition site. The mission is to reach spiritually lost people in America by mobilizing prayer, people, and resources for the greatest possible impact. ReachAmerica values teamwork, excellence, accountability, and a missional approach. At this site are helpful resources including downloadable videos from the media gallery to help you convey the urgency of reaching America.
http://www.sharejesuswithoutfear.org
Share Jesus Without Fear equips you to communicate your faith with confidence. This easy-to-use, relational approach to witnessing demonstrates that you can successfully share your faith if you depend on the power of God for results. Discover ways to witness without fear of failure or rejection.
http://www.webevangelism.com
This is the site of the Internet Evangelism Coalition. The purpose is to stimulate and accelerate Web-evangelism within the worldwide body of Christ. Their focus is on collaboration — linking partners in the mission to reach our world with the good news.
http://www.studentz.com
This site offers North American Missions Board resources to assist leaders in reaching non-Christian students and youth.
http://ied.gospelcom.net/blogging.php
Strategy This site's strategy is to reach out to the blogging world by building online relationships with people who have shared interests.
http://guide.gospelcom.net/#4
Guide This site is a guide to Web outreach, — including resource pages with strategies and principles of communication.
http://www.evangelismtoolbox.com/
Provided by many trusted, top evangelical organizations this worldwide database offers multilingual, multiformat evangelism and discipleship resources to help you share your faith.
http://www.jesuscafe.org/
This evangelism-motivated volunteer organization uses technology and the Internet to share the gospel, and equips and motivates believers in their faith through resources and articles.
http://www.everyonecan.net/
This site provides evangelism tools to reach out to your community.
http://www.christianteam.org/page24.html
This site contains sports evangelism resource materials.
http://www.daveramsey.com/
A site for evangelism programs that reach your community. This site helps church members give more and introduces the community to Christ through practical, biblical, financial principles.
http://www.loveyourcity.com/resources/se_resources.html
Servant Evangelism is doing acts of kindness to show God's love with no strings attached. In a Love-Your-City event, Christians from many churches meet on a Saturday morning to provide a free service and give a business-like card that says: "We hope this small gift brings some light into your day. It is a simple way of saying that God loves you — no strings attached. Let us know if we can be of more assistance." On the back of the card is the participating church's name and contact information.
http://www.servantevangelism.com/index.cfm
This site offers coaching and resourcing for outward-focused churches.
http://www.mtsbc.org/Leadership/Resources.htm
Evangelistic resources. Scroll down and visit the Special Evangelistic Events and Ministry Evangelism sections.
http://www.christianitytoday.com/outreach/features/ideas.html
This site provides evangelistic ideas & and resources for outreach-oriented church leadership.
http://www.outreach.com
This site is a source for church communication and outreach tools, ranging from traditional to contemporary to postmodern.
http://www.carefestusa.com/
CareFest™ is a Christ-centered community service day. CareFest™ unites churches, businesses, organizations, and cities with the purpose of demonstrating God's love in practical ways.
http://www.network211source.com/
This site provides tools and resources to help enhance Web ministry through content distribution, audio/video technology, and training.
http://www.churchgrowthinternational.com
This site provides clear, practical, tested, and proven information and strategies from the rural areas in the Philippines all the way to the suburbs and inner- cities of the United States of America.
http://www.churchrelevance.com/
This site inspires and trains ministers to create relevant and effective ministries with design, marketing, leadership, and ministry techniques.