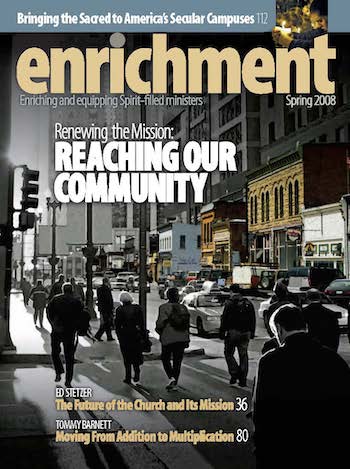 Downloads:
Developing a Missional Mindset
We face new challenges and opportunities both in embracing our past and engaging our present. To do so, 21st-century leaders must develop a missional mindset.
---
Ask this question at your next church leadership team meeting: "How would you define the mission of our church?" Perhaps your church has a clearly defined mission statement, along with a statement of purposes and core values. If this is true, compare the responses with what you have on paper. I suspect you will discover a diverse array of responses, many of which exemplify personal preference over biblical mandate and have little to do with God's mission.
The mission of God has never changed. Even before Adam's fall, God's missional priority included the redemption of mankind. As "the lamb slain from the foundation of the world" (Revelation 13:8, KJV), Jesus portrayed missio Dei — the mission of God — to and for lost humanity. While not a new term (it has been used since the early 20th century), being missional describes the church's engagement in the mission of God as the main concern and overriding objective. People sometimes compare the relationship between church and mission to the relation between fire and burning. One does not exist without the other.
As a district official in the Assemblies of God, I spend a great deal of time resolving or managing church conflicts. Frequently, the divisive issues bear no resemblance to the mission of God, but focus on misunderstandings over matters of style or preference. Rarely do I see churches that are missionally focused or outreach-oriented quibbling over trivial pursuits. Because getting sidetracked from the mission of God requires little effort, it seems important to help pastors and churches seek new strategies that will encourage them to focus on their main objective and evaluate their ministry programs and budgets in light of missional outcomes.
When discussing God's mission for the church, leaders must be sensitive to the tension sensed by people who feel threatened by the terms missional, purpose-driven, postmodern, incarnational ministry, or emergent. They believe these terms identify them with unorthodox doctrine or praxis. Although they do not represent the majority of emerging or missional church leaders, there are a few people who advocate a postmodern version of neo-orthodoxy that borders on a heretical departure from the fundamentals of the Christian faith. We must not ignore these leaders, but neither should we assume that they speak for everyone who uses the above-mentioned terminology (see sidebar Glossary of Terms).
From an evangelical and distinctively Pentecostal context, we need to be clear that missional churches care about reaching the lost for the same reasons Jesus came to "seek and to save what was lost" (Luke 19:10). Lost people are lost, condemned to a Christless eternity in hell. They matter to God and need to matter to us. Missional leaders who focus on the main objective will not easily move toward doctrinal departure.
What could be more biblical than aligning with God's mission by preaching the gospel and reaching lost people for Jesus Christ? Those who resist viewing the church as missional or purpose driven, or see these terms as contradictory to Pentecostal tradition, could be reminded of Assemblies of God history. In 1916, 2 years after the founding of the Assemblies of God, the General Council approved a Statement of Fundamental Truths. These 16 points of doctrine have remained virtually unchanged since that time. In our Fellowship, we place a high emphasis on fundamental truth No. 10, "The Church and Its Mission." This tenet of faith indicates a threefold mission or purpose statement:
• To be an agency of God for evangelizing the world.
• To be a corporate body in which man may worship God.
• To be a channel of God's purpose to build a body of saints being perfected in the image of His Son.
These three historic purposes align with the purpose-driven church model, which denotes these five purposes: evangelism, worship, discipleship, fellowship, and ministry (service). Rick Warren popularized the concept, but the Assemblies of God has been purpose driven from the beginning.
Missional thinking embraces all of God's purposes in fulfilling His mission on earth. Before the Assemblies of God formed, the 1906 Pentecostal revival in Los Angeles, California, at the Azusa Street Mission exemplified a multiethnic, multicultural, and multifaceted mission for reaching the world. More than a century later, we face new challenges and opportunities both in embracing our past and engaging our present. To do so, 21st-century leaders must develop a missional mindset.
Bridging Past, Present, and Future
Developing a missional mindset requires implementing nonthreatening approaches that help church leaders arrive at a realistic ministry analysis. These approaches also help them feel affirmed about the past, objective about the present, and challenged about the future. This is not an easy task because the road to change is laden with sensitive potholes, often in the form of sacred cows that leaders must carefully avoid by skilled navigation. These potholes can easily disintegrate into sinkholes that can halt progress entirely.
Leaders need continual coaching in the skills that will help them become better vision casters. Skilled vision casters can help their people focus on the destination, thereby mitigating the potholes encountered along the journey. Leaders must remember that missional strategies are biblical. Missional strategies follow the best traditions of the Christian faith by placing a high priority on leading people to a personal relationship with Jesus Christ.
When viewing or preparing their annual reports, churches need to ask the right questions. Instead of, Were we able to wallpaper the bathrooms, repave the parking lot, and still balance the budget? a better question would be, How much of our budget did we invest in evangelism, in outreach to those in our community who do not know Jesus Christ? Instead of, Were we able to fill the volunteer slots in our 47 programs so we could keep our people busy at the church 24/7? a better question would be, Did we evaluate every ministry opportunity in light of our mission statement, our purposes, and core values to ensure we are in proper alignment with the mission of God?
How can pastors and churches cling to tradition while ignoring the mission field around them? Speaking as one who values history and tradition, my tendency is to cherish those things that have been meaningful to me. In matters of faith and those things that facilitated my spiritual formation, a strong emotional bond enmeshes my feelings. I grew up in an Assemblies of God church where my mother/Sunday School teacher effectively used a flannel graph and opening exercises to reach my peers and me for Christ. But my fond memories of those relics of the past do not translate into a belief that yesterday's tools or strategies will work to reach children and families in today's culture.
When our memories of the past are more exciting than our vision for the future, we have begun to die. This applies both personally and organizationally. It is easy to understand the sense of security felt by those who have retreated into their sanctuaries of tradition, where the comforting patina of familiarity obscures change. Nevertheless, missional leaders recognize the comfort of living in nostalgic niches comes with a price. People who live in the past exchange it for irrelevance in the present and extinction in the future. This does not seem like a good exchange. Leaders must refuse to worship the trappings of the past. Instead, they must choose to worship Jesus Christ, who is the same yesterday, today, and forever. He is always encouraging His people in the mission of God and empowering them to engage present and emerging generations.
One challenge is in helping a younger generation of pastors celebrate accomplishments and even some of the nostalgia of the past, while building in the present with an eye toward the future. It takes more patience, skill, and diplomacy than some are willing to exert to allow a measure of reminiscence to help us build on the foundations of the past. This is not an easy task. At times even the most tactful and compelling leaders have difficulty casting vision for the future when so many people focus their eyes on the rearview mirror.
A healthy church will view outreach to the community as its primary mission. Missional churches embrace the idea of God's kingdom being people, not a place (building or denomination). These churches act out biblical principles of mission within the cultural context of the place in which people live. This contrasts with the traditional North American perspective of the church as a place where religious services take place, primarily to meet the felt needs of the congregation. This describes the posture of many Assemblies of God churches that report few if any conversions or baptisms on their ACMRs.
While some ministers and churches view themselves as friendly, their numbers indicate that being amiable to each other is not, in itself, a strategy that reaches lost people. Both attendance and budgets reveal the painful truth that many of our churches are more concerned about maintaining what is going on within the four walls of their building than they are about intentionally bringing people in from the outside.
It seems significant that on the Day of Pentecost, the Holy Spirit thrust the newly empowered believers from the relative comfort and security of their congregational meeting space out into the streets where the Holy Spirit gave them a new message in the language of the people. Missional Pentecostals dare not lose the same outward focus in reaching the multiple cultures, languages, and people groups represented in the 21st century.
Maintenance or Mission?
Developing a missional mindset involves understanding the tension and resulting church conflict between maintaining traditional systems and adapting emerging strategies for missional outreach. Regardless of the size of the church or community, Spirit-led pastors balance the mechanics of contextualized, missional ministry with the dynamics of the Holy Spirit. Some in our Fellowship emphasize the mechanics over the dynamics and vice versa. These individuals and churches saddle themselves, (consciously or unconsciously, intentionally or unintentionally) with an either-or perspective of ministry: You either do it my way (the right way) or you will fail (the wrong way). The danger is in stifling creativity, leading to both arrogance and ignorance.
We must not define missional thinking to either/or. Instead, it recognizes the importance of alternative models, styles, and methods, creatively birthed by the Holy Spirit and targeted for successful ministry and outreach in the community. Everything done needs to seek to combine human effort with the work of the Holy Spirit. Jesus said, "Without Me [Him] you [we] can do nothing" (John 15:5, NKJV). On the other hand, without our cooperation, the Holy Spirit will be unable to accomplish God's providential purposes through us.
When I was a young believer with long hair, sitting in a circle, playing the guitar, holding hands, and singing We Are One in the Spirit, was an effective strategy to engage other young people and help them find Jesus. Today, an effective strategy might involve meeting at Starbucks, blogging, lighting candles, and having prayer stations. Every generation of Christians or sector of the Christian church tends to think the methods and styles used effectively to engage them and their peers are still the most effective methods or styles. This is exaggerated when any given group believes their particular approach is the only valid biblical approach, and will work with all people, in all cultures, at all times, and in all places.
Such thinking leads to dysfunctional systems because there is no single approach that works with all people in all cultures, at all times, and in all places. If there were, there would be no need for cross-cultural training for missionaries, something most Christians readily accept. While not ignoring the rest of the world, pastors and churches need to understand that North America represents the new mission field of the 21st century. Leaders must be aware that cultural and ethnic diversity have completely changed the face of our population.
Strategic Leadership
Developing a missional mindset requires a willingness to navigate and negotiate the conflict when missional strategies collide with traditional structures. It is significant that most successful missional churches are new church plants. This is not surprising, since new churches are able to integrate missional strategies into their DNA from the beginning. It is usually a painful process to transform an existing church because the church must remove the old wineskins or at least displace them before implementing the new wine innovations. As Jesus said, old wineskins will explode if we indiscriminately pour new wine into them. They cannot tolerate the transformation. Unfortunately, many existing traditional churches will not tolerate change and are bursting with messy conflict.
When confronted with change, some churches cling to traditional methods that have been part of their DNA and history since their beginning. When conflicts arise, and they will because change is inevitable, leaders must be prepared to deal with these conflicts in a biblical and strategic manner.
In our postmodern world, many godly people tend to view most changes in society from a negative perspective. Gone are the good old days when life was stable and people prioritized and celebrated traditions; they did not stigmatize and relegate them to the back burner. When the new pastor wants to incorporate a new strategy — such as a more casual dress code — traditionalists hang on to their suit-and-tie traditions and deem the new concept heretical. After all, they grew up getting dressed up in their Sunday best. Pastor Johnson always encouraged us to look our best for the Lord. Why would this new pastor want us to offer God something less than our best, especially on Sunday?
To answer their objections and mitigate the resulting conflict, leaders must help people see the difference between style and substance. There is no biblical mandate for Sunday dress any more than there is for any other day of the week.
People link traditions to personal preference and style, rather than substance. Short term, the personal preference of one person or group becomes the style of the group. If this trend continues over an extended period of time, it becomes tradition and eventually becomes institutionalized. Given enough time, it becomes enshrined as a holy icon.
A new Hammond electric organ with a Leslie speaker was an innovative technology in church 65 years ago. These organs may have been hard to sell to a conservative congregation. After all, worldly people listened to organ music in the background of their favorite radio dramas. They also listened to organ music at the theater, skating rink, ballpark, and other places of questionable amusement. Many reasoned that electric organ music must be sinful. "And here they are, bringing the devil's instrument right into our church!" some may have lamented. As early as 1861, Charles Spurgeon refused to place an organ in his 5,000-seat Metropolitan Tabernacle because he feared people would come to hear the music, not the message.
Over time, the organ and organ music became the musical tradition most associated with church. When Brother Jones bought the new organ so church organist, Sister Jones, could have the latest bells and whistles an organ could offer, everyone agreed it was a win/win. The church got the latest organ technology, Sister Jones got to play it every Sunday, and her husband paid for it. At the same time, the organ tradition became an institutional part in the church. But that was 40 years ago, and Sister Jones was 35 years old. Today she is 75 and still insists on playing the organ every Sunday. Woe to the pastor who wants to change this sacred tradition.
Unless leaders communicate clearly that substance is more important than style, churches will continually fight battles over style. If we cannot change style while maintaining the substance of the biblical mandate, we will never be able to contextualize and communicate the gospel in a culturally relevant way. Interesting enough, many contemporary worship leaders embrace a retro-perspective and value a Hammond B2 or B3 organ as a viable worship tool. What was old is new again, to the pleasure of some, and the bewilderment of others.
Leaders face the challenge of objectivity when tears, ragged emotions, feelings of betrayal, and strife cloud people's perceptions of reality. Yet, if leaders are to succeed in developing missional churches, they must help people see beyond their own angst over what was by providing a clear vision of what can be. This requires clearly identifying strategies and methods as being in alignment with our doctrines and biblical core values. Missional leaders must avoid manipulative, emotional rhetoric while offering an intelligent, biblical, and Spirit-led presentation of missional thinking to those struggling with doctrinal, procedural, or philosophical objections.
Courageous Leadership
Developing a missional mindset means encouraging courageous leadership. One of the outstanding features of the emergent church culture is the willingness of young (and some not so young) leaders to attempt innovative approaches. For many of them, out-of-the-box is not an adequate description. They do not even acknowledge the presence of the box.
A new generation of church planters are not concerned about sacred cows or trying to please those whose view of the church does not go beyond their own comfort zones and needs. They embrace a bigger vision: Engaging people for Christ in a culturally relevant way. To them, church in a coffeehouse is as legitimate as having church in a stained-glass building with a steeple — and much more approachable.
Many pastors would love to see change in their churches, but stagnate because church leadership is unable or unwilling to pay the price for change. The pastor knows the church lambasted his predecessor and voted him out for his attempt to extricate Sister Jones from the organ. He knows the church cannot survive a repeat performance, so he tolerates the noise and waits for the day when Sister Jones will go to heaven.
Leaders must do whatever possible to change church organizational structures that tradition has crippled. Courageous leaders do not maintain systems that have lost their effectiveness because no one wants to rock the boat. Pastors paralyzed by fear cannot lead successfully; they hinder the missional work of the church. Leaders must place their security in Christ, not in a paycheck or in a false sense of unity that can erupt into conflict whenever he or someone else challenges a tradition.
Sacrificial Leadership
Developing a missional mindset means caring more about God's kingdom than your own.This is best reflected in Kingdom living, not Kingdom building. God responded to King Hezekiah's prayer for healing by giving him a 15-year life extension. Nevertheless, his poor judgment brought a severe reprimand from the prophet Isaiah, and the next generation felt the consequences.
Hezekiah's response to Isaiah was almost flippant: " 'This message you have given me from the Lord is good.' " But the king was thinking, At least there will be peace and security during my lifetime (2 Kings 20:19, NLT).1 Hezekiah represents current church leaders who choose to live in the present on the storehouse of the past, while ignoring diminishing returns and the ultimate destruction of the institutions they hold dear. As long as everything stays the same for my lifetime, I'm happy with the status quo, they think.
Contrast Hezekiah's attitude with the sacrificial leadership of Jesus, who cared not only about His inner circle, but also about every person who would ever live, including you and me. To Him, it was not His comfort or convenience that mattered, it was us. We count. And He is counting on us to complete His mission.
Using traditional terminology, developing a missional mindset means doing the will of God. But we must realize that this goes far beyond the typical Pentecostal litmus test of having good services. It means asking hard questions about the missional impact of our church beyond the walls of our building, both in our community and beyond.
In contemporary language, developing a missional mindset means the church must become the feet and hands of Jesus, going across cultures and socio-economic barriers to touch people of all ethnicities in His name. As missionaries to the 21st century, we need a fresh vision for the future, gaining perspective from the past, but refusing to live there. We must be willing to accept the discomfort of discarding traditions when they collide with missional purposes. Only then will we reach beyond our own comfort zones, allow the Holy Spirit to lead us, and accompany Jesus on His mission across the street and around the world.
Endnote
1. Scripture quotations marked NLT are taken from the Holy Bible, New Living Translation, copyright © 1996. Used by permission of Tyndale House Publishers, Inc., Wheaton, Illinois 60189. All rights reserved.
Missional Church Glossary of Terms
Apostolicity: This means different things to different constituencies. In most contexts related to emerging, missional churches, this simply means following the biblical mandate to have a divine sense of being one sent on a mission. In some emerging charismatic churches this has a different meaning having more to do with a restoration of the gifting and authority of an apostle, usually in the context of a hierarchical power structure.
Emergent/emerging churches: Refers to those who are taking a fresh look at church structures with a bent toward creatively engaging culture for Jesus Christ, much as any missionary would do when entering a new field.
Incarnational ministry: In simplest terms, this defines a response to the question, What would Jesus do? Jesus crossed cultural and social boundaries to meet human physical, emotional, relational, and spiritual needs.
Missional: The essential nature and vocation of the church as God's called and sent people for the purpose of inviting and equipping individuals to be authentic disciples of Christ.
Missional churches: Reproducing communities of authentic disciples, being equipped as missionaries sent by God, to live and proclaim His kingdom in their world.
Missional leadership: In simple terms, the contrast between Jesus saying, "Follow Me," and a boss saying, "Go do it." Influence versus power.
Missional structures: The basic structure is the church community, connected to other faith communities, not a denominational hierarchy. The church must have a biblical structure, not one built on tradition. The church needs to reflect the diversity of its cultural context.
Theocentric mission theology: The idea that mission is not something the church does (program), but that mission is the essence of the church. Our central mission is God's mission, to "seek and to save what was lost" (Luke 19:10).
Don Detrick, Snoqualmie, Washington
-->
LDR Church Leadership Development Cohorts
One way the Northwest Ministry Network district leadership encourages churches to become more missional is through the Leadership Development Resources Church Development Cohorts. Mel Ming and Steve Mills head up this initiative that began in 2000.
Our experience shows that churches completing the LDR Church Development Process are twice as likely to grow compared with those not involved in a cohort. How does this process work?
Vision
To provide effective, cutting-edge coaching and peer training for church leaders who desire to build healthy growing churches that effectively reach the unchurched, and develop fully devoted followers of Christ who will use their gifts and abilities to impact others.
What Are LDR Church Leadership Development Cohorts?
They are groups of pastors with their church leaders who meet 5 times per year for personal and church leadership development and growth. The cohorts involve peer mentoring with a coach in a 2-year developmental cycle.
What Is the LDR Church Leadership Development Cohort Process?
Foundation Phase
Mission. What is God leading us to do? What is our mission?
Core values. Who has God shaped us to be?
Church purpose. Based on Scripture. Why do we exist as a church? What are the functions of His church?
Congregational realities. Who are we now? Who makes up our church?
Community context. What is our community like? Who makes up our ministry area? What are the unchurched like?
Design Phase
Identify missional focus. Who is God calling us to reach?
Identify primary strategy for each purpose. What strategies does God want us to use?
Identify ministry model. How does God want us to do church?
Identify worship service style. What style of worship is appropriate for our mission?
Identify minimum health factors from church health survey. What do we need to strengthen to reach our full Kingdom potential?
Implementation Phase
Each church develops an implementation plan for the next 1 to 2 years. The implementation plan seeks to help the church become healthy.
Don Detrick, Snoqualmie, Washington