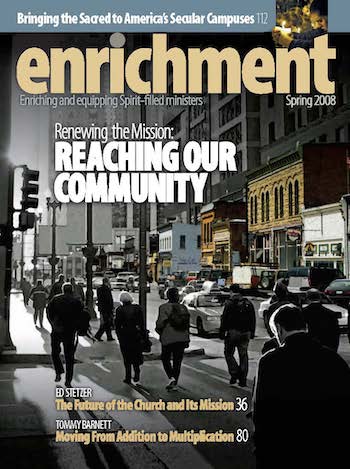 Downloads:
Chi Alpha
Bringing the Sacred to America's Secular Campuses
by Scott Harrup
---
Mardis Gras came a few weeks before the close of the spring 2007 semester at California State University/Stanislaus in Turlock. Though not as uninhibited as New Orleans' notorious free-for-all, there was plenty of beer to go around.
A large tent among various attractions in the quad drew students' attention. The sign next to the tent read "Free Spiritual Readings." Freshmen and upperclassmen, drunk and sober, lined up for a chance to gaze into their futures. But the reception inside the tent was nothing they expected.
"We started putting up the tent a couple years ago," explains Jeremy Anderson, Chi Alpha director at the campus. "We got the idea from Will Klier at UC Davis. We prayed with students, prayed Scripture over them, and asked God to 'manifest himself through spiritual gifts and demonstrations of His power.' "
Rather than rejecting the blatantly Christian outreach, students wanted to learn their divine destiny. The first time Chi Alpha set the tent up, three students made salvation decisions in 4 hours.
"One Hindu girl came to Christ in immediate response to my wife's prophetic word," Anderson says.
The line waiting to get into the tent last spring grew so long Chi Alpha students dispersed to pray with people waiting to get inside.
Jeremy and Debora Anderson have made Stanislaus and three other area campuses their focus since 2004. Under their leadership, about 100 students have come to Christ — proof of an effective outreach, but only the beginning of what the Andersons want to see God accomplish among the approximately 46,000 students on their mission field. They share their passion for America's college and university campuses with Chi Alpha teams at nearly 200 U.S. schools.
The Assemblies of God established the first Chi Alpha chapter in 1953 at Missouri State University in Springfield, formerly Southwest Missouri State University. The ministry's name derives from the Greek phrase christou apostoloi, meaning "Christ's sent ones." The Greek letters chi (X) and alpha (A) are the initials of the phrase.
The apostle Paul wrote in 2 Corinthians 5:20: "We are therefore Christ's ambassadors [Christ's sent ones], as though God were making his appeal through us. We implore you on Christ's behalf: Be reconciled to God."
"We will reconcile students to Christ, transforming the university, the marketplace and the world," reads Chi Alpha's mission statement.
Tall order. U.S. colleges and universities have pulled loose from the Christian moorings on which many historic campuses were founded. The gospel, when heard, is only one message among countless rivals. Much of academia dismisses the Bible as superstition. Students encounter an array of fraternities, sororities, and special-interest groups whose agendas often reflect humanistic values.
But for those who discover Chi Alpha, a different environment emerges.
Foundations of Prayer
At 7:14 a.m., about 50 students have gathered at Murray State University in Murray, Kentucky, to pray. They pray for each other, for their campus, and for students who have yet to encounter Christ as Savior.
Why 7:14? God promised in 2 Chronicles 7:14 to hear the prayers of a repentant, faithful people.
"There's power in prayer," says Mark Randall, Murray State Chi Alpha director. He has watched attendance at their primary service on Wednesday night triple to 150 over the past several years and insists prayer has made that happen.
At Stanislaus, the Chi Alpha team maintains a 24-hour house of prayer.
"Prayer is the foundation of anything we do evangelistically," Anderson says.
Group prayer meetings energize students to take their faith onto the wider campus to pray with others. Anderson encourages this whenever he leads an outreach on the quad.
"Students will share, and after two or three have done so, I'll give a brief gospel presentation," he says. "Rather than try to hold an altar call in the middle of campus in the quad, we have our students disperse to offer to pray with people. Most people do not refuse prayer."
Eli Gautreaux says prayer has had an undeniable impact on the campus of Sam Houston State University in Huntsville, Texas. Gautreaux, 36, is the university Chi Alpha director and the South Texas District Chi Alpha representative. He and wife Mary have invested nearly 15 years in campus ministry. The biggest breakthrough came in 2005.
That spring, about 50 young men involved with Chi Alpha decided to move back into the dormitories and commit themselves to prayer.
"Four of those guys met for an all-night prayer meeting," Gautreaux says. "Word spread, and soon 80 guys were meeting to pray."
One night about half of them were filled with the Holy Spirit. The revival spilled onto the campus, with participating students telling others about Christ. Numbers of students made salvation commitments. Students even held baptisms in the campus fountain.
"We're still seeing fruit from that revival," Gautreaux says.
Some 400 to 600 students gather for a weekly midweek service then participate in about 100 discipleship groups throughout the week.
Connecting, Intervening
Prayer gives way to practical ministry. Students leave a Chi Alpha prayer service determined to connect with peers in a manner that brings the gospel to life.
Mario Solari, 43, directs Chi Alpha at Florida State University in Tallahassee. Students in his group regularly visit bars to share the gospel.
"We take our cross to a bar and set it up on the sidewalk and tell people Jesus loves them," Solari says.
Jeremy Bruce encountered Solari's group one night. A student asked Bruce if he knew Jesus.
"He said yes just to get us off his back," Solari remembers.
But God began dealing with Bruce. About 2 weeks later he started coming to Chi Alpha. He eventually accepted Christ as Savior, interned with Solari, and is now a licensed AG minister.
Eric Treuil and his Chi Alphans used a coffin during Easter 2007 to confront students with the gospel at the University of Louisiana in Lafayette.
"We called it 'Resurrection Awareness-a-thon,' " Treuil, 46, says. "The university had to give equal access because the fraternities do all kinds of 'a-thons' that week."
Chi Alpha placed the coffin on a corner of the busiest street on campus and manned it 24 hours a day for 3 days. They distributed a flyer to explain the meaning behind the spectacle. Their outreach made the front page of the local paper and was picked up by a Christian radio station.
"You're there 24 hours a day, so at 2 or 3 a.m. when students are coming back from the clubs, they see someone sitting in a coffin," Treuil says. "It kind of freaks them out and stirs good conversation."
Creative ministry tactics yield salvation decisions. But for Chi Alpha leaders and members, that is just the beginning.
"Discipleship is our focus," Gautreaux says. "Students come to know the Lord. We ask them to find other students to build relationships with and lead in groups. It's transgenerational discipleship."
Gautreaux cites four generations of believers in 2 Timothy 2:2 where Paul told Timothy to take what Timothy had learned from Paul and share that with reliable people, who in turn would share it with others.
Gautreaux sees generations of believers multiplying on and off campus. One student went home to New York last summer after accepting Christ during the school year.
"His father saw the change in his life, began to ask questions, and accepted Christ as his Savior, thanks to his son's example," Gautreaux says.
A similar scenario played out for another student going home to Houston that summer. Several family members began asking her about her faith after seeing the change in her life.
"That is what is so amazing about Chi Alpha," says Bob Marks, missionary personnel director with the national Chi Alpha office in Springfield, Missouri. "You touch one student, disciple them to share their faith and you see a whole family and sphere of influence for eternity."
"Whatever God does in you," Gautreaux insists, "He wants to do through you."
To create that kind of influence on campus, Chi Alphans must become integrated in campus life.
"We do everything we can to get students to live in the dorms on campus," Treuil says. "Long term, that brings the greatest fruit."
Jana Mahoney took that to heart. She had lived at home her first year at Lafayette then lived in Chi Alpha's student housing. Mahoney felt God dealing with her to move into the dorm her junior year. She led several students to Christ.
"One young lady had become pregnant and was contemplating abortion," Treuil says. "Jana called her family, and they took the young girl in with her boyfriend. They put them on separate floors in their home, helped them learn financial responsibility, and took them to church. Both came to Christ. They married and had their baby."
Expecting the Miraculous
"We look for opportunities to pray for healing," Anderson says of the Stanislaus outreach.
When one young man, a Christian student, approached a quad gathering wearing a leg brace several students offered to pray.
"Nothing seemed to happen," Anderson remembers. "He limped away."
But Edwin showed up 2 days later at Chi Alpha's weekly meeting without a brace.
"I started thinking about your prayer," he told the group, "and I felt a tingling from my head to my leg. I took off the brace."
He went to a doctor to confirm his healing and was out the following week giving his testimony in the quad.
Several years ago Randall's car was stolen when he was shopping in Murray. He filed a police report and was told he would probably never see his car again.
"There was a young man I'd been witnessing to," Randall says. "Jerry was an atheist and lived about 7 miles out of town. I got another ride and went to get him. I told him my car had been stolen and I was going to pray that God would show us where it was. 'I don't believe in prayer,' he said, 'but you can pray.' "
Randall prayed that God would let him recover his car as a witness to the student.
"I went up the highway and turned on a side road I'd never been on before," he says. "At the end of the road was my car. Jerry accepted Christ."
Short-term Participants, Long-term Growth
Campus ministry creates an entirely different dynamic from church planting. While families may join a church and remain for generations, student populations have high turnover.
"About every 2 1/2 years, you have a whole new group," Solari says.
Chi Alpha groups need to establish a campus presence and prove they are there to stay even as each year's classes come and go.
"Our first 7 years were feast or famine," Solari says. "I tell people to put their hands to the plow and leave the results to God."
Randall has been with Chi Alpha for well over half the national ministry's history. At 50, he is one of Chi Alpha's longest-serving directors. He started at Murray State as a student in 1974, graduated in 1977 with a bachelor's degree in criminology and corrections, and received his master's degree in human services in 1978. He started the campus ministry in 1977.
"I told God when I came to school there were two things I didn't want to do: Be a minister and live in Murray," Randall says. "He called me to do both, and now you couldn't pay me enough to leave either one."
H.L. Hussmann, 33, came to Christ thanks to Randall's influence and is now his ministry partner.
"I came to Murray State in 1991 a nominal Christian at best," Hussmann says. "I was reading the Bible and I called Mark. 'I'm a little concerned I might be going to hell,' I told him. 'If you could help me out with that, I'd appreciate it.' "
"Chi Alpha was the first time I heard the gospel," Gautreaux says. "I accepted Christ in 1990 at the University of the Pacific in Stockton, California, through Chi Alpha."
Before his years at Stanislaus, Anderson, 29, was a student at American River College in Sacramento, California. He accepted Christ at a Billy Graham crusade in the city. The Chi Alpha group at Sacramento State helped him mature in his faith and discern his call to campus ministry.
Anabelle Treuil made Christ her Savior at a Chi Alpha meeting at Nichols State University in Thibideaux, Louisiana, where she met Eric.
"About 90 percent of Chi Alpha pastors were students who came to Christ through Chi Alpha," says Solari.
Divine Provision
Ministry real estate can be scarce on a secular campus. When Treuil came to Lafayette, Chi Alpha had no facilities.
"I inherited a two-drawer file cabinet," he says.
Today, the Lafayette chapter owns property estimated at $1 million and completely paid for.
A local businessman paid the rent on a house for about 5 years. A non-Christian group was poised to buy the house in 1993 when the landlord offered to sell the property to Chi Alpha. The catch — Treuil had to raise $90,000 in 90 days.
"We didn't have the money, but we took a step of faith," he says.
In 90 days God provided more than $90,000 in cash from individual offerings. Pastors opened their pulpits to Treuil. One man donated a Rolex watch. A woman gave Treuil eel-skin purses to sell. About 600 people contributed.
In 2003, Chi Alpha purchased a former Lutheran church next to campus. In February 2007, Treuil made the final payment on the $600,000 loan.
In 2007, the West Florida District donated a church on the edge of the Florida State campus to Mario and Robin Solari's group. The gift could not have come at a better time, since Chi Alpha had to give up on-campus facilities.
"The church had been there more than 40 years," Solari says. "When the pastor retired, it began to dwindle and was put under district supervision."
Solari approached district leadership to suggest a partnership.
"We have a church, annex, and parsonage, all just a 2-minute walk from campus," he says.
Chi Alpha is using the parsonage for offices and associate staff housing. While continuing to meet on campus, the ministry will operate Mosaic Assembly of God at the church.
Worldwide Influence
U.S. colleges and universities attract students from around the world. According to Treuil, the students at Lafayette encompass some 100 nations. That is not uncommon, and this gives Chi Alpha an international mission field.
Treuil organizes a weekly lunch outreach and encourages students to invite non-Christian friends. Between 100 and 120 students take advantage of the Wednesday event, and at least a dozen new students visit each week.
One student from China came every Wednesday for weeks for the free meal.
" 'George' was his American name, and he sat in the same place and was fascinated by the messages," Treuil says. "At around message No. 30, he came to Christ. We baptized him in the university pool."
Solari recalls another Chinese student who went to a Chi Alpha SALT conference in 2002 and heard an opening prayer in Mandarin Chinese.
"It was the first time Bing had heard a prayer in his language," Solari says. "He and his wife accepted Christ and are members of a church."
Hussmann saw evidence of Murray Chi Alpha's international influence during a trip to Thailand.
"About 4 years ago we ministered to a Thai student, and she got involved in our group," he says. "In Thailand we visited her church and that day they baptized about 20 people, many of whom she had helped lead to Christ."
Chi Alpha groups often take missions trips. Randall takes a group from Murray somewhere overseas each year. Fifty-two students ministered in the Bahamas in spring 2007.
"We helped an alumnus with a church he started in Nassau," Randall says.
In 2006, 45 Murray Chi Alphans went to Amsterdam. More than 60 students are slated for the spring 2008 trip to Belize.
"We took a group of 15 students to Las Vegas and did street preaching and surveys," Randall says. " 'Don't you know this is Sin City?' people would ask. 'That's why we're here,' we'd tell them."
Pastor to Pastor
Every Chi Alpha director who spoke with Enrichment agreed the challenges of building and maintaining a campus outreach can be overwhelming.
"We've paid a high price for the victories we've seen," Anderson says. "People have slandered our group. We've had some vandalism. Spiritually, there's warfare. But we need to be relentless in the pursuit of God's presence."
"I have grown a group from 30 down to 6," Randall admits. "In my 30 years it has been an up-and-down ride. But if you keep praying and evangelizing, it doesn't matter where your school is, you'll see breakthroughs."
Hussmann agrees. "A breakthrough is always around the corner," he insists, "and it only takes one meeting, one conversation, one Bible study, one tract put in the right person's hand. If pastors will be diligent to get the Word of God into people's eyes, ears, and hands, it will change lives. It's God's Word that does the work."
Partnership in ministry can build a Chi Alpha outreach when churches catch a vision for lost souls on a campus.
"We have an incredible section," Anderson says of AG churches in and around Turlock. "Local churches look for consistency on our part. They see we're here long term."
Gautreaux credits First Assembly in Huntsville with the rebirth of Chi Alpha at Sam Houston State.
"When I arrived in Huntsville as a young believer," he says, "I found a church that was aware of the university mission field and wanted to reach it. Pastor Joe Barnes had been in the church 40 years and seen ups and downs in the Chi Alpha ministry. He always prayed for them. He embraced us with open arms. I'm forever indebted to him for believing in me and encouraging me. There's no way I would be in ministry today if it had not been for him."
A Chi Alpha pastor's district involvement is vital, Gautreaux says. "We have received "incredible support from our district and section." They want to see what's happening on our campus happen on other state campuses."
Solari is a sectional secretary-treasurer. "I don't miss any district functions," he says. "I go to youth events. We're partners. We need each other."
Randall attends nearby Hope Harbor Assembly of God. Pastor Art Heinz is a former student from his Chi Alpha group and now pastors Hope Harbor with the vision of connecting his church to the critical needs in students' lives.
"Pastor Heinz came to a congregation of about 80," Randall says. "The church now attracts about 350 people, and 75 to 100 of them are our students."
Heinz likes to remind Randall that Murray State's Chi Alpha group only had six members when Heinz joined, but that all six are now in full-time ministry.
"We need to be missional in our mindset," Gautreaux says. "The Lord has given us the privilege of seeing people come together for a short time on a university campus and then be sent out by us. The real fruit comes when we are faithful even with a small group of students but realize there can be great long-term effects for the Kingdom when they are sent out. We have this revolving door, and it's a good thing."