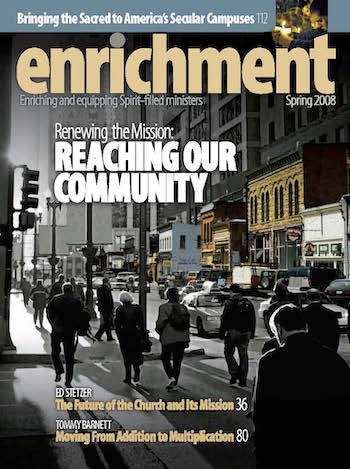 Downloads:
Birthing a Move of God
It does not matter who you are or where you pastor, God is calling your church to grow.
---
Gone With the Wind, perhaps the grandest cinematic portrayal of the state of Georgia, has painted an epic Civil War canvas for millions of viewers. In the middle of the plantation pomp, battlefield blood, and Atlanta ash, a memorable phrase emerges when, in the movie, a woman went into labor. The servant assisting Scarlett O'Hara in delivering the woman's baby is frustrated because she has been suddenly thrust into the role of midwife.
"We got to have a doctor," she says. "I don't know nothin' 'bout birthin' no babies."
If only pastors would be so honest.
The birth process is a powerful illustration of the nature of ministry. It represents the greatest share of what pastors do. But we do not always recognize our role.
Many pastors fail to identify opportunities for new spiritual birth. They think that unless they are pioneering a new church, the birthing process in their church has been completed. They believe that their church's original birth was flawed and the clock needs to be turned back so the church can be created all over again.
No, and no again.
DNA, Culture, and Rebirth
My entire pastoral ministry has been in Georgia. Both churches I have pastored have been long-established Assemblies of God congregations. I did not have opportunity to start fresh; I had to deal with what I inherited.
Pastors coming into an inherited ministry may believe they cannot have a significant turnaround or transformation. This is not true. God is creative; He desires to do something new. But His renewing plans for a church do not ignore or ride roughshod over what He has done in the past.
Pastors who begin to shepherd an established church need to know the church's DNA. A church's DNA is its collective bloodstream; it identifies who it is. A pastor needs to ask: How was this church founded? What is the church's spiritual focus?
Much of what a church does connects to its external culture. Once you identify the characteristics of this culture, you can identify areas in the church that will benefit from change. You can change the culture of the church; you cannot as easily change the DNA of the church.
When I came to First Assembly in Griffin, there was a long-established schedule of services: Sunday School along with Sunday morning, Sunday night, and Wednesday night services. I did not try to change this. But I did begin to improve and contemporize these services so we could minister more effectively to those we were trying to reach.
We did the same thing at our church in Toccoa. That church's DNA developed into a poor church-growth and poor evangelism culture. It was a culture of defeat. There were only 35 people, and they felt defeated. We prayerfully implemented what God wanted us to do in that particular culture, and we saw God move.
I brought the same kind of vision to First Assembly in Griffin. We moved the time for Sunday School and changed its name to Christian education.
Sunday night service is no longer popular in some congregations. Instead of giving up that service, we shaped it to fit people's needs. On Sunday nights we often have 1,400 people in attendance. Many times we receive an offering of $20,000. People frequently receive the baptism in the Holy Spirit while others give their hearts to Christ. Why on earth would I want to mothball Sunday night service?
We celebrated what First Assembly had, but we also updated it, reconceptualized it, and transformed it so it more powerfully works in people's lives.
When a pastor comes to a church and tries to change the church's DNA, he disrupts the life, ministry, and mission of the congregation. Do not try to change the DNA of the church. If you do, one of two things will happen: the church will either die or split. However, the pastor who prayerfully reshapes a church's culture based on the DNA God has planted will see life-giving results. That church will grow and begin to meet an ever-expanding array of needs in the community.
New Birth, New Vision
When I came to First Assembly, I was aware of principles I had seen work over the years. But birthing a move of God is unique for each church. What God does in Griffin, Georgia, will be different from what He does in Pensacola, Florida, or Naperville, Illinois, or in any other place. In many cases pastors have tried to adopt a move of God from somewhere else. You cannot adopt or even adapt a move of God. You birth a move of God.
Giving birth is the most dangerous time in a mother's and baby's life. If a physician is not present or is not giving full attention to a woman in labor, one of three tragedies can occur: (1) the baby can die; (2) the mother can die; or, (3) both can die. During labor, there is discomfort, pain, and heartache, but the birth process brings new life.
A move of God begins as believers wait on God. Some churches earnestly pray for God to move in their midst and, in a sense, a new move of God and of the Spirit is conceived. At conception, this move of God is supernaturally implanted within the heart of the pastor and resonates through the congregation. Think about the time the Holy Spirit overshadowed Mary and conceived Jesus. A church's rebirth is not the same as that unique historical event, but there comes a point when God conceives a vision in the shepherd's heart and that pastor can say, "This is the will of God. This is what God wants." At that moment a move is ready to be birthed, to come into full expression in the church's midst.
Then the pain comes. Pain results from misunderstandings, from less-mature members in the congregation resisting new direction, and from people trying to hold on to their kingdoms of influence. Whatever its cause, the pain of new birth must be endured if a move of God is to fully come to life. While some churches do not intend to, they commit spiritual abortion because they do not want to endure the pain of birthing new life. They are unwilling to go through the process of giving birth. They give up and go back to their tired and aging previous existence.
Recognizing a move of God and seeing it come to life will change everything you do as a church. It changed First Assembly. We have a mandate to be a place of healing, evangelism, and a place where the presence of God dwells. This is the living identity birthed in our midst. The church is fulfilling this mandate well in the power of the Spirit. When people walk into our church, they sense that Jesus is here. The presence of God gives our people courage to do the ministry to which God has called them — ministry they would fail to do otherwise.
Growth Follows Birth
If parents bring a 10-pound newborn home from the hospital, they will brag to their neighbors about the strapping, healthy child God gave them. But if their baby still weighs 10 pounds 6 months later, they will visit every doctor in the city trying to find out what is wrong.
When I came to Griffin, our Sunday morning attendance was 400. Today, we have grown to almost 4,000 people. A church's attendance does not need to reach some magic number, but growth is a nonnegotiable characteristic of life. It does not matter who you are or where you pastor, God is calling your church to grow.
Each pastor must get direction and vision from the Lord, not just copy what someone else is doing. When we came to First Assembly 12 years ago, three crises were ongoing: a spiritual crisis, a numerical crisis, and a financial crisis. Rather than being discouraged, I saw that the church was in a position to grow. Any time a church has two or three such crises, something will happen.
We began to emphasize salvation, which created enormous momentum. New people came to church and were born again. They then brought their unsaved friends, and these individuals were born again as well.
We started a prayer meeting on Saturday nights and prayed specifically for our people to have the heart of God to win the lost around them. We prayed that people would encounter God at our altars and be saved. We prayed that our people would bring their lost loved ones and friends.
In the South, people do not hesitate to bring their unsaved friends to church because church is part of Southern culture. This is especially true if they anticipate a move of God when they get there.
We anticipated, craved, and prepared for revival. Before I came to First Assembly, I asked God why I was supposed to come. He said, I am going to send a revival there, and I want you to be a part of it. Because the Holy Spirit spoke that into my heart, we prepared the church for an influx of new people. We not only prepared the building, but we also planned to win, gather, train, and send people. We expected God to bless new life with new growth, and that is exactly what happened.
Active Parenting
Evangelism must be intentional. The pastor and leadership team must set goals. How many people do you want to win to Christ this year? Under what structure and through what means and events will you find and reach these people? Perhaps you will coordinate several events that draw many people in so you can win them to Christ. But what will you do on a personal level? What will you challenge each member of your church to do personally? Many churches never attain that level of intentionality. Personal responsibility for the lost is not the heart of what they do.
We have ongoing training in personal evangelism and constantly motivate people to personal evangelism. We train altar workers how to pray with people at the altars. We teach people how to win the lost to Christ. Every year I preach a series of messages called The Andrew Principle. I point out that people are won through relationships. Sometimes we have skits or dramas to model what we teach so people can see it in action.
Along with training we provide avenues through which our people can win people to Christ: sidewalk Sunday School, outreach evangelism, nursing home ministries, and prison ministries. When people are saved in these outreaches and come to our church, we bring them on the platform and celebrate. It is important for the pastor to publicly celebrate salvations.
Even when we plan big events for the community, we never lose sight of ministry to individuals. During Thanksgiving we rent a park, advertise our outreach, set up large tents, and feed people. We also give away 1,000 turkeys. We also do smaller events that incorporate different people's evangelism interests.
At our Fourth of July musical presentation, we have a living flag, as well as rides and games. This event attracts more than 20,000 people. But we never lose sight of one-on-one ministry. Our people walk around handing out bottles of water and sharing Christ. As many people are saved through this ministry as are saved when we give an altar call after preaching the Word.
Baby Steps: Walking With Jesus
Evangelism is birthed out of a relationship with God. It is impossible to not evangelize someone if you walk close to Jesus. When you walk close to Christ, you will have the heart of Christ, and the heart of Christ is to win the lost. Pastors are responsible to create environments where their people can walk close to God, such as prayer meetings, times of discipleship, and times when individuals can see evangelism modeled so they are eager to participate.
Many ideologies and philosophies exist on how to conduct a church service and offer supportive church gatherings and activities. The main purpose for any church service is to equip saints. There is no better way to equip the saints than to model a life of worship and outreach.
In every service, even on Wednesday nights, we give altar calls. Altar calls mean more than appeals for salvation. There are many ways to solidify what God is doing in people's lives. In every service we give people opportunity to receive Christ, to have prayer for spiritual and physical healing, or to receive the baptism in the Holy Spirit. When we pray we expect God to answer. This constant proactive communion with Christ is fueling our growth.
Every ministry in the church exists to win people to Christ. We teach our Sunday School teachers, Royal Rangers and Missionettes leaders, and youth workers how to give altar calls. The same people may be attending these ministries each week, but you never know what has happened to them during the week.
Spirit Conceived, Spirit Empowered
We strongly emphasize the baptism in the Holy Spirit and its connection to evangelism. Every year we set goals for people who want to be baptized in the Holy Spirit. We believe God every year for at least 200 people in our congregation to receive the Baptism. We do that because the Holy Spirit makes us witnesses. If 200 people have the power of the Holy Spirit, we will have continuous witnessing for the kingdom of God. The church grows as people who are filled with the Holy Spirit share the gospel.
The Spirit touches all ages. Children in our church experience dramatic moves of God through their services. One Sunday morning about 250 children had their hands raised, many with tears streaming down their faces, praising God. Many of them received the Baptism. We have also seen the same impact in our Royal Rangers and Missionettes groups. During a bus ride home following a Missionettes retreat, the group of girls and sponsors began singing and praying. Of the 45 people who went, 13 girls received the baptism in the Holy Spirit on the bus. Some parents carried their children off the bus while their children were speaking in tongues.
My youth pastor invited me to speak to the youth. When I finished speaking, I prayed for some of the teens. I left a little before 9. An hour later, the young people were still praying. Two hundred and sixty high school students were seeking God and praying with their hands raised. You could hear the roar of their speaking in tongues. The entire service revolved around young people encountering God. It was not fun and games. Prayer in the presence of God moved these teens to evangelism. That night 10 teens gave their lives to Christ.
Maturing Into the Miraculous
When God is rebirthing His work, it is never contained within the walls of the church. First Assembly is reaching out to our community in love. We give sacrificially to missions around the world and across the United States. The more we care for God's world, the more He blesses us and spurs us on to greater ministry. The result is an expectation for and experience of the miraculous.
Three of our high school seniors were at their public school and noticed their teacher was in pain during her lecture. During a break in the class, they approached her and asked what was wrong. She told them she had a migraine headache. They asked if they could lay their hands on her and pray quietly for the Lord to heal her headache. She agreed. The students prayed and immediately the migraine left. The teacher then went to the teachers' lounge and told her colleagues what had happened.
"I have cancer," one man said. "If that can happen to you, I'd like them to pray for me. I'll try anything."
So the teachers invited these students to come to school early the next morning so they could lay hands on this teacher. They began to pray for him. He went to the doctor the next Tuesday for a check-up. The doctor was amazed. The previous month's test had shown spreading cancer. Without even a full round of chemotherapy, the teacher was cancer free.
Reborn Churches Are Obedient Churches
All of us hit a wall now and then and lose our holy awe for the supernatural. This happens when we do not spend time with God. Pastors must commune with God and hear His voice every day. A pastor must be able to say, "I have been with God." It makes all the difference.
I spend about 2 hours every morning in prayer, and my staff joins me for about an hour of that time. We take Friday off, but return on Saturday to pray from 6 to 7 p.m. as a church. We pray on Sunday from 7 to 8:15 a.m. before the early service. We pray as a church on Sunday from 5:15 to 5:45 p.m. Six days a week the staff prays together, and the leadership of the church prays together. But prayer is not enough. We need to be prepared to hear God speak and then act on what He tells us.
During a 2004 summer vacation I did some introspection. I asked the Lord about my ministry. At that time I had been in full-time ministry for 23 years. Because of His guidance and empowerment, we were able to accomplish everything the Lord had asked us to do. But I had not seen all the results I wanted to see. I read the Book of Acts again. My heart was stirred, and I asked God, "Why can't we have this?"
Like a thundering trumpet, the Spirit of the Lord asked me, Will you pay the price to have it?
This mandate changed me. I began to look for corners of my life that I could dedicate to the Lord in further preparation for new birth in my ministry and in our church. I decided to quit playing golf for 4 months. The time that I would have spent playing golf I gave to prayer.
I am already seeing the change and the next wave of new birth in our midst. Recently, we had 1,500 people in church on a Wednesday night. We are experiencing the supernatural in ways we have never seen before. In every service someone is receiving Jesus as Savior. Miracles are shaking our lives.
I deeply desire that thousands of pastors would experience this same kind of breakthrough. But it only comes from birthing a fresh move of God. If a pastor does not get alone with God, he will never have opportunity to see God move in ways I have just described. Intimacy produces revelation, and revelation must be obeyed before there can be blessing. Many receive revelation, but they stop there. Obedience must accompany the revelation.
God gave Abraham a revelation. He said, "Go and sacrifice Isaac."
The Bible says that the next day Abraham took Isaac. As he was preparing to sacrifice his son, Isaac said, "We've got the fire. Where's the sacrifice?"
Abraham said, "The Lord will provide."
We know the story. The Lord became Jehovah-Jireh to Abraham. Because He provided for Abraham, we know He will provide for us as well. The revelation of God, when it is obeyed, not only blesses us and affects our lives, but it also affects many others.
God is waiting to do a new work in you, your church, and in your community. Obey Him. Then hold on tight because you will be caught up in a tornado of the Spirit's power.